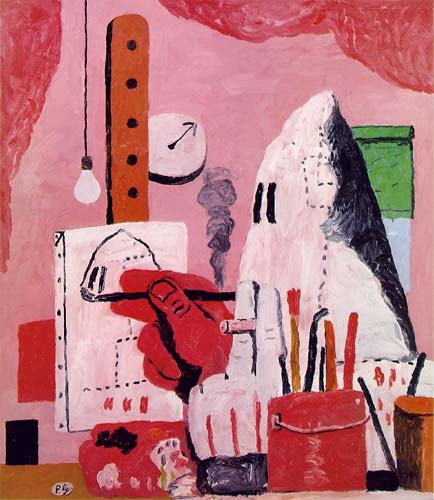 Philip GustonThe Studio 1969 48 x 42 inches Oil on Canvas
He eventually did abstractions and very beautiful kind of abstractions. And they became simply too decorative for him. And then he moved into a wonderful kind of dark, existential gray, muddy painting abstractions which I think was so wonderful, and kind of desperately illuminating everything that pleased him aesthetically. He got something of great truth in those abstractions. I love those pictures.
And then he flipped the whole situation in the KKK stuff and all his self-portraits. I think he became very Jewish at the end. You know, he would make these images, which were very painful and maybe related to Jewish identity and Jewish pain. And it's interesting that he and his daughter and wife knew each other in terms of his mannerisms and his identify with those there who saw him work and all that stuff.
But when he died, the wife and the daughter put on his chest three tubes of paint. I think it was black, white and red, which is from his major palette.
But Philip Guston was, to me, an amazingly searching man and I think when you talk about, of course with a career, when you think of an art book and you see the person's early work, middle work and later work, it's wonderful for art students, because they're only starting with the first few baby steps, and then basically the whole thing happened.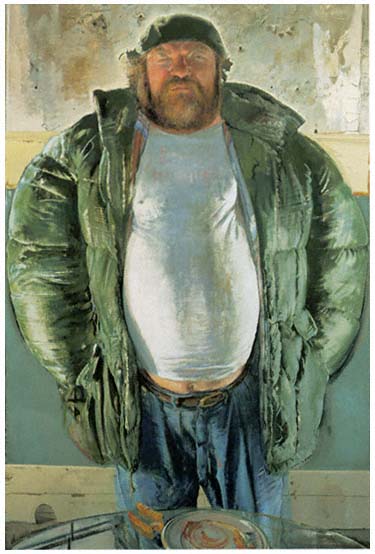 Jeff Davies 1980 72 x 48 inches Oil on Canvas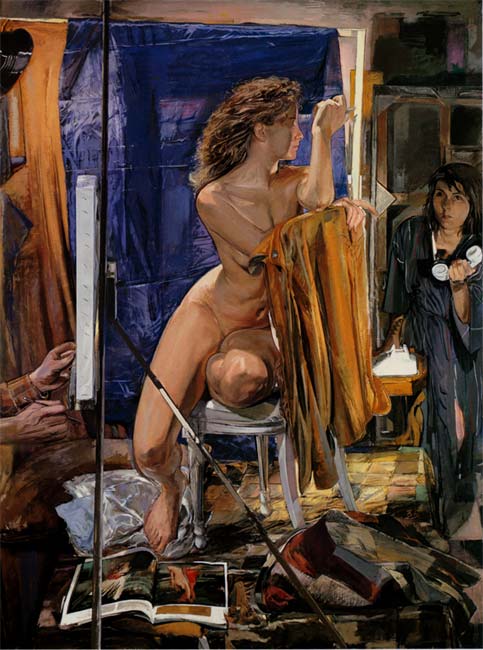 Are You Here(Sue Ades Posing) 1985 75 x 56 inches Oil on Canvas
Like we should all go on our knees and pray to God that our last paintings are the best paintings we make. I'm just beginning a new book I just found by Mark Hudson, on Titian, the last days of his life. And the guy dies at 99 years old. He's double the age of most of the Italians of his period who died, maybe, in their 40s. And there he is with this ancient person with ancient energy. And he's painting his most deliberate painting with his fingers, his brushes and his feet; everything. He makes a testament of it.
And oddly enough, when the plague hits Venice, which of course destroyed him in the end, vandals come in and take or destroy a lot of the late work. There's a few left, but not much.
Larry Groff:
The Flaying of Marsalis . Wasn't that one of his last ones?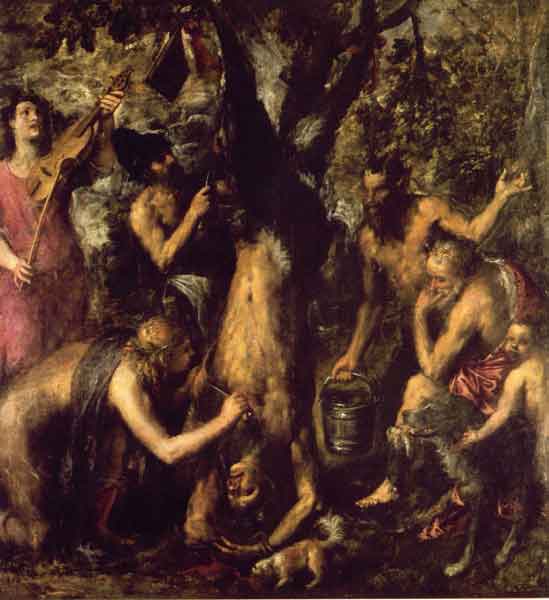 Titian Flaying of Marsyas 1570-5 212 x 207 cm
Jerome Witkin:
Yes, it's one of the ones that existed. And to this day, I haven't seen the original, but I really hope to do that sometime. But the thing about Titian is that some of these great painters, and even sculptors, they, in their last works, they kind of tell you what the future is going to be. It's amazing.
He was a friend of Giorgione, who's really the first modern painter in terms of he did his own painting, period. And he was wealthy enough to do that. But here's Titian with commissions, and at the end he's doing his own work. And he's delaying the end of a painting because he doesn't want to end his life.
So it's fascinating the depths we have as painters. It is such a deep question. Like the painter in most societies, Asian or Western, tends to be a kind of prophet of sorts, who we expect him to tell us how we lived. Our zeitgeist for our time. But I think it's beyond that. I think the real deep painters are the prophets of the Bible. They show us the future and the present.
---
Donate to Painting Perceptions
Donations to Painting Perceptions helps this site greatly, please consider your gift today.