And one thing I want to say is, although I've been visiting lots of different colleges and universities, and see what people are painting, chances are most of them are painting things which are okay. They're formal. They have landscapes, still lifes. They're political situations or something. And I think that's all fine. But, at the same time, I really believe that somewhere you've got to take the chance of being incredibly foolish. Not just of safe, but of foolish.
And I think foolish means to say, "This might be laughed at. This might be ridiculous. I'm not doing something that hasn't been done before. Or, at least this is a modern version of it, not in accordance with my likes.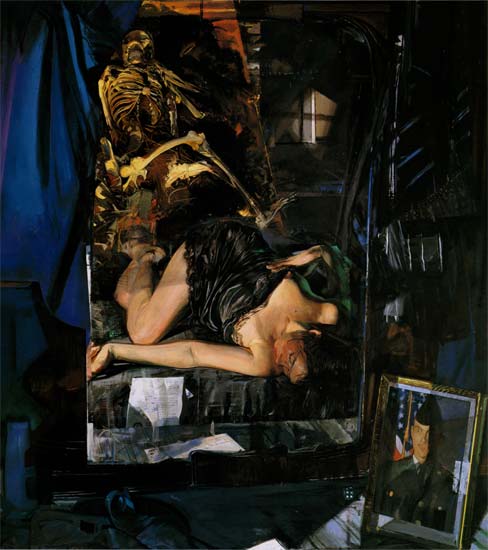 Her Dream 1986-87 77 x 69 inches Oil on Linen
But if making art is a spiritual journey, which I think it really is, not an aesthetic journey, then you find yourself on a path, which I think is, at least for me, a very important path. Just tonight, I made a revelation about how to restage the patterning of where these paintings and drawings go. This picture I'm working on of Benedict Joseph Labre. He's now a saint in the Catholic church, a hundred years after he died in 1783. In 1883 he was beatified. (Wiki link about Labre )
By making the weeks and months during this painting with the drawings and the painting, you get to know the thing deeper and deeper, and tonight I think I really saw the placement of the pictures where they most become strong and most revelatory to a viewer and also myself.
So maybe that answers something about human nature and what I care about most.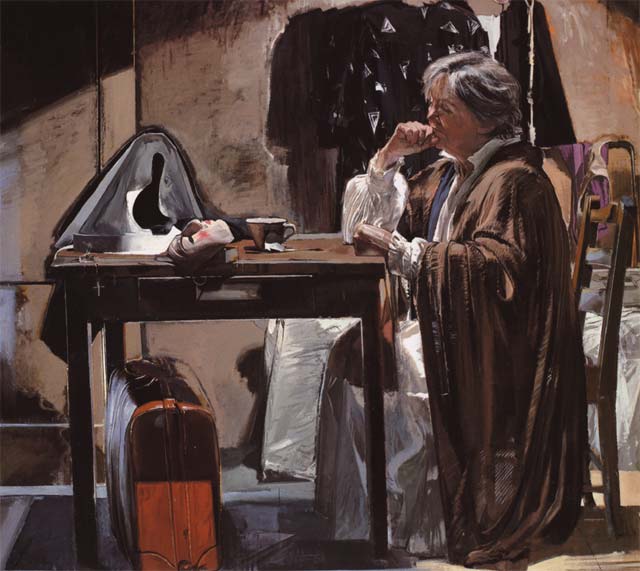 A Nuns Decision 1985 63 x 71 inches Oil on Canvas
Larry Groff:
My next question follows from what you just said. Some painters like Fairfield Porter have been very political in their personal lives, but apolitical in their art. My question [is], do you feel artists have a moral obligation to address social concerns through their art? Or can their aesthetic concerns be enough? Can beauty alone be enough for a painting?
Jerome Witkin:
That's a good question. Years ago, West Publishing Company, now defunct, sold to another company that printed law books … But West Publishing had a very good idea. They wanted to have an annual exhibition in a catalog of simple political art. And every year I would get these catalogs. I was doing a number of these shows. I sold, I think, two or three pieces to that company.
The thing is, 85 percent of the simple political art made in the book was pretty bad. I mean, pretty bad, pretty obvious, pretty mawkish, just so transparently horrible. I think, like anything else, it's very difficult to make a painting that actually does continue in interest over many, many decades or even centuries.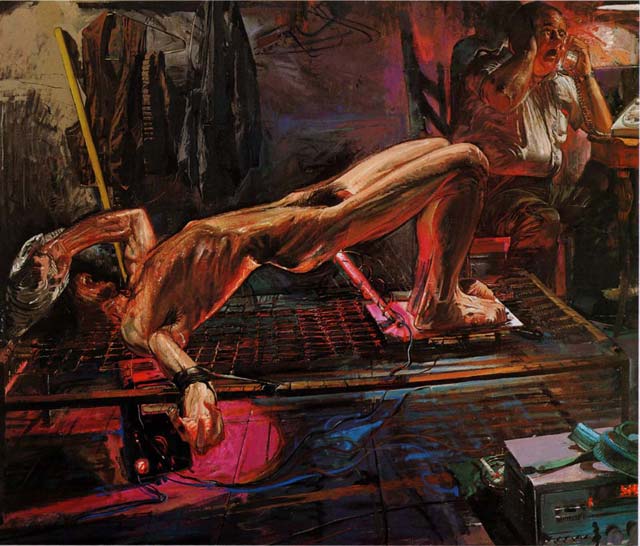 Unseen and Unheard (In Memory of All Victims of Torture 1986 63 x 75 inches Oil on Canvas
I think Cézanne, of course, made something incredibly therapeutic in terms of still life, the guy was really super messed up, but he used his still life to become himself still, and more, maybe, together. Aesthetically, he was wonderful for his own therapy. I don't think Cézanne is simply about his aesthetics, I think it's really about therapy.
As far as what you said about spiritual journey, that's also a therapy. It's like finding the larger sense of your use on the planet, or the larger sense of what you could make about your time in human nature, whatever.
I think that's a very broad question, but I think aesthetically, I have to tell you about my knowledge in knowing Philip Guston, who I deeply cared about. I would call him like an art uncle. I met him enough times, and we talked enough times. And he was an amazing person.
He, at a very early age in California, witnessed his father's suicide. His father hung himself in the garage, and thereafter he placed himself in this wardrobe, with a little light bulb and a desk where he would draw the light. That came back in his later work, of course, when he was a more than lauded painter in his last years; the light bulb and all that stuff.
The thing about him is that his early work was very monumental. He was a child prodigy and all that stuff. He was a classmate of Jackson Pollock, in California. That's interesting.
But the thing is that after the early work, when he got into abstraction, he moved from a kind of cubist Max Beckmann thing with children, and holding things in sort of Halloween masquerades, or something, and those things became more abstract form.
---
Donate to Painting Perceptions
Donations to Painting Perceptions helps this site greatly, please consider your gift today.