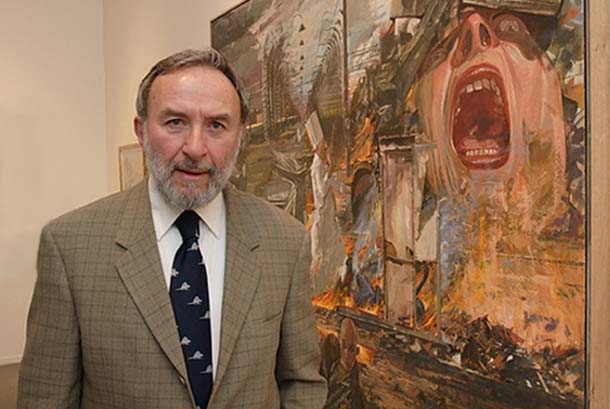 Jerome Witkin January 2006 (photo from a flickr Syracuse University PhotoStream)
Painting Perceptions is incredibly fortunate to have talked at length with Jerome Witkin recently, thanks to Bill Murphy, who suggested the idea of an interview and helped me get in touch with Mr. Witkin. I'd again like to express my gratitude to Professor Witkin who was so incredibly generous to give up so much time to do this interview; sharing his rich experiences as well as discussing his current work, life and concerns. In addition to the text and images I have also made an audio podcast available so you can also listen to the interview, click on the podcast button at the end of the article.
Jerome Witkin was born in 1939 in Brooklyn, NY to a Jewish father and a Roman Catholic mother and has an identical twin brother, the renowned photographer, Joel Peter Witkin. His art talent's blossomed early, winning art prizes and scholarships that allowed him to live and travel in Europe and who would meet and get know such leading painters such as Ben Shahn, Isabel Bishop, Giorgio Morandi, Jack Levine, Philip Guston, Willem deKooning, Alice Neel and many other important painters such as R.B. Kitaj – who is reported to have cited Witkin as "the greatest figurative painter in America." Art historian Donald Kuspit, called Witkin's works "dreams in the grand visionary manner of the Old Masters" . . . painted with the rhapsodic abandon of pure sensation . . . unequivocal masterpieces." The art critic Kenneth Baker once stated that "Witkin's only peer is Lucien Freud." I'm usually skeptical of art critic's declarations of someone being "America's greatest figurative painter" and don't give much more credibility than I would Joe's Diner claiming they have "America's Best Hotdogs" but in the case of Jerome Witkin there is no doubt in my mind he is worthy of such high praise. Perhaps what impresses me most with his painting is that he builds upon the rich tradition of narrative figure painting into grand works that are of our times. His paintings work on a multiplicity of levels of meaning, artistry and vision that speaks to the advanced painters and other people with great knowledgeable about art as well as people who know little about art but care deeply about life and the troubles we humans often find ourselves in.
Many works often explore issues of spirituality and inner landscapes – looking directly from his life experiences. One example involves his father who died at age fifty, after living several years homeless on the streets. In an effort to understand his father better he began to look at his Jewish history and in particular, the Holocaust. This resulted in a series of monumental works about the Holocaust done over a twenty-three years. Many of these images are shown later in this article, these paintings huge size and complexity makes it important to view them enlarged to get closer to viewing the full experience. Jerome Witkin has been a Professor of Painting at Syracuse University in Syracuse, New York since 1971. (as an aside, I have an interview planned next week with one of his former students, David Kassan) A terrific book as well as many articles in leading art magazines and newspapers have been written about him, I have put some links to a few of these at the end of this article.
Witkin's works are found in the permanent collection of prominent museums around the world that include the Metropolitan Museum of Art in New York, the Smithsonian's Hirshhorn Museum and Sculpture Garden in Washington, D.C., and the Uffizi Gallery in Florence, Italy.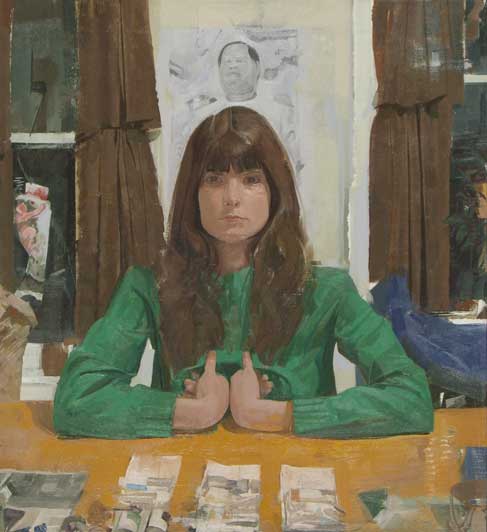 Bridge 1973, 24 x 22 inches, Oil, collection of the Canton Museum of Art
Larry Groff:
Well, thanks again for agreeing to do this interview with me. I really appreciate it. There's going to be a lot of painters who will really get a lot out of this, I'm sure.
I have basically about four, maybe five questions for you. The first question that I [have] was I was reading in your Life Lessons catalog, you had stated in there that in 1997, you asked yourself, What do I care about most? You went on to say that, "Improving the world is a noble and high desire; that human nature can be improved, and to do this requires constantly good actions: one-on-one, political doing justice." How do I affect this, you asked yourself. Is my work really that strong? Is my presence as a teacher doing this?
How would you now answer these questions you asked of yourself back then?
Jerome Witkin:
Wow.
Larry Groff:
If you can. Speak to that however you want.
Jerome Witkin:
Well, let me think about that.
Larry Groff:
What do you care about most?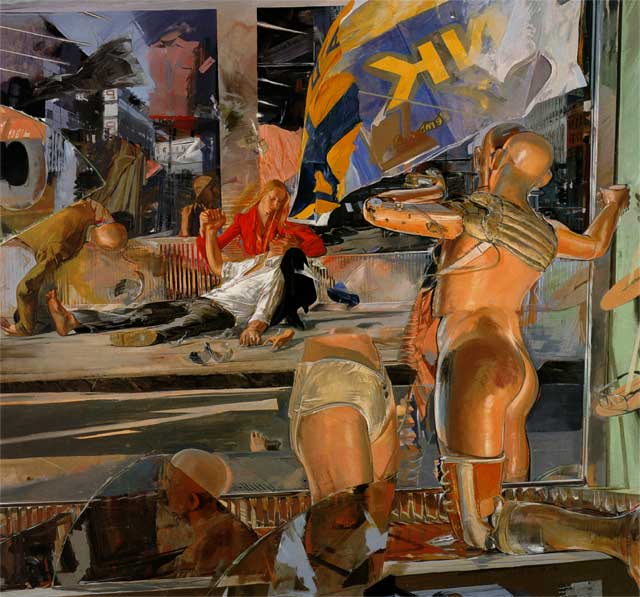 Kill-Joy, To the Passion of Kathe Kollwitz (Kreischerville Wall) detail 1975-76 74 x 79O inches Oil on Canvas
Please click for larger view (note: most all the rest of the images in this article have a larger view that MUST be clicked!)
Jerome Witkin:
That's interesting. I mean, right now, I have to shift it to my son because he just went through a bone marrow transplant. He's had two horrible years of really being very ill, and the transplant, actually, was successful. As to last Monday, he was engrafted 100 percentile and he's getting now, on a daily basis, a maintenance situation that will go on for two more months. We spoke to him tonight.
I think there is something about life and art. I mean, if we didn't have certain experiences with other people reflecting human nature gone wrong, or even human nature gone right, we'd have a background of trauma or background of somebody loving us where you love them back.
I think it's a matter of how you survive certain situations and then what you do with your art. I mean, I think that's a big problem. Because my son was so ill, and I knew that eventually he would be in a life and death situation, I made myself, this semester work in my class, and be as normal as possible.
I made myself get into a very large project in my studio which would be really challenging to me, only because I really wanted to be able to stay active. In my work I can forget almost everything. In terms of around me, I could absorb myself in it.
At the same time, my work, of late … About two years ago I began a picture about Dorothy Day (link to wikipedia page on Dorothy Day), because I was really interested—and I still am—in how one person affects society. And I did a painting of her which maybe is not my best painting ever, but I think I learned a lot from it. And I have that in my studio now. A finished thing with a lot of pretty good studies.
In reading about Dorothy Day, in her statements, and trying to formulate an image that would summarize her in gesture and action was a very deep challenge. All I know is that you do what you do, and you hope it makes sense and you hope it's accessible. And I think that's a very large issue, accessibility, and also being honest with where you find yourself in your interest and how to explore that.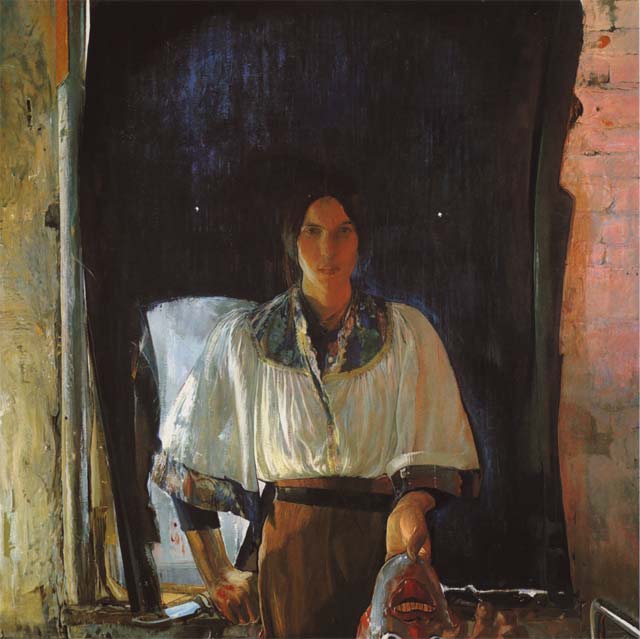 The Act of Judith 1979-80 60 x48 inches Oil on Canvas
I also did, right after that, a very large thirty foot 5-panel painting about Martin Luther King and the destruction of the noose. And again, I had a lot of African-American  people pose for me along the way, and they were telling me things which I would never have realized without having a special demand on myself.
I learned from that. I put in twenty-five years, at least, in [paintings about -ed] the Holocaust, as a half-Jew myself; my father being Jewish. All that interest in why there is human suffering and how people survive that, as best they can, or make some sense of suffering.
I wanted to be involved with the [heroics] of King, who by the way I met very shortly to say hello, how are you, in front of a Baptist church in Baltimore when I was about twenty-five or twenty-four. I never thought I'd be making a picture about him or the civil rights situation, but you never know. You never know why you get involved.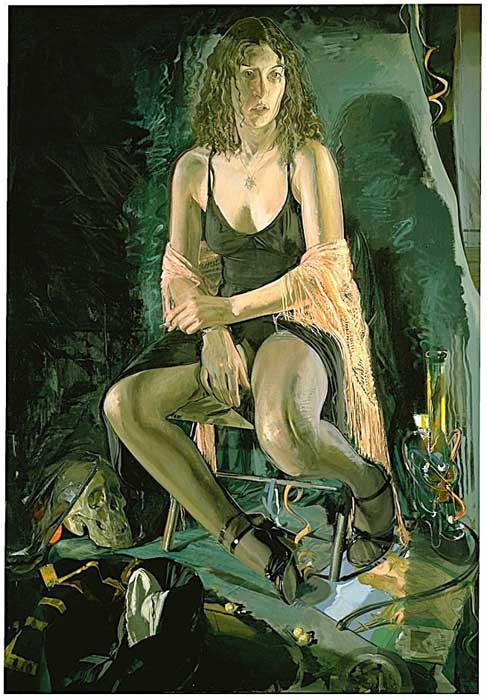 Headstone Portrait Of Claudia Glass 1981 Triptych 78 x 53 inches Oil on Canvas
I also met John Lewis, who is now, of course, the aging congressman from Georgia. Again, when he was a very young guy, I was a young guy in my first teaching job. I'd never met, or talked with, an African American person about politics. We sat down in a classroom and I said, "What are you doing?" He was explaining things, and I was deeply impressed by this guy. He stays an impressive person to me to this day.
What I'm trying to say is I think that we're stumbling into experiences, and though we must feel intuitively drawn to one or two or three of these experiences, along the way, and really delve into them, because I think all these life lessons are messages that are very valuable to us if we explore it.