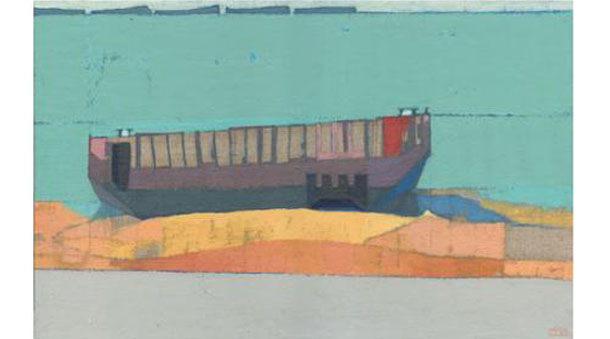 Judith Green, Mulberry | Oil & Graphite on Linen laid on Panel | 25 x 40cm
Painting Perceptions is again very fortunate to have a guest interview from Neil Plotkin who has been living in London for the summer. In this first of a few articles about perceptual painters in the UK he has interviewed Judith Green, more of whose work can be viewed at her website, www.judigreen.co.uk
Interview with Judith Green by Neil Plotkin
An artist that I found to be interesting here in London is Judith Green who currently lives and works in Cornwall and shows at the Medici Gallery. She was born in London and studied Graphic Design at Kingston School of Art. was an art director at J. Walter Thompson and co-founded a design consultancy in 1984. She started studying painting part time at the Slade School of Art in 1995 and in 2000 decided to focus solely on painting.
Much of the work on her website is from a series about her late father's experiences in the Normandy Invasion. She has gone to the exact places that her father fought during the war and done paintings based upon what she is seeing now and her experiences of seeing those places.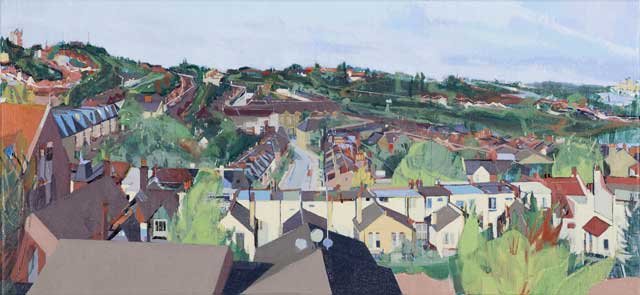 Living Under Blue Skies, Highgate III, Oil on Canvas, 36cm x 61cm
(click for larger view – same for rest of the images)


Gold Beach ( Diptych ) | Acrylic & Graphite on Linen | 30 x 119.5cm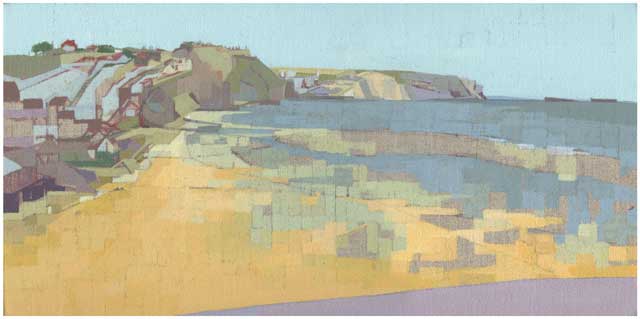 Gold Beach, Jig Green| Acrylic & Graphite on Linen | 19.5 x 40cm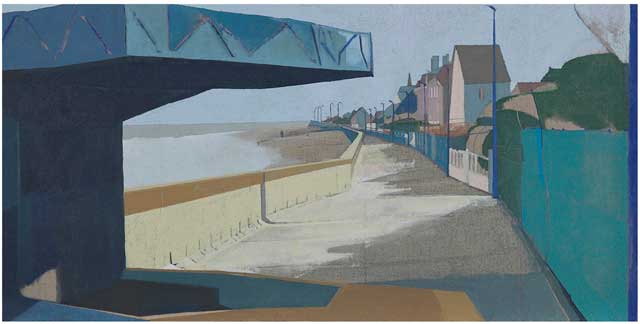 Gold Beach, Jig Sector | Oil & Graphite on Linen | 50 x 100cm


Essex Wood ( Diptych ) | Oil on Linen Laid on Panel | 25 x 77.5cm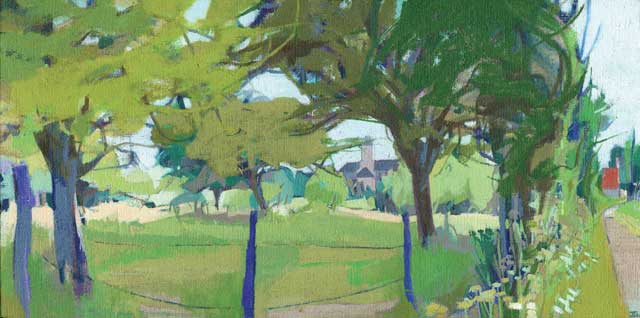 Juaye Mondaye | Oil on Linen | 19.5 x 40cm |
Judith Green has been kind enough to take the time to answer some questions about her working process and gives some insight into her work..
Neil Plotkin: In one of the articles about your current series about your late father's war experiences, it was stated that you don't always have time to paint on site yet the paintings themselves have specificity to them. Can you talk about your painting process – do you draw on-sight, photograph, do sketch paintings?
Judith Green: I prefer to work first hand from the landscape, and to have that exposure to the elements of a new environment, still life or the figure as specific location has been crucial to my most recent work. My main focus is on the significance of place and history within the landscape. I spent many months researching at our National Archives and the Imperial War Museum, mapping out the exact locations my father would have traveled in those early days from the D-Day landings on Gold Beach. Visiting Normandy for the first time I began by making sketches on site in graphite and color pastel, pinpointing the locations that I felt a personal connection too. The landscape was Inspiring and beautiful, allowing me patient and persistent study. Photographs were taken as a visual diary, which I have turned into picture books.
Over the past four years, drawings became oil sketches then the foundations of painting for larger works. As I returned many times to the exact same locations, they became so familiar to me, training my eye through contact with nature, my concerns were formal and analytical. Using a limited palette I painted on site 'plein aire' for a long as my trip and the weather permitted, smaller works were completed and the larger canvas and linen supports continued back in my studio. They were not picture postcard recordings of any particular vistas, but more a memory of an experience, a culmination of many remembered and hidden elements of the landscape. I used the drawings and photographs to prompt my memory that is all.
My paintings contain a layer of past memory, becoming it's own, self-dictating, and striving towards a beauty that is right. Emerging patterns of abstract areas, blocks of color and sometimes, bare canvas, which needed to be evaluated and edited for the sake of the overall composition, embodying a sense of place and the struggle to paint nature.
NP: You were awarded a place at the Prince's Drawing School. I assume that drawing is an important part of your artistic process. What role does drawing play in your day-to-day image making?
JG: The Prince's Drawing School is one of the only institutions in the world offering in-depth, quality tuition of those who wish to develop their observational drawing skills. The Drawing Year, gave me the opportunity for intensive research and practice in drawing from art, in the studio and 'plein air'. I place an emphasis on figurative painting and support my paintings with the drawing that lies at the heart of my practice. Drawing and color are not distinct from each other; gradually as one paints, one draws.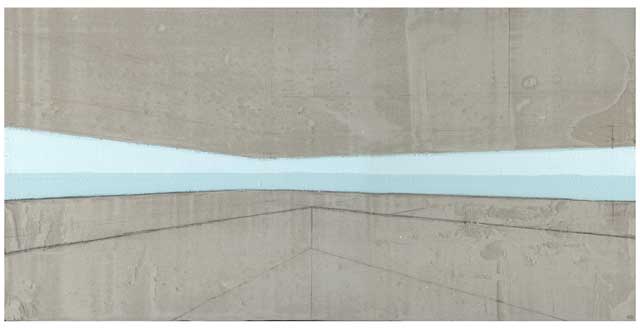 Overlord III, Acrylic and Graphite on Gesso, 21cm x 42cm
NP: You were a graphic designer before becoming a full time painter. To me and in the best way possible, some of your paintings are very graphic (Overlord III for example). In what ways do you feel that the experience of graphic design informs your compositions and your work?
JG: Interesting question Neil, and thank you for your support. Since deciding to become a full time painter back in 2000, I have encountered some snobbery towards my past experiences as a graphic designer and art director. When I first went back to study I even began not to mention my previous career as it was in some way seen as a handicap. On a positive note, I have always felt that my design experience is a great asset to my work. To come from a world that is non-elitist, unique enough to evolve with time and have a solid understanding of color, line, and most importantly composition, and communicate an idea in a way that informs, drawing being a means of communication and thinking.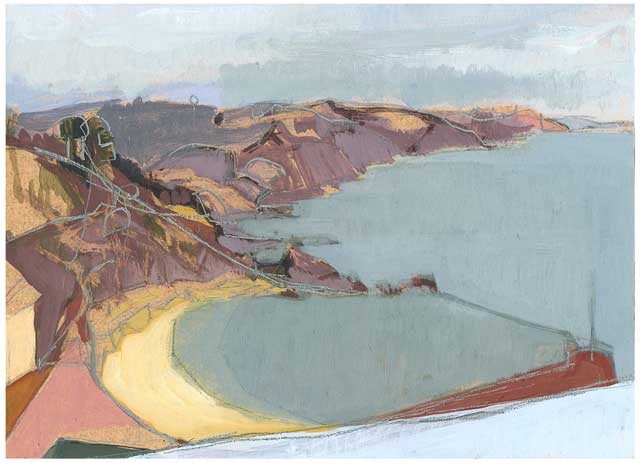 Living Under Blue Skies VII, Looe | Acrylic & Graphite on Board | 16cm x 22cm
NP: Your series about your father's experiences uses powerful history behind your images. It gives a whole different perspective on beautiful settings. Figurative and realistic painters are often taken to task for not engaging the world in a way that deals with larger issues. Do you feel that as an artist it is necessary to paint images that deal with larger issues and if so in what way do you try to accomplish that?
JG: Up until my Normandy paintings, I would say that I normally have ideas that come about by chance and fate.  My curiosity in my late father's experiences during WWII gave me the opportunity to explore a new and unique environment. I felt an overwhelming sensation painting in and around the battlefields, time has camouflaged them into sometimes strange and beautiful vistas. I wanted to make them thought provoking and engaging. It has changed the way I work and think. I personally don't like Ideas that are too contrived or too literal. I have to dig deep. Painting is like duel. As Cezanne said ' A work of art that did not begin in emotion is not art'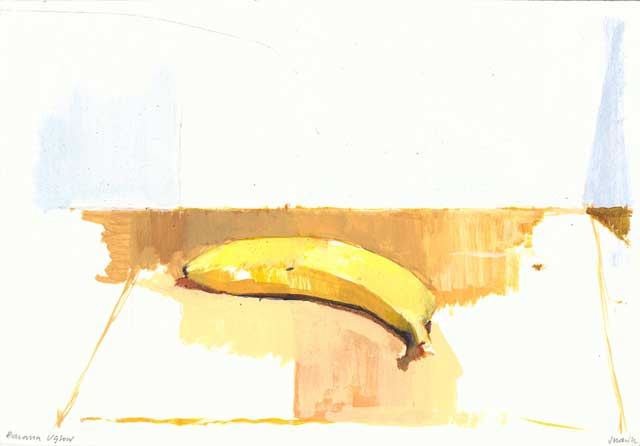 Banana Uglow | Acrylic & Graphite on Board | 25.5 x 30.5cm
NP: You have a painting on your website called Banana Uglow. As you started at the Slade in 2000 and he died the same year, I assume that you didn't study under him. Can you talk about that painting and how you see how your paintings fit into the larger English/UK tradition of image making?
JG: I had been studying at the Slade for several years part time from 1995. I loved working there, basking in the history and legacy of some of the great British figurative painters. Euan Uglow was not teaching there any more but his peers and students that had studied under him were. His trail was everywhere. I felt I knew him through all the stories and teachings I received and I used to dream about what it would have been like to have the experience of studying with him, I noticed that many who did suffered deeply.
There was an elite group,' the chosen ones', it must have been devastating not to be in that circle. Many suffocated under his methods, and ended up as imitators, only a few broke away in time and forged their own paths.
August 31st 2000, summer school, I remember the day vividly, Euan had been ill for a long time, the sadness that day at The Slade was intense. Life models weeping, nobody could work, the whole school was brought to absolute stillness. In 2002 I took part in a workshop based at the London College of Fashion Gallery, that was showing a small retrospective of Euan's work. The lecturers had created still life set ups, identical to those from a book of his work.
I chose to work on the banana, it was the first sustained still life I had ever painted.
My own homage to Euan Uglow, I love this little painting, it is now in the private collection of the comedienne and actress Dawn French. I miss it. On reflection it was a transitional painting for me and I continue to become looser and more abstract.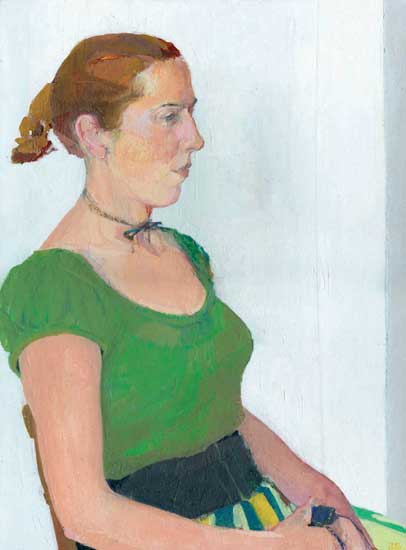 Unexpected Mrs K | Oil & Graphite on Linen | 38 x 28.2cm
Judith Green was awarded a slot at The Prince's Drawing School and awarded a residency at Kensington Palace. She has been selected for the The Threadneedle Prize 2009, The Lynn Painter-Stainers Prize, John Moores 24, The Royal Society of Portrait Painters, The Discerning Eye and at The Royal Academy of Arts. She has work in numerous private collections in the UK, USA and Israel
---
Donate to Painting Perceptions
Donations to Painting Perceptions helps this site greatly, please consider your gift today.