"Tree-Oh" 2001. Oil on canvas mounted on wood, 21.8 x 23 cm
LG The Wikipedia page about you states that you believe for a true painter, "reality is a continual feast, a never ending delight to the eyes". However, despite the infinite possible number of subjects, many painters confuse beauty with picturesque subject matter or kitsch, even when this might not be their conscious intention, and are just responding to something that visually moves them.
One thing I heard you say this past summer that really stood out to me is that …
IH Wait a minute. That's on my Wikipedia page? I've never seen it. But where is that from? When did I say that?
LG It didn't say. I just read it. I thought Oh, that sounds great. I can send it to you. If you just look at your Wikipedia page, you'll …

IH One second. One second…
IH … I have no idea when I said this and in what context but I see here it makes reference to that quote by Albert York I find so moving. Wait… Yes, I have it right here: In this, the only interview he ever granted, York is running himself down, saying, if memory serves, that with the exception of one panel, he liked little else of all he has done.
It's the interview in the New Yorker with Calvin Tomkins. Artist Unknown, The New Yorker, June 19th 1995 (link to the full New Yorker article about Albert York)
Tomkins writes: I decided to ask him [York] the impossible question: Why do you paint? "I knew this was going to be difficult," he said, sighing. He put his cigarette out, slowly, and looked at the table. "I think we live in a paradise," he said, "this is a Garden of Eden, really it is. It might be the only paradise we ever know, and it's just so beautiful, with the trees and everything here, and you feel you want to paint it. Put it into a design. That's all I can say. It's been a rather trying business, this painting."
I've read that to my students, and I'll tell you, every time I do, I get choked up. I mean, you hear him say this, then marry it to those small humble paintings, so self-effacing and awed by the most quotidian slices of human life. This was paradise to him? These little panels of trees, a jar of flowers, a cow, two women on a picnic, a woman in a garden with her hand on a tree are miracles to behold in paradise? Yes they are. And I sure would like know where the gathering waters of this man's baptism are hidden… I admire him greatly.
LG Let me continue further with this… One thing I heard you say this past summer that really stood out for me, that painters who seek out industrial-type subject matter, thinking that they will avoid kitsch by doing so, are just fooling themselves. Do you mean by this that what the painter selects to paint from in nature shouldn't necessarily be the true subject, and the reason behind the painting; that the real subject should be the painting itself. I'd like you to speak more about this issue of kitsch and perceptual painting.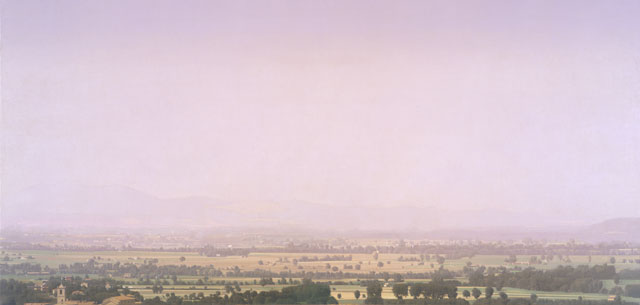 "Aria Umbra" 2003-2005. Oil on linen, 199 x 250 cm
IH Well, You know, Italy is so picturesque it's dangerous! Choosing to paint an industrial complex in Italy as a way of skirting the dangers of kitsch is really just another form of sentimentality. Decisions far more integral to the act of painting must be taken up. I make a distinction between the picturesque and the pictorial – oceans separate them. One treads carefully with how and where subject-matter is prioritized in the formational scheme of things when setting about a work. If it's in the forward plane, you're sunk. Great works of art are distinguished by transcendent qualities, their quality of rising above the subjects depicted. All subjects are kitsch, or can be really, and if there are subjects current fashions sanction, be assured time will render them super-kitsch in short shrift. I despise "camp" even more because it's just sophistry disguised as kitsch.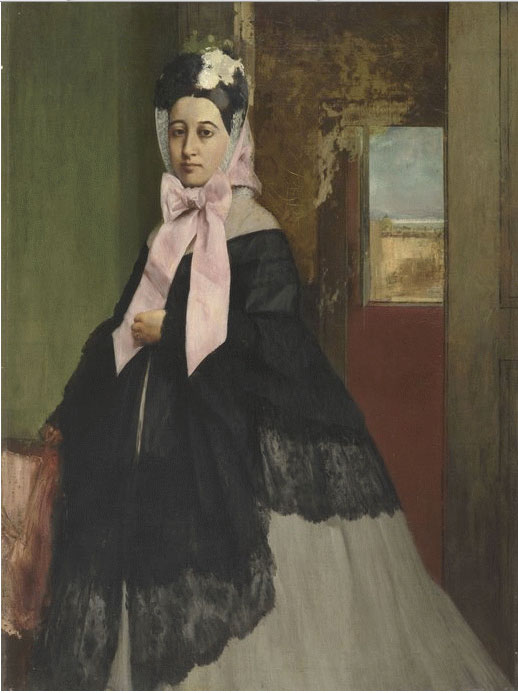 Edgar Degas. Portrait of Thérèse de Gas (the Artist's Sister) 1858-1860 Oil on canvas. Musée d'Orsay, Paris, France.
Recently I've been sending my students to look at and make drawings after Degas' painting of Thérèse de Gas. This is a remarkable and amazingly instructive early portrait he did of his sister that hangs at the Musée d'Orsay.
Looking at it through an eye lacking the prism of a pictorial intellect, I imagine one would find this picture ridiculously funny. Here is Thérèse decked out in what I'm sure was the haute couture of her day. She stands concealed in layered wraps of bourgeois modesty, hair in a pompadour atop which is a flower. A bonnet is atop this coiffure beset by a huge pink ribbon tied into a big bow tucked tightly under the chin and whose two hanging ribbon-ends fall at the level of her hips. I mean, this part of the arrangement looks like it should be some kind of medallion they stick to a side of beef! Then there's the huge black shawl with a transparently laced border along the bottom extending down the front below the knees, and under all this, is the fluffiest bell-shaped full skirt that must surely touch the floor.
Looking at this is not too dissimilar to those cringe-inducing experiences we have of looking at old snapshots of ourselves, perhaps as unbearably goofy and vain teens, and you're agasp thinking: oh my God, the pimples and braces are the best part of this!
Yet there is nothing at all ridiculous in this portrait of Thérèse! It's in fact dead serious because every one of these accoutrements has been made severely elemental, molded into an abstracted geometry by the most ingenious pictorial intellect. The possibility for sentiment is here confined by a severe formal scheme, a construct that leaves no doubt as to its purpose – it is completely in the service of this picture! Remove, no, just shift, one element in this telelogical construct, and there will be nothing left of it.
Look, we are most certainly products of our own time and environment, but to transcend in art time-bound sentimentalities, one must grasp this.
---
Donate to Painting Perceptions
Donations to Painting Perceptions helps this site greatly, please consider your gift today.