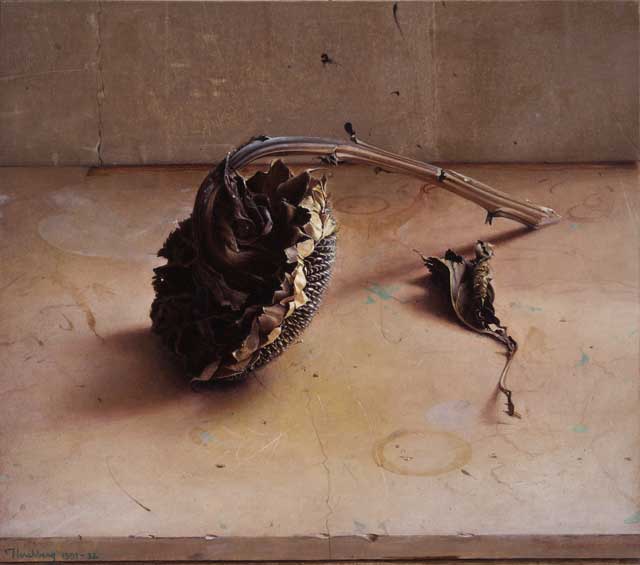 "Nova" 1991-1992. Oil on paper mounted on wood, 35 x 39.5 cm
LG Did you ever paint abstractly yourself, then, or have you always been …
IH I did. It all boiled down to exploration and pictorial curiosity for me — based on the notion that painting is in any case in its essence an abstraction. But no question, I am hopelessly seduced by the idea of jamming or processing what I perceive in the concrete world through that mechanism. I have no interest in the 'narrative of narratives' per se or in creating any kind of document. The conviction that painting is the expression of the experience of painting is more potent and urgent then ever.
LG In looking at your work, I see an exploration of formal painting concerns that other great painters, such as Antonio López Garcia, Corot, Morandi, and Edwin Dickinson, to name a few, might have also concerned themselves with. What are some of the more valuable lessons you've learned from artists like these? How would you respond to these kinds of formal issues? Or do you?
IH Yes. These are painters I've definitely looked to, as well as some very significant others.
I discovered Antonio López Garcia in the early 80's, the others you mention are with me far longer. There was a kind of artlessness, a prosaic quality that attracted me in his work for various reasons. Very different than the kind of lyrical attachments I had at that time, but the work compelled me nevertheless in the quality of the long, hard and uncompromising gaze he put to the grinding stone. There was a vulnerable rawness in the gaze set upon an exposed optic nerve, like the piercing pain a bad tooth sets off. This somehow married in my mind with the conditions I also perceived in the environment of the new home we made when we moved to Israel in 1984. It was an unembellished environment further denuded by an unrelenting and almost cruel light. That kind of hard-nosed looking opened for me a way of engaging this new environment.
I think Lopez's influence on me has certainly inscribed itself and continues to inscribe itself, but it feels more residual now. I could never give myself over to that kind of bluntness completely — the detachment yes — but there were too many things I care about that were missing for me in the work. The lyrical eloquence I always saw in Lennart's brush, for one…
You know, what really seduces me besides the perceptual impulse is the primacy of  another idea that for a lack of a better word, I'll call encapsulation – the idea that a work of art should be a time capsule in which a painter deposits his most cherished, formative painterly desires – in the Joycean sense, of being forged in the smithy of one's soul – the direct, unmediated experiences and communions we have had with great works of art. Works of art which have imprinted themselves indelibly on the nervous system, coming together, incarnate, as perceptual impulse. I'm not talking about facile quotations, but rather a harnessing and investment of those painterly desires wantonly, intimately and formationally in the conceiving of a work. Morandi and Balthus for me were and are great exemplars of that. In Morandi the whole of the genius of Italian art comes together in an astounding distillation of this idea but with the past's requisite narratives clarified out. In Balthus the engagement is not only intimate , it is encyclopedic and manifold – the Greeks, Romans, Giotto, Piero, Masaccio, the Venetians, Sienese… The idea of existing on both edges of history was and is a state I very much desire to achieve.
And yes, Dickinson without doubt, though there's a kind of romanticism in the big works I do not share. But no question, I see myself as part of an artistic lineage that comes down through him and through the two painters I studied with who were his students.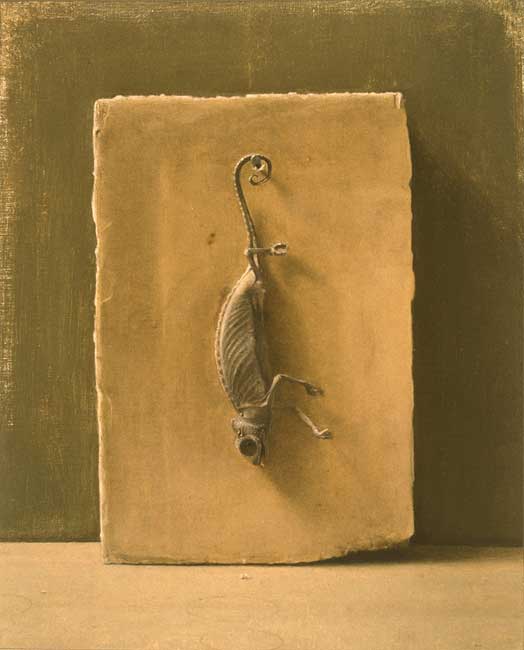 "The Chamelion" 1997. Oil on canvas mounted on wood, 33 x 26.5 cm
On the strictly emotional level I found a more kindred spirit in Lennart who made much  in his work of the very Italian Quattrocento/Cinquecento quality of detachment, the kind of detachment we also see in Degas, Velazquez or the writer Henry James – a kind of impersonality if you will. Just to be clear, this in no way suggests their paintings don't pack an emotional punch. They very much do! You see, among artists like this the emotional punch comes by virtue of the artist leaving himself out of count. He does not obstruct by imposing his own feelings on the matter, rather, he effaces himself before what is an overwhelmingly emotional event. You know, giving way and yielding to awe, and as he is awed, we are in awe.
The art that holds out the greatest attraction for me is poised, dignified, tempered. It eschews the cloying, facile sublimes and straining after effects, the dramatics and emotionalisms, that do nothing but destroy their own object. I have an aversion to these, at least in my work I do.
LG With Dickinson's premier coup type paintings, do you see an emotionality in that, that is …
IH I very purposely used the word "emotionalism" – I make a distinction, as in the disparities between science and scientism, the real and realism, the isms, you know… But no, I don't see that in them at all, they are very felt and full of awe. The awe that comes from an anxious sense of mortality looming. They are infused with the spirit of  a carpe-diem-or-bust urgency that necessitates a summation of experience only the most distilled painterly terms can invoke. This is how, in my words, Dickinson undertook  and re-conceived the premier coup. Oh no, they are not at all the ubiquitous, complacent alla-prima oil sketches done by the dabbling leisure-set en plein-air. It would be a mistake to think of them like that. But yes, I see them as more detached than the big extended works we are familiar with. But you know, for years, like a lot of artists, I was mostly attracted to the premier coups. There were certainly aspects that I liked in the big ones – so very many things to admire in them. A certain kind of relationship to a painterly dialect I feel close to – the idea of the big spot which Dickinson managed to synthesize into a whole modus operandi that came from studying with his teacher C. W. Hawthorne. But when I saw the Dreams and Reality show in New York a few years back, and you know, I hadn't seen those big Dickinsons for a long time, I was astounded at just how really good these paintings were.
And yes of course, Corot – what's to say…? Particularly the early Italian work (but not just) figures big-time in my thinking. They've loomed even larger in the last ten or so years. Purity of intent and innocence for me are easily interchangeable with detachment, but it is exceptional…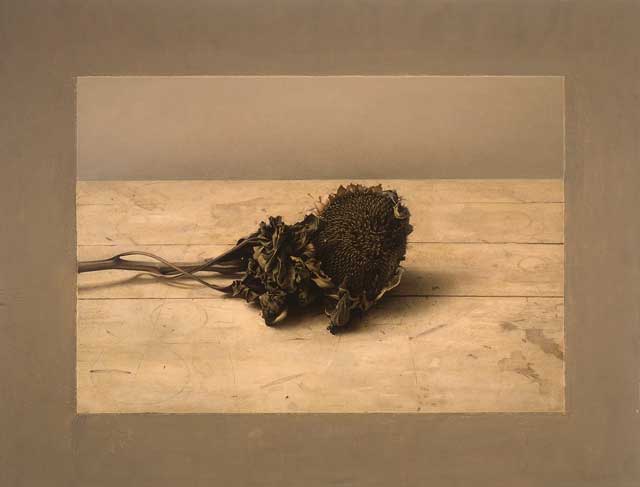 "Nova 2" 1993. Oil on paper mounted on wood, 62.5 x 82 cm
---
Donate to Painting Perceptions
Donations to Painting Perceptions helps this site greatly, please consider your gift today.