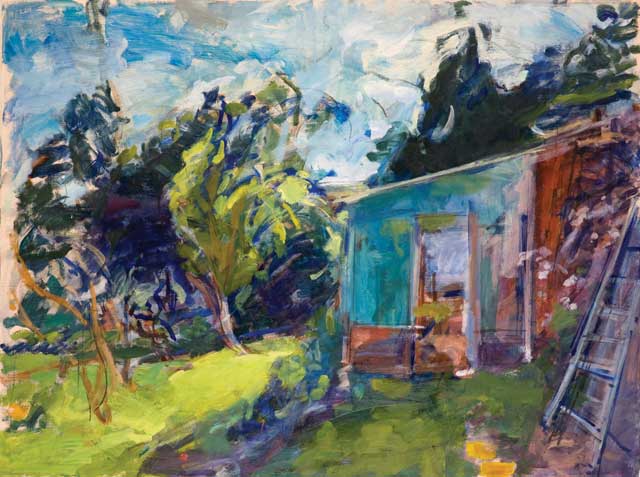 Henry Finkelstein The Greenhouse III, oil on canvas, 34 x 46 inches
Fascinating interview with Henry Finkelstein on the Jerusalem Studio School blog by Rebecca Harp, he is currently teaching a landscape painting workshop there. Henry Finkelstein graduated from the Cooper Union and the Yale School of Art and is a former Fulbright fellow and has taught drawing and painting at the National Academy of Design in New York. A 2003 Art in America article stated; "… he renders the landscape in a loose, lyric manner that makes him heir to the abstract-leaning, nature-based esthetic of his much-admired parents, Gretna Campbell and Louis Finkelstein."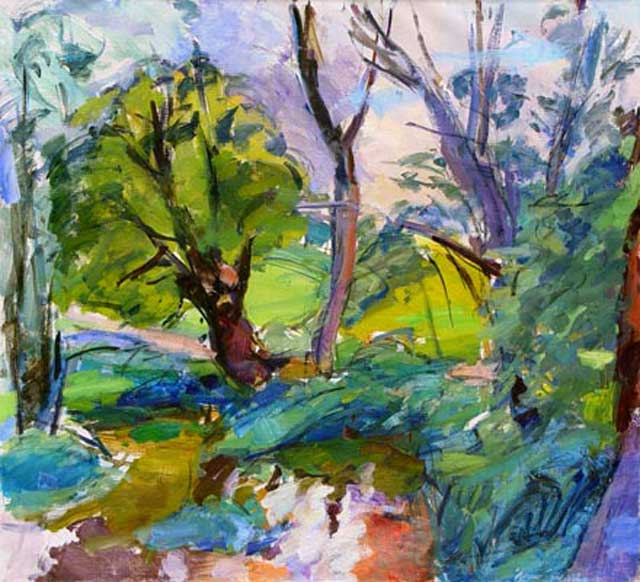 From the Bridge at the Bois Brehan II, oil on canvas, 40 x 44 inches
The below quote from his statement on his website reveals some of his thinking behind these compelling landscapes.
Although it may not be the first thing one notices about my paintings, their dynamic is largely influenced by the Abstract Expressionists. I need not to know exactly how a painting is going to come out, or even if it will succeed. I discover the meaning of each painting as I go along. Usually I have a hint of a theme or I know how I want to go about a painting, but the final outcome is always a surprise to me. Nevertheless, unlike strictly abstract painters, I paint mostly from direct observation. Nature offers me a necessary resistance that I find challenging.
I also appreciated what he said in the interview:
How do I define a successful painting? One in which something fresh is arrived at and is clearly stated. A failure? I'm as disappointed by a painting that I know too well from the start as I am in one that just becomes a hopeless mess.
There are a number of high resolution images(click on image) of his recent work on the JSS blog – I find it greatly helps to see the work with the higher resolution versions.

Potting Shed, oil on canvas, 51 x 54 inches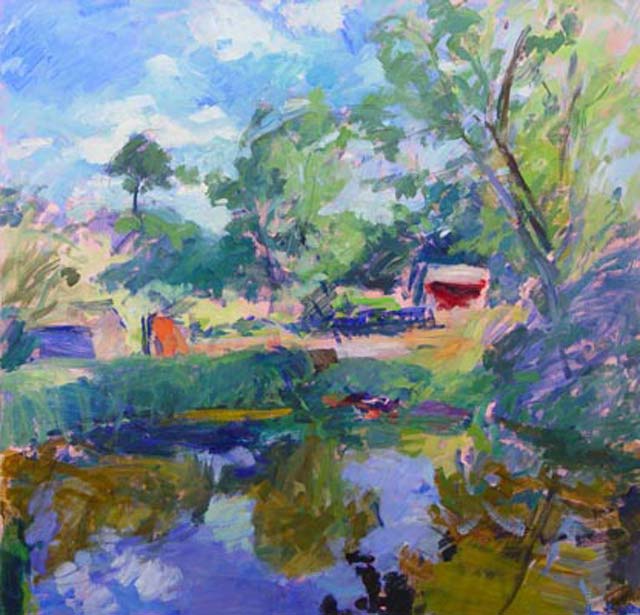 Pond, Sunny Day, oil on canvas, 43 3/4 x 45 3/4 inches
---
Donate to Painting Perceptions
Donations to Painting Perceptions helps this site greatly, please consider your gift today.