This past spring the painter Jane Culp invited Celia Reisman and I to visit her home and studio complex in the Anza Borrego desert area about an hour and a half from our home San Diego. Ms. Culp bought a large expanse of property here in 2000 and eventually built her studio and strawbale adobe home which looks over a wide vista of pristine desert-mountain wilderness. She has been living here full-time since 2009. I would like to thank Jane Culp for her enormous generosity with her time, talking at length about her background, painting process, and thoughts on painting. Ms. Culp has had many solo shows including the John Davis Gallery in Hudson, New York, The Painting Center, New York, NY and the Bowery Gallery in New York City. She has been reviewed by John Goodrich in 2014 Jane Culp: Suspect Terrain who stated:
These paintings have something of the quality of devotional works, as if the artist sought to subsume herself in the conjuring of the transcendent, using purely traditional means. (Imagine, in the twenty-first century: composing in paint!) This may be why they convey such a strong sense of the moment — a moment belonging to both the artist and nature, as if their exertions were simultaneous. One suspects that Culp relies on the drama of the desert to trigger and shape her ongoing engagement with nature. It's fortunate she's found her motif; her landscapes at John Davis are as vital and original as any being produced today.
Lance Esplund in the Wall Street Journal, 2010, stated:
…Ms. Culp arrives in these expressive oils, charcoals and watercolors at a place of structural clarity and composure—while making palpable the rush she feels interacting with nature. Her pictures' restless skies and stepped, sharply carved mountain peaks retain the vastness, monumentality and naturalism of their subjects. Yet ultimately she is painting not the landscape but the thrill of engagement.
Larry:   What made you decide to be a painter?   What were your early years like as a painter? Who were some of your biggest influences?
Jane:  I began to draw at 4 years to make sense of the world, there was no decision or choice.   My painting teachers, Fred Conway and Arthur Osver at Washington University art school taught me love and reverence for the painting masters, Rembrandt, Tintoretto, Rubens and Cezanne while working from life figure sessions. My MFA at Yale was tough going, perceptual painting was cast out by Pop Art, and my scholarship withdrawn.   Living in NYC in the 1960's was raw but a fun challenge for a midwesterner with no money nor influential friends. I have a lot of adventure stories from NYC about staying alive, and understanding the larger reality of politics, and painting. They said"if you can keep painting for 10 years after school then you will continue to paint for all your life" I did because i wanted so badly to have both the freedom and individuated path of painting to give my life meaning. Using body based BioEnergetic therapy, I painted my way into Abstract Expressionism from the Renaissance with Gustin and de Kooning, and later for my landscape years, found painting articulation with Soutine and Titian.
Larry: When did you first come here to Anza, California and how did you go about building your home and studio out here in such a remote desert area?
Jane:  In 2004 Dorland Art Colony burnt to the ground in a wildfire. Dorland had been my landscape painting refuge from NYC for nearly 20 years. Cabins were considered only a "skin"to separate you from nature while living within her cycles. The Anza land looked like a national park in its sheer beauty, so I spent my sheckles and bought 60 acres where my friends: a painter, a kayak river guide, and a surfer, built a studio for me like one I had at Dorland. The Mojave desert winter proved to be unbearable while living in my studio so I built a small but high tech, solar powered off grid straw bale cabin. It's very quiet with 2-foot thick straw walls, environmentally friendly but endless work to keep up. That's my bargain with this magnificent land–to live with it gently and leave a small footprint.
Larry:  You recently helped the book The Unpicturelikeness of Pollock, Soutine & Others:Selected Writings & Talks by Louis Finkelstein. come into being. Louis Finkelstein was your late husband and you own many of his paintings. Can you tell us something about why this book is such a great read for painters?
Jane:  Louis was a real perceptual painter, and he wrote from his painting experience sifted thru his tremendous classical knowledge of both the history of art and of human culture. He was a renaissance man. He wrote about large ideas, about what he saw, read, experienced and understood. He analyzes art fashions with knifelike, surgical precision. His writing is dense with ideas and insights and may sometimes comes across as difficult because of his passion for particulars and articulation. It is challenging to digest his writings but they yield a painters feast of content that is immediately relevant in the studio. His writings push painters to be the best painters they can be. He believed in the possibilities of the written English language; that thru it we could define our human condition and the language of painting.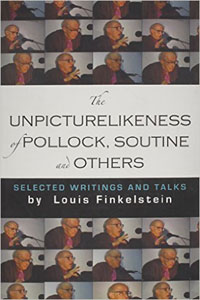 [For more information on Louis Finkelstein please see links to a LOUIS FINKELSTEIN: THE LATE PASTELS IN THE CONTEXT OF HIS ARTISTIC THINKING a brilliant essay by Martica Sawinon Lori Bookstein Fine Art and the article on Painting Perceptions, Louis Finkelstein, On Painterly From the 06/27/2000 NYT Obituary "…As a critic, Mr. Finkelstein wrote for Artnews and the College Art Journal. He was highly regarded as a teacher both at Queens College, where he worked from 1964 to 1989, and at the Yale University School of Art. He was a regular and popular lecturer at the New York Studio School in Manhattan from 1966 to 1998."
Larry:  What was it like to be married to Louis Finkelstein? Can you talk about how he influenced your work?
Living with Louis was vital, fun, and made me stretch intellectually.  We were passionately in love, that never changed. We worked hard at painting everyday all day, and dinners were late and sweet. He was an intrepid chef in his apple green apron, all the while gesturing with forks and knifes while booming out art ideas with his distinctive accented NY voice. At breakfast he gave extensive art history lectures to me at 8am while I was still torpid, or put forth important art ideas on the crowded freeway while I weekly drove us to NYC (he was a rotten driver) from Stillwater NJ, our landscape painting spot. All his waking hours were consumed by painting, reading or writing about art; he never stopped.He taught, painted and wrote with great dedication about seeing the world and its values in terms of painting and its ideas. He lived with the highest of intellectual aspirations and his facial expression was of curiosity when he died.
Larry:   You've likely been asked this a million times, but what keeps you drawn you to paint these forms for so long?
Jane:   I love rocks, I don't know why.
`
Larry:   Living things, like trees, seem to be less visible in your work however your rocks are alive in a different sense.
Jane:   They have an active history.  They were formed by wind,rain, and by tectonics that push up and crack apart as the rain filters through. And so the West is full of young rocks and young land being formed. The East is full of old used up rocks with trees growing over everything and in your face. So I like the West where I can see what has happened to the earth and what is still happening. I'm  totally captivated by this. Why? Because it speaks to me. Because I can look at a rock and  feel its history in my body.  I'm close to the earth, the sky is over me and huge. When painting, my body is very close to the rocks, the landscape is all quite alive.
Larry: It seems like you prefer to live and paint are those places where you are very much alone. You paint these mysterious, monolithic forms in a rather harsh environment. I'm curious if that's something you could explain- why this attraction? You're not painting in a studio or school where lots of other artists around.
Jane:   I use to love to watch the ants build things in my grandmother's rock garden. I turned over every rock to see what was going on under it. I still feel the same spellbound curiosity about nature.  I cannot get any peace where there's a bunch of artists fighting with each other. I tried studio painting for years, and I hated it. I hated people around me and making noise. I don't want to know what they're doing. I want talk with nature, and if I'm going to spend my time painting, which is hard enough, I'd rather be painting someplace that I love where I can hear my feelings  speak. When I moved here, i felt i had moved into my drawings. As Ellen Maloy says in her book, The Anthropology of Turquoise: Reflections on Desert, Sea, Stone, and Sky
"Of all the things I wondered about on this land, I wondered the hardest about the seduction of certain geographies that feel like home—not by story or blood but merely by their forms and colors. How our perceptions are our only internal map of the world, how there are places that claim you and places that warn you away. How you can fall in love with the light."
Larry: So do you think having the solitude effects the level of your concentration when your working? Do you find that your head is in a different space if you don't have other people around?
Jane:   Yeah, I'm extremely distracted by people. I wish I weren't. It's been a bane to my existence.  out here I feel in harmony with my surroundings, like birds following me around, watching.  I feel quite peaceful here and I don't know what else to do with life except find a little peace. I certainly can't change the present world situation much.
Jane:              I can help my friends the birds and little creatures by making a wildlife refuge here. Keeping this land wild for them. I think wilderness has its own order and this resonates in my being. I cannot stand an artificial enforced order. When a rock cracks it has a reason for cracking. When a rock is smooth, it has a reason. visual forms that have consequences are vital. Every thrust of movement I see in nature and feel when I'm drawing has a direction, has a consequence because I see it in  the  landscape in front of me having consequences. I  feel it and try to paint that. I can't feel that in the East with the trees, houses and weeds in my way, they garble my brain.
Larry:    The other thing that you mentioned too was the color out here. That the color out here is so important to you versus what's back East.
Jane:      Green, I hate the Eastern green.  Back East it's all fat opulent green which just sits there vegetating and takes up all the space in summer.  In spring it's a chorus of shrieking green.  The colors here are elemental, my pigments contain them and they explain how the earth moves. I love the warm reds and oranges of the earth, mysterious in their color layering that follows  folds created by tectonics in the earth. The light colored sandy grit of decomposed granite underfoot is the scrubbed remains of rock and then there is that bit of turquoise light that hides within violet shadows…
I think the color here has a lot more individuated character, it fits the forms. The attempted greens of the scratchy little brush are sparse, deep dark with orange umber black in them.  I like the shape variety of clouds in the always changing big sky. The West has different clouds than back East, the winds tear and pull at them incessantly fighting for their moisture. Those elliptical clouds formed over the Mojave desert are just killers. They are amazing beings. You can see what's going on in the weather patterns out here so much easier than back East. Nothing is buried. It's all obvious. I can't spend time trying to find where the bottom of a tree comes because there's a bush in front of me. I don't want to, and I'm not sure I even want them to overlap. I just want to see the nature of the beast in front of me, the nature of the creature, the nature of the mountain, the tree, the rock, whatever it is. I'm not interested in static patterning and design, instead I'm curious about uncodified irregularity. So it has to be a natural order for me to spin the story. I can't paint intuitively without movement and natural order.
Larry: Maybe what you're looking at out there in the desert, these forms, the rocks and everything; it's almost like they're containing you. You have this expressive energy with making the art, but these forms help keep everything in check. It's keeping that expressive power in check, channeling it into responding to what your response is to the desert forms. Perhaps it's that you are really an abstract expressionist painter that stays within the visual boundaries of what you're looking at. You're completely free as long as you stay within these boundaries. If you have unlimited freedom …
Jane:              You can't do it.
Larry: Then there's no structure. There's no composition. The thing just sort of falls apart into mush.
Jane:              It's flabby.
Larry: Flabby, good way of putting it.
Jane:              It's true.
Larry:              I don't see your paintings as wanting to be naturalistic, They seem more like a strong expressionistic response to nature. You're going at it in different ways. Obviously not the same way that Corot, Monet or California plein air painters would do it. Aren't you painting it more along the expressionistic lines of Soutine or Oskar Kokoschka…?
Jane:           To me they are naturalism in a very real sense: I think we are just starting to see Nature for what it is, not as a cooked concept. Ironically, we are seeing Nature just as we are losing Nature. Maybe my paintings look strong and expressive because I try to be one with a sparse and chiseled landscape, but I really am trying to paint what I see, feel and know. I guess the expression comes from the feeling of identifying with natural forces.
Yes, those painters and Titian too, hopefully.  Have you ever seen any of Titian's drawings? How many times he changed them as he worked. First the figure was leaning over the woman and then he moves in toward her, then closer still and then reaches toward…all in the lines of one drawing. His painting are like that too. So I would include Titian with Soutine, I really think they are buddies. And they move. That's how they do it. Things are moving always in the process of becoming and then they do become alive to us otherwise the painting becomes a static design or a surface pattern.
Larry:            I recently heard someone say that bad abstract painting designs and bad representational painting illustrates. You seem to avoid both these pitfalls because of the structure with its rhythm and gestural forces; your color and marks lend a visually poetic sensibility to these paintings.
Jane:            I paint intuitively following a rhythm that my eyes feel as they travel thru the space of the landscape.  The structure or ordering of forms has to support this rapid movement. So I put the forms on an axis, like I learned to put figures on an axis then I can see them in space and flat too. I do that, or try to because I don't know any further way to reduce them and their nature, except on an axis.
Everything leans like Cezanne's ptg. of Madame Cezanne in the Met. To make sculpture more alive, the early Greeks broke the symmetry, this up, that down. Rembrandt's light and dark masses–part of the form rises, the other part falls.  The whole form of a landscape can be treated this way.
If you concentrate to put the thing on an axis, then you do hold onto it and I'm sometimes impetuous, or I can't or maybe I'll use the horizon line as an axis…as a set-up.  But this is all technical stuff. The painting depends on me striving first to realize the presence of the mysterious character and forces of the landscape and then  try to push the conversation. In my best paintings, a particular landscape presented itself as an immediate visual take of emotion, it grabbed me.
Larry:             Your work has a great deal of surface texture, are you doing something with the sizing to manipulate the texture of the gesso of the ground to respond to the subject somehow?
Jane:   I use a thick oil ground on the isolated masonite board.  But yes, I've made underpainting  bas–relief diagram of the landscape area I was painting with a spatula. This helped me understand the structure of the place.  However upon painting directly upon the built up ground I found myself coloring it in. it was repetitive,imprisoning and not inspiring. Years ago I did paint  directly the tones seen on my little clay bas relief landscape sculptures to learn.
Jane:              Painting and sculpture, they're two different things. Painting is paint, it's color, and it's tone, and you use it as a relief, perhaps, in the way of a relief, but it isn't relief. It's painting. They don't mix: they seem to negate each other.  Even the Greek painted sculpture doesn't quite work. It becomes something else, decorative.
Larry:              You like having texture be independent of the actual mark.
Jane:              I like the texture of brushstrokes to evidence the process.  I find that my marks are primal and articulate. When I'm making a drawing or watercolor trying to comprehend the whole thing, they tend to be large arm movements.  I do the same thing when I make the under-structure on the board, so I will find that somehow they work right in. There's bound to be some analogous rhythm in it, a rhythm that works and guides my gestalt. Under, over, it works. It was just by chance that I found it.
I'm just extremely grateful to have it, because until then I couldn't feel any substance in my paintings.
Larry:              How much time do you spend looking at the subject before you make the mark. What would the ratio of looking to mark making be?
Jane:             It depends on where I am. There's always a moment of silence before I start, where I ground myself and think, decide what's important. When I'm on residency or in the Mojave desert I would see something very beautiful and it comes on you like a storm. It presents itself. That's what you're trying to paint, that initial presence. It's better to sit and contemplate it a little so you can fully feel it. Nothing else, if you lose sight of that one vision–and it does change, probably immediately. If you don't get it then you won't have anything. You can't get the character of a person unless you get it right away. Time passing just doesn't allow it.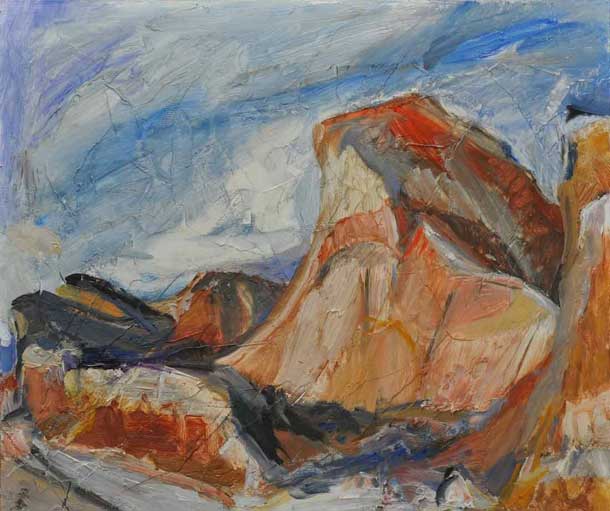 Larry:           So are most of your sittings in a couple, two or three sittings, or one sitting, or does it vary?
Jane:              For one quick sitting it will go three or four hours.  in the intense Anza Borrego  desert heat it has to be that, and I wish it didn't. Paintings near the studio let me go back and forth 3 or 4 times.  In Yosemite National park  I have  painted several particular motifs over and over thru many years. Joshua Tree is now a drive through park, it's harder and harder to paint in it.
Larry:             Death Valley seems to be just absolutely incredible.
Jane:              It's very incredible, and you think this is hot. Well, Death Valley is really hot, the light is blinding, and its beautiful. It's hard to remain there very long. I think I was there 10 days and that's all I could take. I was camping out.
Death Valley is flat in the middle and any standing water is brackish and filled with the salt of distilled heavy minerals, it's deadly. It's an amazing place. Even in back country off-road camping there wasn't any shade, just harsh unforgiving pounding light but there were big rocks and dazzling earth colors.
Jane:   Paintings teach you about how to see. Cezanne now there's one, I still keep looking at him. When I first looked at a reproduction of his watercolor landscape Bend in the Road as a student, I couldn't figure it out. About six months later, still looking at it–upside down, sideways, with rapid glances backwards. Suddenly one day I looked and it started to fold out like a staircase. Things came out, they just stepped out off the page.
Larry:           You seem to  paint the similar places over and over again, reminds me a little of Cezanne and his Mont Sainte-Victoire series of paintings…
Jane:   Yeah. It's a landscape legacy.  To me, Cezanne made landscape painting into real golem painting. Before that landscapes were usually the background of things. I studied the 17th century Dutch landscape painters for a while along with Cezanne. Dutch paintings are wonderfully dramatic in the light and shadows, the use of the horizon, you feeling apart of the landscape and even the paint.
You can see a mountain so many kinds of ways. The Chinese know it too, the mountain continues to elude you.    The author of "Arctic Dreams"  writer Barry Lopez  says, "Nature eludes you, it changes its mood so quickly you will never be able to define it." He says you can go out and pick up a leaf or  remember the scent of a bush, or see some scat, he says you try to put all these pieces together of the land that you love and hope to define it.  He said, "The land will always elude you." And it does.
Painting is a slow way of seeing. Understanding what you're seeing.
Larry:             But you lived in New York for years, right? So how did you deal with living so far away from your subject?
Jane:   Not easily. Louis and I would go out to paint in the Delaware Water Gap in summers. In the winter I would take a month or two off and come to Dorland Mountain Art Colony here in Southern Ca.and do my favorite, western painting.
I would leave him to come out here. Actually when we first got married I had a six month stay at Dorland and I left right after we got married. He had to come out and get me. It was one of the two times he came West..
Larry:              He didn't like it out here?
Jane:   No. There's no trees. His paintings show how he loved trees. He thought the West was awful. We drove days to get to Bryce Canyon, he said with great anger " I can't paint here–there is nothing to paint, it's chaos" and we packed up and left.  And he looked at the Grand Canyon and he said, "This is like Hell! I can't imagine walking down there, it's frightful." He hated it. He did some nice work in Zion National Park and Yosemite. We had a good time, but we never came back. He would say in Yosemite how much he liked it and his paintings showed this and he did make some lovely pastels. Then he'd get back and he'd bad mouth the west. It was funny.
Larry;         A  true New Yorker.
Jane:               He grew up there, he called himself a "child of the Met".
Larry:              What did you think of the Bay area figurative painters?
Jane:   I thought they were very painterly. I love Diebenkorn, Park, Bischoff. I particularly love early Diebenkorn's landscapes and Oakland museum has a dynamite collection of many early Bay Area landscape painters.
Larry:              They do. I saw that a little while ago. They have a great collection, David Park, Joan Brown.
Jane:   Have you ever heard of Hassel Smith ?
Larry:              No, I'm not familiar.
Jane:   He was a landscape painter. He make these graphic, abstract landscapes around Diebenkorn's time or a little before. There was a Bay Area group of landscape painters then. They were experimental; they tried to do the abstracted landscapes with an eye toward still life composition.
Larry:              Didn't most of them paint urban scenes or figurative? I don't remember seeing that many pure landscape like what you're doing.
Jane:   Whats "pure"?.   Concern with keeping the landscape topography and character of primary concern? …early Diebenkorn painted experimental landscape..
Larry:              Early Diebenkorn was?
Jane:   Still  landscape. Beautiful, magnificent paintings. they were the Berkeley hills and landscape concerns later continued thru his big light filled last paintings…the Ocean Park Series.
Larry:              Oh right, the Berkeley Hills.
Larry:            He was painting from observation then or was he studio??
Jane:   He painted from observation then, thru the windows and remembering. He was working from his abstract thoughts too.
Jane:             He looked a lot at Early Rothko I think. And then Hans Hoffman, I think he was influenced, they had a big Hoffman collection in Berkeley.
Larry:             Would you say that Hans Hoffman is someone that was an influence on you?
Jane:   I did look at his paintings. As a teacher, he was too strong. Louis never studied with him because he felt he would be too influenced by Hoffman, but some people did like Mercedes Matter did, I think.
Larry:              Did you? Did you study with Hoffman?
Jane:   No, I'm not that old.
Larry:              You're not that old. I get the timeline mixed up. I knew you were in graduate school at Yale in the early 60's, so he wasn't teaching then?
Jane:   Louis was teaching, I was his student.
Larry:              Hoffman wasn't teaching then?
Jane:   No, Hoffman was not teaching at Yale then. I think he was in Provincetown. He might have been out there teaching.  Mercedes grew up knowing Hoffman thru her father, Arthur Carles
Larry:              Now I read  that one of Louis' teachers was Edwin Dickinson, is that right?
Jane:   Louis put a book together for him at Yale. He proofed the plates. He made sure the color was right for him on it.
Larry:             They have such different approaches.
Jane:   Yeah. Well Louis liked different; he liked particularly artists who were good and were successful. Success influenced him,  And yes, he really liked Edwin Dickinson. He liked Wolf Kahn too. Because he was successful. He admired success, that get up and go. Who else did he like? Oh a lot of painters. Always the masters, he could tell you anybody's painting and he'd know where each painting was in what museum. In just about what room.
Larry:              He was also really pushing painting from observation when that was a really radical thing to be doing back then. I mean very few people were thinking about that in a modernist way. Back then.
Jane:   Yeah, well it was the abstract expressionist time and he continued to paint representational. He did dabble a little, I saw some good early abstract paintings and sculptures of his.. but he always returned to paint from life.  He believed in it.
The ViewFinder
Planning to return to the JSS in Civita this summer
Corot's view of Civita from Terrano I recently decided return to Civita Castellana...
---
Apollo and Dionysus in the Representational Painting Family Feud
by Elana Hagler This essay explores the subconscious impulses behind aesthetic choice...
---
Tour of Lucian Freud's studio
British TV's Channel Four's exclusive tour of Lucian Freud's studio...
---
August 2009 video interview with Antonio López García
August 2009 video interview with Antonio López García with subtitled english translation...
---
Read more posts from The ViewFinder
Sounding Technical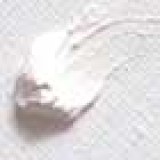 The Great Lead White Shortage
Who took the lead out? Painters who use some form of lead white are now noticing...
---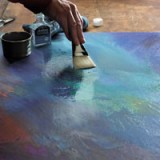 Thoughts on Varnishing
This is the first article for the new section on materials and technique, "Sounding...
---
Read more posts from Sounding Technical
Featured Interviews
Conversation with Jane Culp
Slanted Rockpile, 20 x 24 oil on board This past spring the painter Jane Culp invited Celia Reisman and I to visit her home and studio complex in the Anza Borrego desert area about an hour and a half from our home San Diego. Ms. Culp bought a large expanse of property here in 2000 and eventually built her studio and strawbale adobe home which looks... [Read more of this review]
---
Celia Reisman – California Paintings
Bess's Roofs, Oil on canvas 26 x 32 inches 2014 Celia Reisman currently has a solo show at the Paul Thiebaud Gallery in San Francisco up until June 13. I had the pleasure of interviewing Celia Reisman back in 2011. A year or so ago Celia contacted me again to ask about what living in San Diego was like and any suggestions I might have to help... [Read more of this review]
---
Interview with Julian Kreimer
In February 2015 I had the pleasure to sit down and talk at length with the painter Julian Kreimer while he was the artist in month long residence at the Lux Institute here in San Diego. He took time out from his busy painting schedule of making one painting each day, many works done from observation of the surrounding coastal chaparral and nearby... [Read more of this review]
---
Conversation with Langdon Quin
photo credit: Tobias Feltus Langdon Quin, a highly respected painter living in both Italy and upstate New York is having an exhibition of recent landscapes at The Painting Center from March 31–April 25, 2015. Quin has exhibited widely, both nationally and internationally. Since receiving his MFA in Painting from Yale University in 1976. He is the... [Read more of this review]
---
Conversation with Lois Dodd
Lois Dodd, Photo by Joe Ward Lois Dodd has been painting her everyday surroundings for sixty years. Her current exhibition, from February 26 through April 4, 2015 at the Alexandre Gallery in NYC shows twenty-four recent small-scaled paintings that depict familiar motifs such as gardens, houses, interiors and views from windows. Dodd, now eighty-seven,... [Read more of this review]
---
Interview with Elizabeth O'Reilly
Elizabeth O'Reilly, Black House, Blairstown, Oil on Panel, 6 X 12 inches 2014 image courtesy of the George Billis Gallery I am very pleased to have had the opportunity to interview Elizabeth O'Reilly by video skype and email and would like to thank Elizabeth for her generosity with her time and energies with this interview. Elizabeth O'Reilly... [Read more of this review]
---
Conversation with Margaret McCann
Margaret McCann, Gazing Globe, 2014 20 x 20 inches oil on linen This past August I was fortunate to meet with Margaret McCann in her studio in NYC for an interview. My good friend and fellow painter, Matthew Mattingly, joined the conversation with many brilliant observations and comments. Larry Groff:  Thank you, Margaret, for talking with us about... [Read more of this review]
---
Interview with Ann Gale
by Larry Groff Ann Gale, Portrait with Orange Scarf, 14 x 11" oil on linen wrapped Masonite, 2014 image courtesy of the artist I am honored that Ann Gale agreed to this telephone interview and thank her greatly for being so generous with her time and attention with sharing thoughts about her art and process. Ann Gale is a leading American figurative... [Read more of this review]
---
Interview with Kyle Staver
Thaddeus Radell wrote in his review of the 2013 Kyle Staver Tibor de Nagy Gallery show: …"Staver is a brilliant inventor whose success lies in her commitment to her inner vision that is at once original and sophisticated and she is remarkably adept at rendering that vision into cohesive luminous constructs. From a broad, almost confused spectrum... [Read more of this review]
---
Intuition and Intention: An Interview with Elizabeth Wilson
by Elana Hagler Elizabeth Wilson, Sunset, Greenport II, oil on panel, 24 x 24, 2012 – 2014 Elizabeth Wilson is a painter living and working in Philadelphia and will be having a show of recent work at the Rosenfeld Gallery in Philadelphia from November 2nd through November 23rd. First studying at the Corcoran School of Art in Washington, D.C.,... [Read more of this review]
---
Conversation with Lennart Anderson
Introduction by Susan Jane Walp I met Lennart Anderson during the summer of 1968. I was an undergraduate student at Mount Holyoke College, attending a summer program run by Boston University at Tanglewood, and Lennart was the painting instructor. We painted from the model, and Lennart painted along with us. Later he expressed some guilt over being... [Read more of this review]
---
Interview with Anne Harris
by Tina Engels Anne Harris, Head Study, 2013 I visited the studio of Anne Harris and had a peek at the some of her new paintings and a glimpse of some drawings that did not make the cut for her last exhibition. We discussed her process as she pushes further and deeper into what she feels is true in her painting, excavating and digging into the various... [Read more of this review]
---
Legacy and Self-Determination: An Interview with Alexandra Tyng
by Elana Hagler The Porcupines From Cadillac, oil on linen, 28″ x 42″ Alexandra Tyng is a painter who lives and works in Philadelphia. She has a B.A. in Art History from Harvard and an M.S. in Education from the University of Pennsylvania. In terms of her painting education, she is mostly self-taught, having examined the work of the old... [Read more of this review]
---
Interview with Duane Keiser
Duane Keiser, "Self Portrait in an iPhone, 9/10/2011″ oil/paper, 6″x5″ Duane Keiser is perhaps best known as the leading pioneer in the trend of painters selling work online. He is not only a fabulous painter who has sold work in major NYC galleries but continues to be a leading figure "in democratizing the art world, using... [Read more of this review]
---
Interview with Vincent Desiderio
Vincent Desiderio, Hitchcock's Hands, 2012 oil and mixed media on canvas 64 x 66 inches (Courtesy of the artist and the Marlborough Gallery) Vincent Desiderio is widely considered to be among America's most preeminent living painters. He is currently having his eighth one-man exhibition of new work at the Marlborough Gallery 40 West 57th... [Read more of this review]
---
Interview with Diana Horowitz
(photo credit: Tommy Agriodimas / Downtown Alliance) click here for larger image I've long admired Diana Horowitz's paintings and I was thrilled to have the opportunity to speak with her on the phone and by email for this interview. I thank her greatly for the generosity of her time and thoughts for this interview. Maureen Mullarkey wrote... [Read more of this review]
---
Seeing Along the Periphery, Getting at the Essence
Photo credit: Jason Houston click here for larger view  A'Dora Phillips interviews Lennart Anderson in Collaboration with Brian Schumacher Lennart Anderson on painting from life with central vision blindness; what vision loss has taught him about painting; art school; creativity; genius; influence; not fitting in; and hunkering down. The perceptual... [Read more of this review]
---
Interview with Michael Tompkins
Barge for an Evening Bird, (DETAIL) 9 3/4 x 81 7/8 inches, 2010, oil on wood panel Please note: several images in this interview link to a "zoomify" viewer where clicking the image allows you to zoom and pan, much the same way one uses google maps. You also have the ability to enlarge the viewing area to fill the browser window with button... [Read more of this review]
---
Interview with John Dubrow
John Dubrow in his studio Interview with John Dubrow by Xico Greenwald John Dubrow has been making ambitious figurative paintings of New York City scenes since he moved to Brooklyn in the mid-1980s. His light-filled canvases are often years in the making—ragged, impastoed surfaces the result of the high standard Dubrow holds himself to.... [Read more of this review]
---
Interview with Lucy MacGillis
Lucy MacGillis Astoncolle II 50 x60 inches Oil on canvas 2010 click here for a larger view Lucy MacGillis is a painter who has been living in Italy since her graduation from the University of Pennsylvania in 2000. Her paintings are represented in private and corporate collections internationally. She shows her work at a variety of venues in Europe... [Read more of this review]
---
Read more posts from Featured Interviews