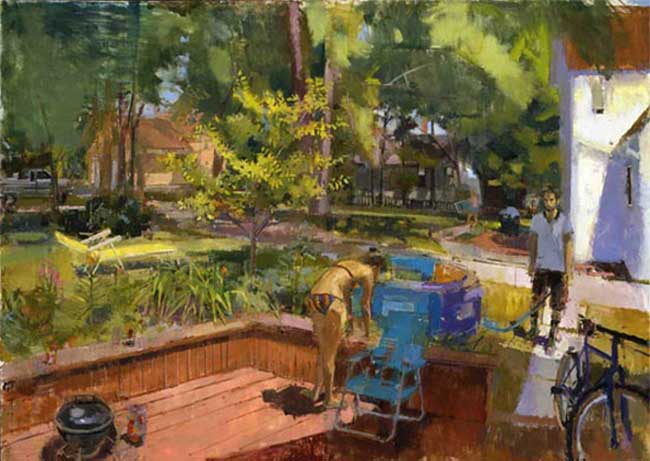 Eve Mansdorf Backyard Oil on linen, 46 X 64″,
Another leading observational painter is Eve Mansdorf who shows at the Gallery Henoch in Chelsea. (no direct link available from this website – look under the artists) Eve studied in Grad school at the Brooklyn College in 1990 with Lennart Anderson and whose amazing gifts of seeing and responding to color from nature has passed on in her work as well. She now teaches painting herself at the Indiana University at Bloomington.
She states in her CV "I am interested in the British painters, the Coldstream tradition, Uglow, but I am also interested in artists such as Balthus, Freud, Paula Rego who are doing something else. I am interested in Fairfield Porter and the Bay Area painters. I am interested in Dickinson and Lennart Anderson."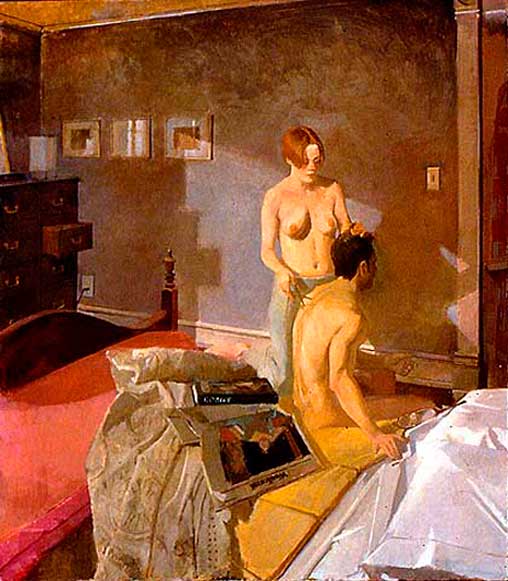 Eve Mansdorf Haircut, Oil on linen, 84 X 74″
Her color sensibility, particularity in her interiors and still life, draws me in initially where the fullness and truth of the color hits both the exact color needed to establish the form, light, as well as mood and drama. But it is her compositional organization of elements, their subtle geometric and linear relations that keep me staying engaged within the painting.
I love what she says in her statement about measuring "I do measure and find it is a way of keeping a painting fresh and open because my measurements are always changing and I am continually reestablishing them. Also measuring is a way of creating relationships in a painting. It is not an ethos with me and I find that at some point measurements don't work and intuition takes over. Identifying key color or value relationships, developing a sense of light, paying attention to edges and a good sense of touch are as important as measuring. On a painting that takes a long time I feel there is a gradual accretion of decisions and perceptions and a density accrues that is more than the sum of its parts (hopefully). Link to full statement.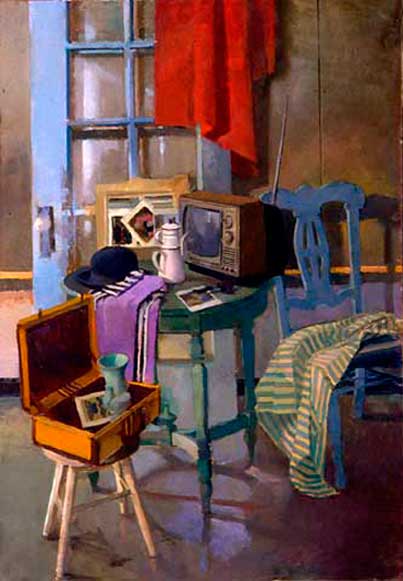 Eve Mansdorf Eye, Oil on linen, 60 X 42″
What really make Eve Mansdorf interesting is not just her strength and lyricism of her paint handling but the fact she combines it so well with psychological narratives. Not many figurative painters combine this as well as her. The fact she has a BA in psychology from Cornell perhaps works to her advantage as does her stated interest in Paula Rego, Balthaus and Lucian Freud.
In addition to her gallery Henoch website, more can be seen of her earlier work on Maureen Mullarkey's site Studio Matters.
Here is a link to a blog, mwcapacity, for another post from 2/08 and great discussion of her work that may be of interest.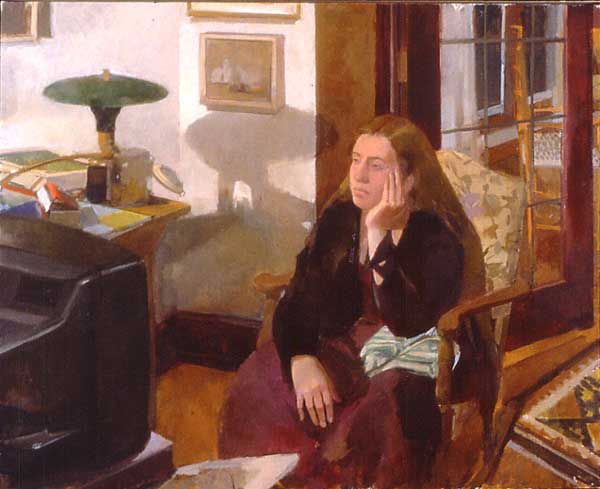 Eve Mansdorf
I found this image online (WestChelseaArts.com ) that clearly seems to be one of her works but it didn't give a title or any other information other than being Eve Mansdorf. It was such a wonderful painting I thought I might rescue it from database obscurity.