•Drawings
Drawing is the most immediate way of making your ideas, sensations, and information explicit.
— Euan Uglow
As drawing was an essential part of Uglow's working process, I wanted to include a few examples. The works are wonderful in that the lines are searching and feel like they are searching for the answers. Whereas the paintings have a feeling of absolute conviction to the shapes and forms, the drawings show how hard Uglow worked to convey that sense.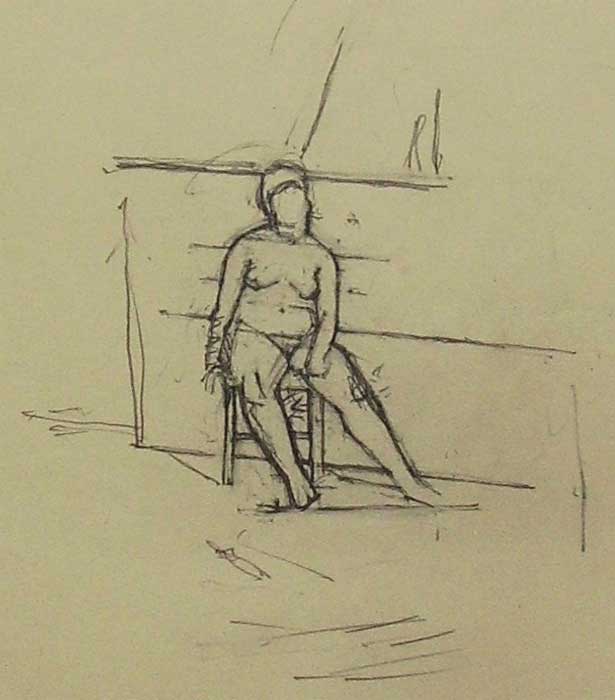 Seated Nude detail (full drawing in larger image – click to see)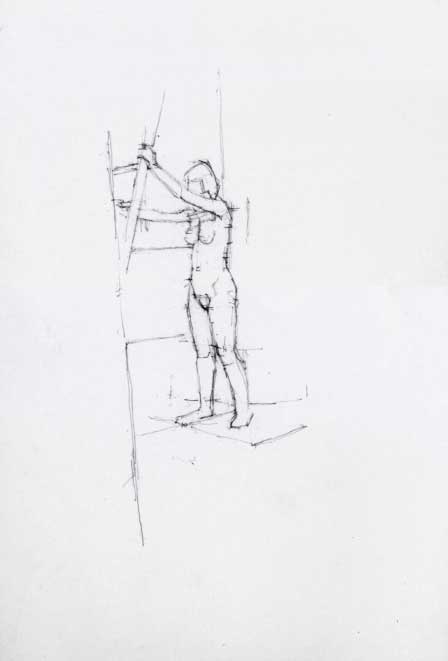 Holding ladder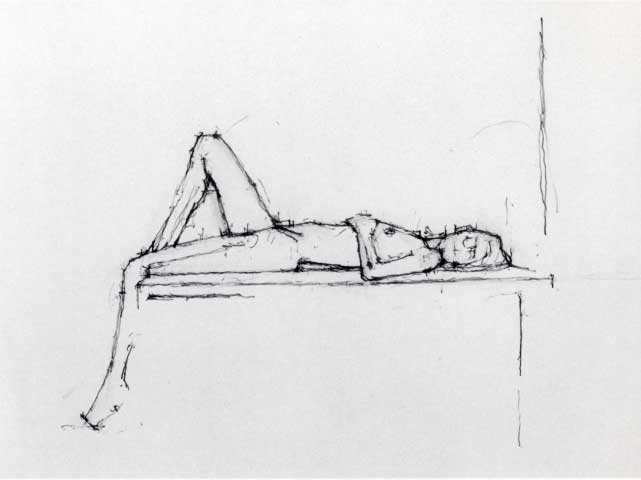 Girl lying down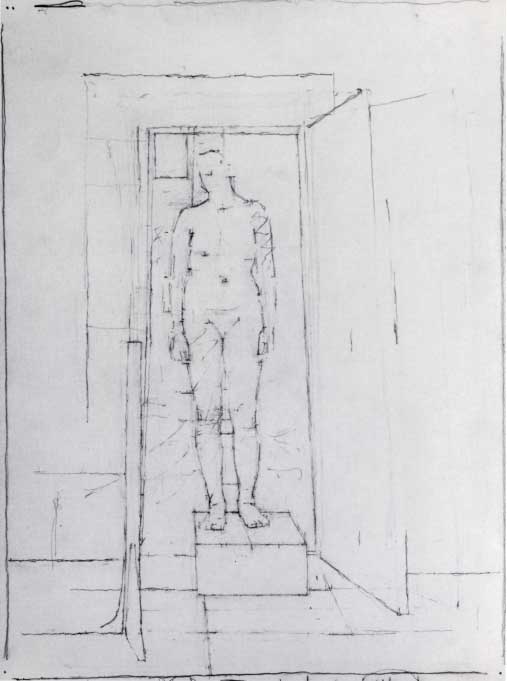 Nude standing on box in the doorway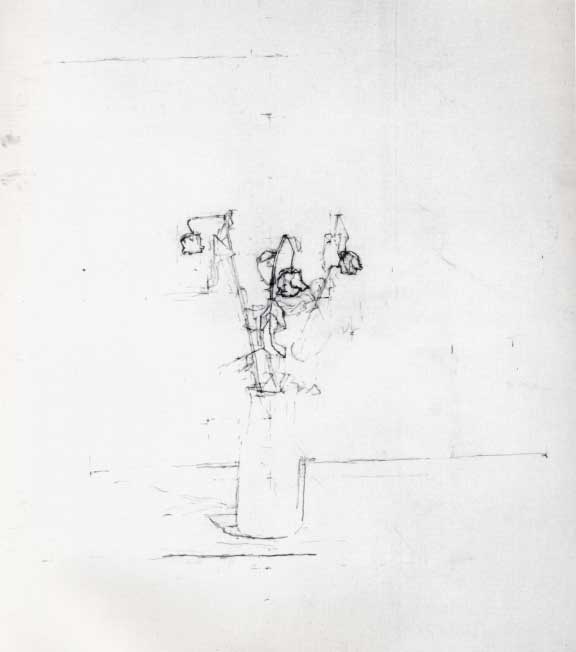 Still life
If you've got the money, compared to his paintings they are much less expensive—£3000-£5000 versus prices starting around £70,000 for small paintings and a few hundred thousand pounds for the more iconic images.
Structured life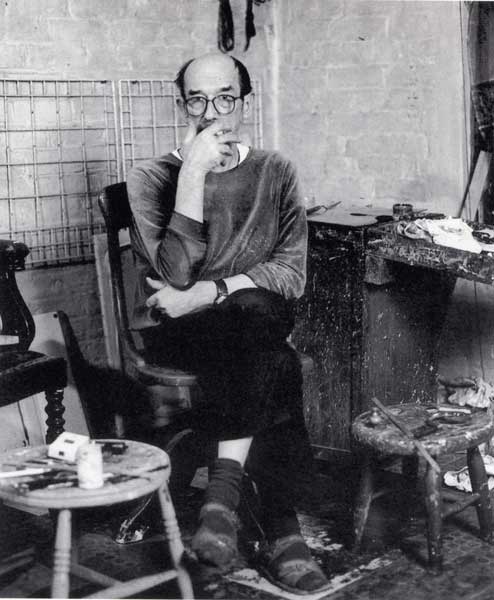 As artists, we often try to figure out ways to balance or structure our lives in order to paint in a regular manner. From and early point in his life, Uglow set up many rules and personal structures in order to focus almost exclusively on his painting. His life seemed to be completely controlled by rules which he set for himself: (as reported by friends) Mondays were dinner with his mother, Tuesday he would buy groceries, on Wednesday play table tennis, Thursdays dinner with friends, Fridays teaching at the Slade. He would only paint during the days and only draw during the night since the light was different (though, he later amended this in order to create the Night Painting series).
Uglow had a reputation for being stern and inflexible person because of all the structures that he employed helped him paint. But despite that reputation (according to friends), Uglow could be a very warm person to the people close to him.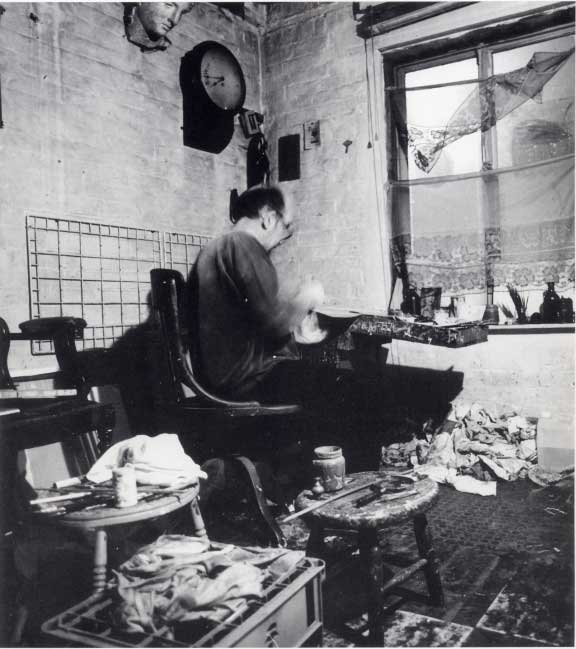 Odd tidbits
•In the 1950's Uglow showed with Frank Auerbach
•He was championed by David Sylvester and went with him to meet Giacometti in 1957.
•Lucian Freud wanted Uglow to sit for a portrait but Uglow refused as he felt that his time would be better spent making his own paintings.
•There is a video done of him painting Root Five Nude but unfortunately I have not been able to find any information about other than it was done in conjunction with a television show in the UK and have heard references to it.
•I found this negative but thoughtful review and thought others may be interested
http://www.guardian.co.uk/artanddesign/2003/jul/08/artsfeatures
•A couple of stories by Uglow's models
http://www.modelreg.co.uk/Articles2.htm
at the end of the article a model seduced him to get out of posing
http://www.guardian.co.uk/artanddesign/2006/dec/16/art.architecture
•One of Uglow's unfinished paintings gained a great deal of notoriety. In the 1970's, Cherie Booth (later, Cherie Blair, Prime Minister Tony Blair's wife) began posing for Uglow but after a few years she found the commitment to be too difficult and the painting was never finished (another model was hired to rework the concept). It was always rumored and denied until shortly after Uglow's death, Cherie Blair admitted to having posed nude for Uglow as a student
http://www.guardian.co.uk/uk/2000/sep/03/tonyblair.politics
Notes on Browse and Darby
While I was in London, I searched for galleries that presented work that falls into the scope of Painting Perceptions (and the type of work that speaks most directly to me). Browse and Darby stood out from all the other galleries in the quality of artists and seriousness that the work is presented with. The gallery is one of the best galleries that I know of for this type of work and opened the door for me to find a large number of great artists that were shown in the first posting of the Slade School. If you are in London, the gallery is really worth a visit (it's right near the Royal Academy of Art). I also understand that they are planning to be at the Armory Show in New York in the spring. So if you can't make it across the pond, I would really recommend a visit to their booth.
Not only are the living artists of interest but they also have great artists who have passed away (I sadly just missed a show of Gwen John). Also of interest are the catalogs that they usually have to accompany their shows. I found the people there to be incredibly helpful and responsive with enquiries and requests.
This is how they describe themselves:
Housed in an 18th Century building on Cork Street in the heart of London's Mayfair, Browse & Darby first opened the doors to its' iconic gallery in October 1977. In the three decades since, the gallery has continued to specialise in Contemporary British figurative work, as well as dealing in classic British and French paintings, drawings & sculpture. Browse & Darby began as a collaboration between distinguished art dealer and historian Lillian Browse and prominent art dealer William Darby. Lillian Browse retired in 1981 and William Darby has since taken on a consultancy position with the gallery; the gallery is now run by Joshua Darby and Charles Bradstock. In addition to holding regular exhibitions, Browse & Darby also acts in an art dealer capacity and has been retained to advise on all aspects of collecting art. The gallery also has access to top restorers and conservationists, as well as contemporary and more traditional framers.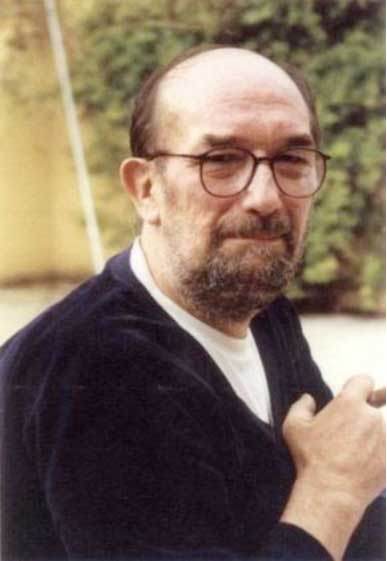 Books and catalogs on Euan Uglow: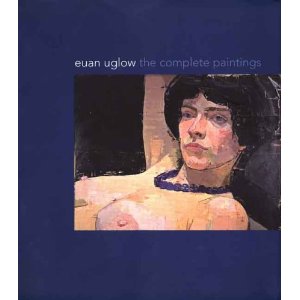 Euan Uglow: The Complete Paintings from Amazon.com
Please consider buying this book from the above link to Amazon. Doing this helps to support painting perceptions as we get a small percentage of the sale.
•An overview of this excellent catalog raisonné, Euan Uglow: The Complete Paintings by Catherine Lampert from Google books with portions of the text and images available for preview as well as several reviews.
from this link to Google books
•The catalog to the show Euan Uglow: A Personal Choice by his life long time friend the artist Craigie Aitchison gives a lot of color to Uglow the person and his methods. Information on how this catalog can be purchased from the Brown&Darby website can be found from this link.