Still life paintings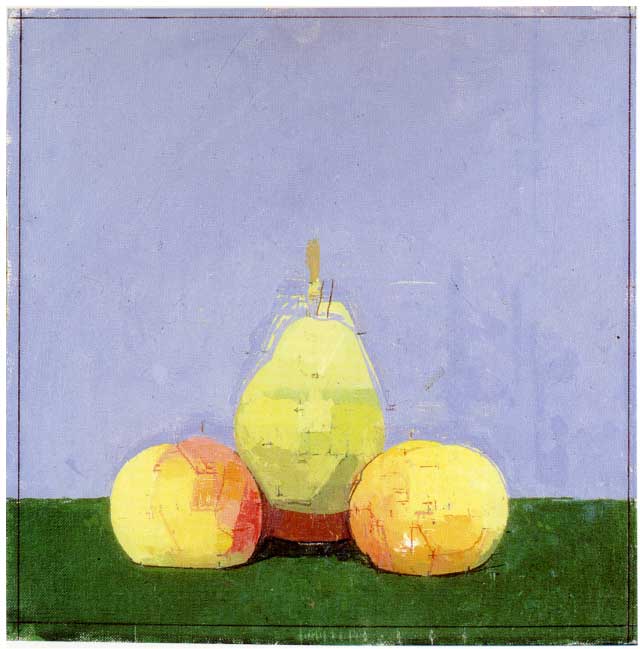 Fruit Pyramid 1988
Like many great painters, Uglow could take years to finish a painting. Because of his meticulous method of painting, his still life set ups faced the issue of the subject rotting before he had a chance to finish. Uglow would say that he was in a "state of emergency" and work in furry in order to finish the paintings before the set up changed too much. Despite the rush of work, the subjects often rotted before he could finish. This rotting could change the ratios of his paintings and there would be corrections for the new positions of the subject as it desiccated and sagged.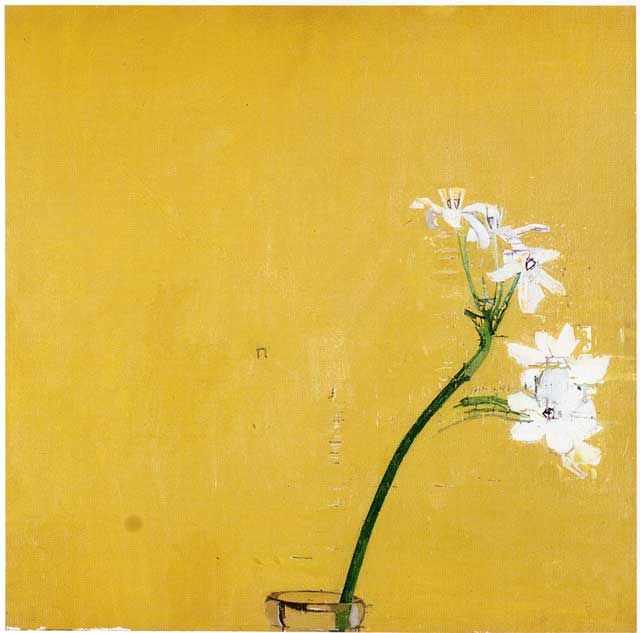 Narcissus on yellow ground 1979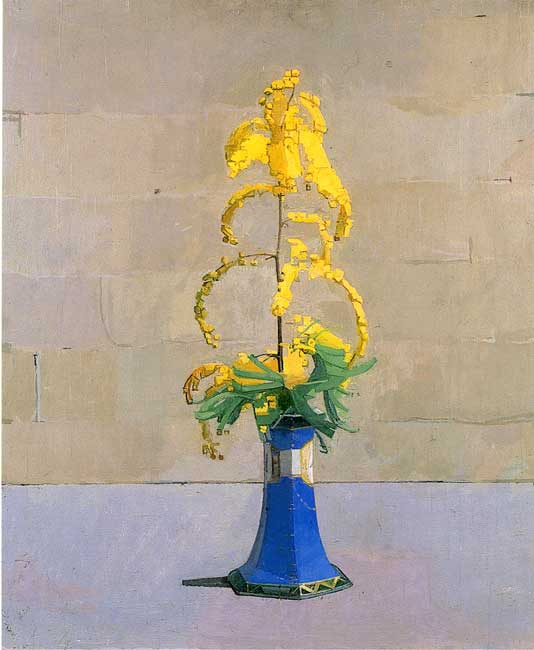 Mimosa, Oil on Wood 1970-71 21 x 17 in
Some of Uglow's still lifes have meaningful stories behind them that Uglow appeared to feel were only for him or the people close to him. The painting Mimosa was done of flowers from his dear friend Craigie Aitchison's mother's funeral. Dame Aitchison had been quite dear to Uglow so the painting is filled with personal meaning. The name doesn't indicate any of this so one might conclude that this information isn't meant for the general observer. Another example of meaning behind the still lifes is A Tongue for Rudi that was done in memory of his friend Rudi Nassauer who enjoyed eating boiled tongue. The background stories of these paintings, often relayed by friends, give us a much fuller understanding of Uglow the person and give some context for the reasons he at times chose unusual objects for subjects.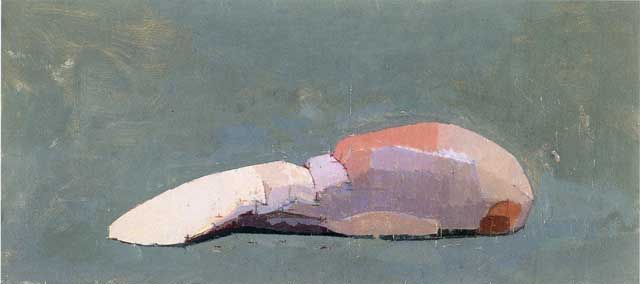 A tongue for Rudi 1997 Oil on canvas laid on panel 7.5 x 16.75 in
Night paintings
Later in life, Uglow broke with his rule of not painting at night and worked on paintings of figures in his studio at night. Though, Uglow did give himself some limitations. He initially limited his palette to yellow ochre, cold black and white. He later added scarlet vermillion but it appears that this addition was only used to paint his red tiled floor (see the paintings Nuria and I mentioned in Measuring, Markings and Set Ups section above). This limited palette explains the unusual coloring of his figures, and yet, the color captures that sense of florescence lighting.
In painting these Night Paintings, it has been said that Uglow used an approach similar to that used to create the still lifes. He painted these in a more rapid manner.