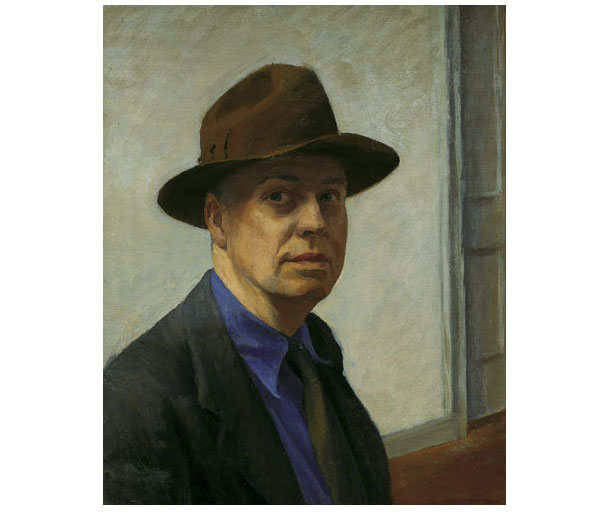 Edward Hopper, a documentary film narrated by actor, art collector and musician Steve Martin, was produced by the National Gallery of Art for an major exhibition there in 2007 that included 48 paintings, 34 watercolors, and 12 prints from public and private collections.
From a IMDb review:
Edward Hopper (1882 – 1967) is one of the best known and most admired of American artists. He found poetry in quiet, private moments set in unexceptional places, such as anonymous hotel rooms, diners (Nighthawks), gas stations, and traditional houses. Within these urban or small-town spaces, Hopper created iconic images of American life that present us with the possibility of narrative, but ultimately remain enigmatic. Rather than depict a specific story, they suggest a universal, shared experience. This film traces Hopper's varied influences, from French impressionism to the gangster films of the 1930s. The documentary uses archival photos and film, specially shot footage of locations painted by Hopper in New York and the New England coast, and interviews with artists Eric Fischl and Red Grooms, scholars, and curators.
See more about An Opera Inspired by Five Paintings of Edward Hopper after the fold.

Additionally, The National Gallery of Art showed a production of Later the Same Evening: An Opera Inspired by Five Paintings of Edward Hopper, by composer John Musto with libretto by Mark Campbell, was performed at the National Gallery of Art on December 2, 2007. The opera was a joint project of the National Gallery of Art, the Clarice Smith Performing Arts Center, and the University of Maryland School of Music. It was performed by singers from the Maryland Opera Studio and the National Gallery Orchestra. A discussion with the composer, librettist, and cast followed the performance at the National Gallery. Four additional performances were presented at the Clarice Smith Performing Arts Center in November.
Here is a youTube excerpt of this opera
Elaine's Aria from the Edward Hopper inspired opera
Later the Same Evening
Libretto by Mark Campbell
Music by John Musto
Elaine: Claire Kuttler, soprano