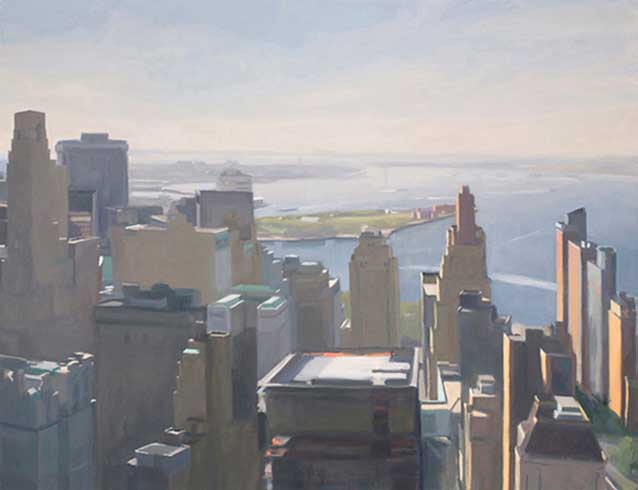 Diana Horowitz South View from 7 World Trade 20 x26 inches oil on linen, 2009
Maureen Mullarkey in her excellent essay on Diana Horowitz' painting said
"DIANA HOROWITZ' ART is one of restraint and modulation. The appeal of it lies in her retreat from self-display in service of her motifs. Behind the work is a dedication to technical and chromatic means that reveal the abiding qualities of the subject itself. There are no exhibitionist flourishes. Only quiet attention to the architecture of city streets, industrial sites along the New York's commercial waterways, and the kaleidoscope of Brooklyn rooftops."
Maurenn Mullarkey also wrote another review of her work for the NYSun that is worth checking out.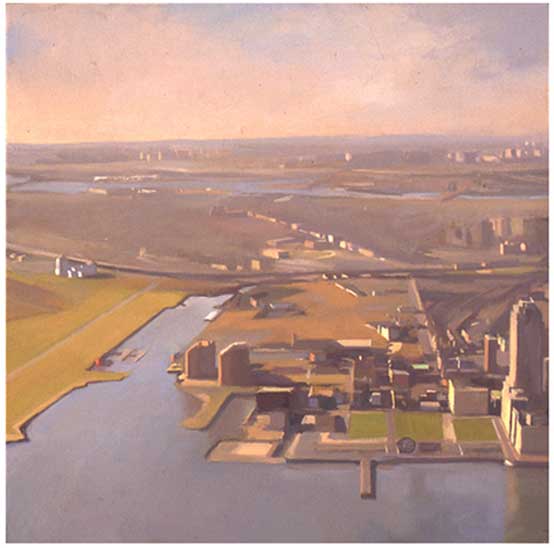 New Jersey from the World Trade Center 16 x 16 inches oil on linen, 1997
Diana's urban landscapes are exquisitely drawn and observed. Every element seems considered and important to the integrity of the whole painting. Nothing appears superfluous. I love the places she paints for their geometric appeal as well as the expressive appeal of such scenes as forlorn industrial sites along the Gowanus Canal. Even more I enjoy her translation of these views into paint, she transcends a simple recording of wonderful places into an even greater fascination from the power of the painting itself.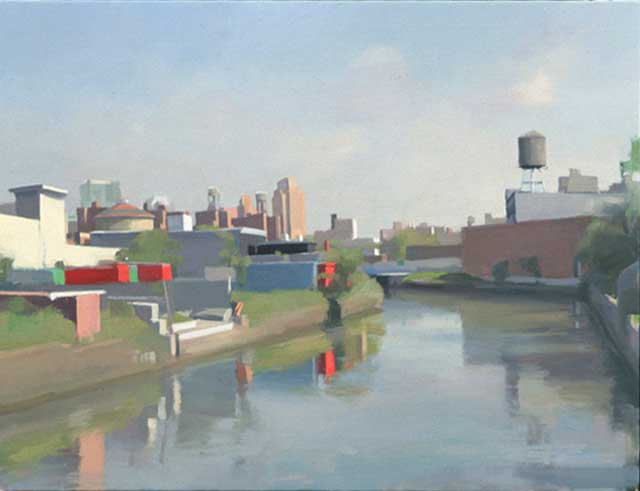 "Red Trucks from Third Stree 14 x 18 inches oil on linen, 2004
Her simplification and groupings of the various structures and forms, the passages of light and the unifying qualities of the atmosphere into a wonderful abstract design but retains the specific identity and sense of place. Most of all I am smitten by her color sensibility, both in the musicality of her color orchestration throughout the composition and for the integrity in getting the exactly right color note for each specific form.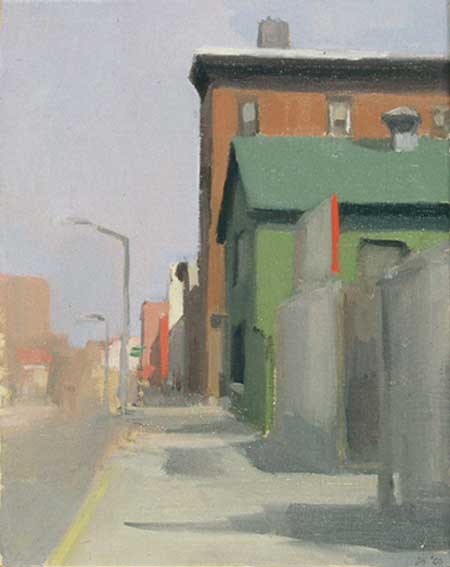 Union and Hoyt 10 x 8 inches oil on linen, 2000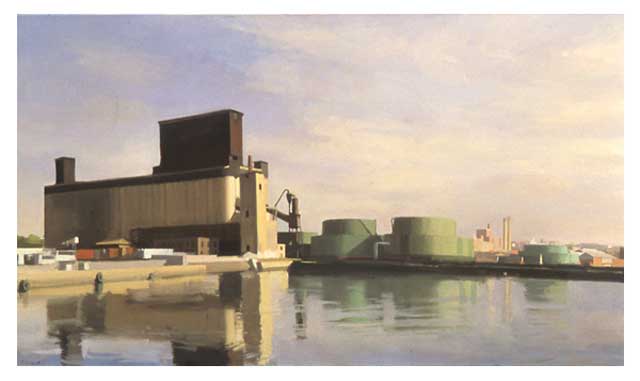 Grain Silo & Still Water 13 x 28 inches oil on linen, 2002
You can see more of Diana Horowitz' painting on her website and she shows at the Hirschl & Adler Modern in NYC which also has many of her works on view.
She studied at SUNY, Purchase in 1980 (BFA) and studied at Brooklyn College in 1987 (MFA). She has won many awards includeing two Pollock-Krasner Foundation Grants and residencies at Yaddo and MacDowell Colony. She was elected a member of the National Academy of Design in 2006. She has taught at the School of the Art Institute of Chicago, the Tyler School of Art and the Rhode Island School of Design. She currently teaches at the Brooklyn College.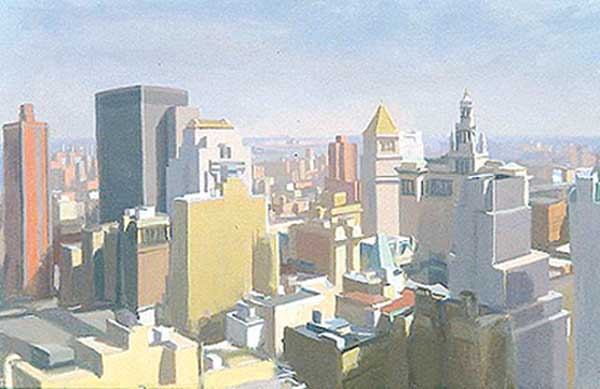 Diana Horowitz From 7 World Trade Center oil on linen, 2007