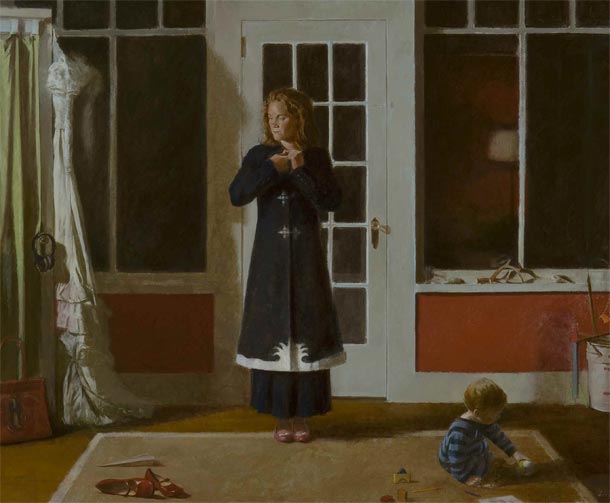 David Graeme BakerSolstice, 2008, oil on linen, 28 x 40 inches
David Graeme Baker is a Maine-based painter primarily painting figures and interiors but also still life and landscape. Many of his works suggest story telling on some level and often revolve around family life, presumably his wife and two sons. These delightful paintings appeal to me as much for their gorgeous color and invention in design as they do for the subject matter. There is a joyful feeling in these works, despite often somber undertones, this joy perhaps vicariously coming from a painter having such a good time with color and the paint. The longer I look at his work as a group I start to see repeating themes and returning characters like the woman's shoes or similar compositional themes like the woman lying on the couch – or the frequent horizontal rectangle shape in the bottom half of the painting.
In an artist statement David Baker said:
"In a simple sense my paintings are realist scenes, interior and landscape, still life and portrait. They are my attempts at understanding the links between my sense of visual harmony and my emotional response to a scene. The paintings have become vehicles for examining and preserving the moments when the visual and emotional elements create a poignant dialogue. I look for paintings in the residue of time passing and falling quietly around, in silvery scenes containing the stillness following an event. Searching for an evocative landscape or carefully posing objects in a still life, have become processes of both questioning and defining my aesthetic. In the process of painting and creating the illusion of space, I pursue these moments when my aesthetic sense and reality converge."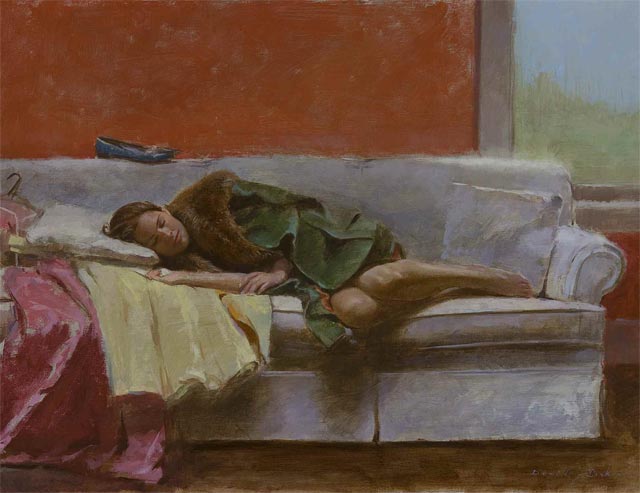 Resting 2008 oil on linen mounted on panel, 16″ x 20″ (Note: Please click for a much larger view – true with many of these images)
In an October 2008 article in "The Grandeur of Daily Life: Paintings by David G. Baker" an American Artist Magazine article by John Parks stated;
"I began painting interiors back in art school," says Baker, "and for a long time I painted them without figures. When I was studying at the Pennsylvania Academy of the Fine Arts I was fortunate enough to have Alfred Leslie as a visiting critic. One day I was struggling with a painting of an interior with a figure sitting in a chair, and he said to me, 'Don't worry about the figure, it's the chair that's important – after all, it is the seat of humanity!' It was a funny remark but at the same time one that made quite an impression on me. As much as I enjoyed figure painting I realized that you could make a narrative without the figure." A recent painting finds Baker still pursuing this strategy. In Spare Room With Montana Guitar, we are confronted with the quintessential spare room. The bed is stripped, and a small grouping of objects – a child's guitar, a shopping bag, and a pair of flip-flops – has found its way into the room, left there in passing by the family. Revealed in the slow-moving light of this small space they seem to tell us more about family life than a whole canvas full of figures.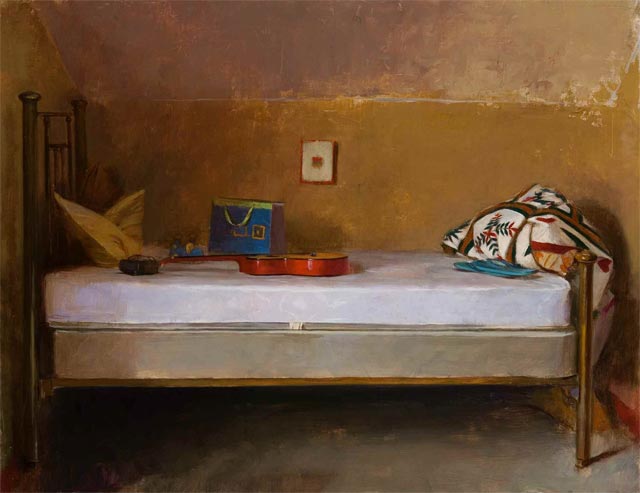 Spare Room with Montana Guitar 2007, oil on linen mounted on panel, 11 x 14 inches (Note: Please click for a much larger view – true with many of these images)
All of Baker's paintings begin with a drawing in his sketchbook. "It starts with an image that I see – a figure in a certain kind of light, an object, or a piece of furniture," says the artist. "It's a seed – something that inspires me. I then bring in elements around it creating an ambiguous narrative." These sketches form the first few elements of a painting. "It goes on from there," he continues. "Once I get the main elements I'll move to work on a canvas, and from that point I have open areas that I need to resolve." Baker finds that he spends considerable amounts of time discovering what he wants to include in his painting and then getting the placement just right. To facilitate his decisions he will often draw an element on a separate piece of paper, cut it out, and then tape it to his canvas, a strategy that allows him to move around easily until he feels he has it in the right place. The artist will then trace through the main lines on the canvas.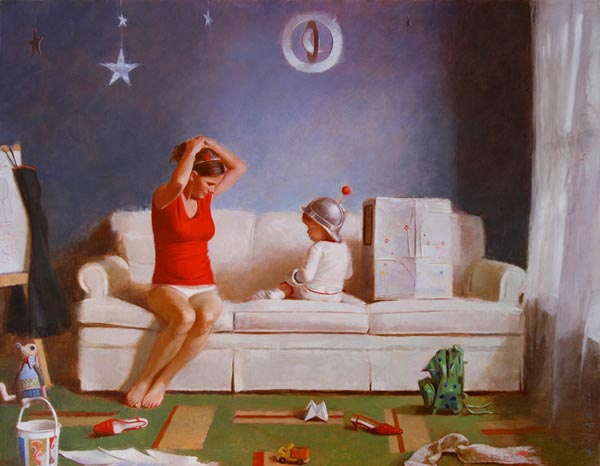 Late October 2009 oil on linen mounted on panel, 12″ x 15″
The article also stated:
Baker next moves into painting, beginning with an umber underpainting. "If there is a figure then I will focus on that first," he says. "A figure has such visual weight that I work to resolve it early on. I have sometimes added figures late in the game but it is unusual. At this stage I won't fully close off the forms – I like to leave a certain amount of suggestion in the work. In this underpainting stage I simply leave the lights as open, blank canvas. However, in painting flesh I will often do a grisaille. I've really come to love the layering of more transparent warm tones over cool tones in grisaille. In particular, in a face or portrait I like to separate the tonal elements from the color. I can't get the quality of light I want if I go in directly with color. When I use grisaille I can more easily control the light as I build up the forms with successive layers of paint. If I'm trying to paint directly I feel hostage to what is in front of me."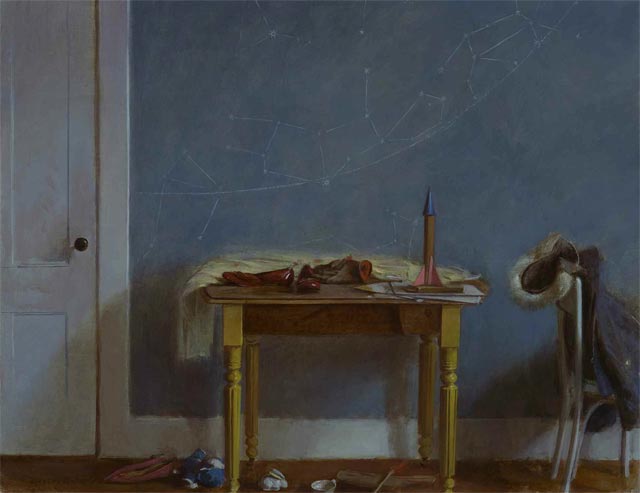 Equinox 2008 oil on linen mounted on panel, 11 x 14 inches
Having established the entire painting in monochrome, Baker will then start adding color. "I work almost entirely from life," says the artist, "but I do use photographs for some of the figure work." Baker applies his color fairly thinly, working with a delicate touch and keeping the painting lively. He is careful not to overpolish so that the painting never becomes mechanical in appearance and retains a sense of flexibility and surprise. "As much as people think of my paintings as technically oriented," he says, "I try not to make them feel too perfect."
(read the full article in the press section of his gallery's website here… )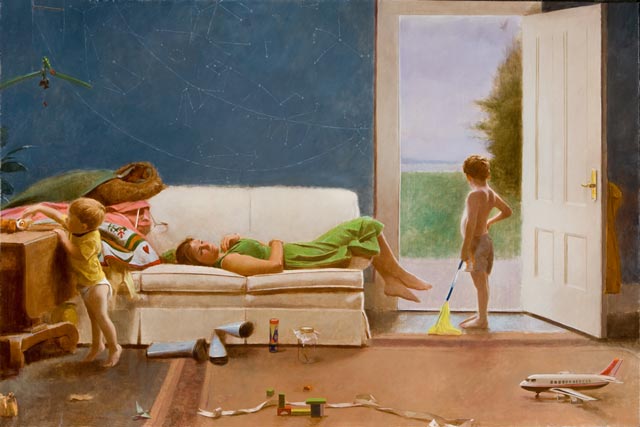 July Bride 2008 oil on linen mounted on panel, 20″ x 30″
David Graeme Baker graduated from Wesleyan University and the Pennsylvania Academy of Fine Arts, and shows with the Gallery Henoch in New York, the Courthouse Gallery Fine Art, Ellsworth, Maine and the Artists' House Gallery in Philadelphia.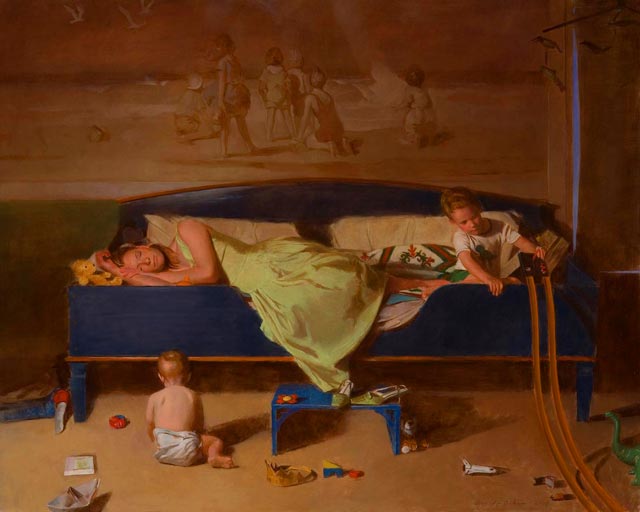 R.T.s Paper Crown 2007 oil on linen mounted on panel, 18″ x 35″

Robin and Linus 2008, oil on linen mounted on panel, 18″ x 35″ (Note: Please click for a much larger view)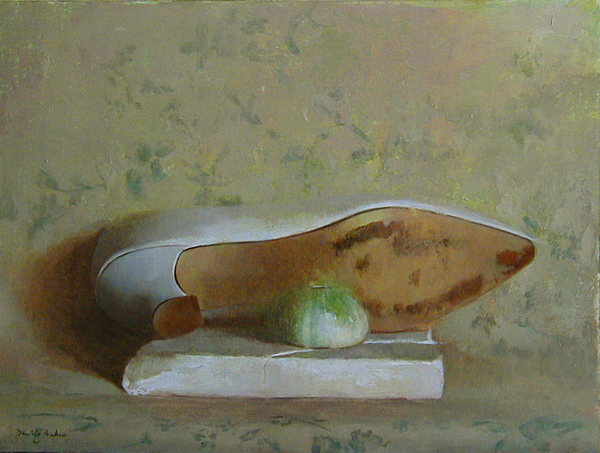 Wedding Shoe and Urchin 2002, Oil on Panel, 11″ x 13″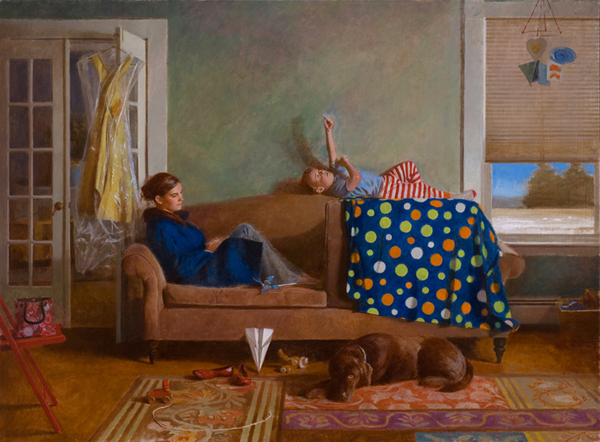 Gill's Lap 2008, 2008, oil on linen, 34″ x 46″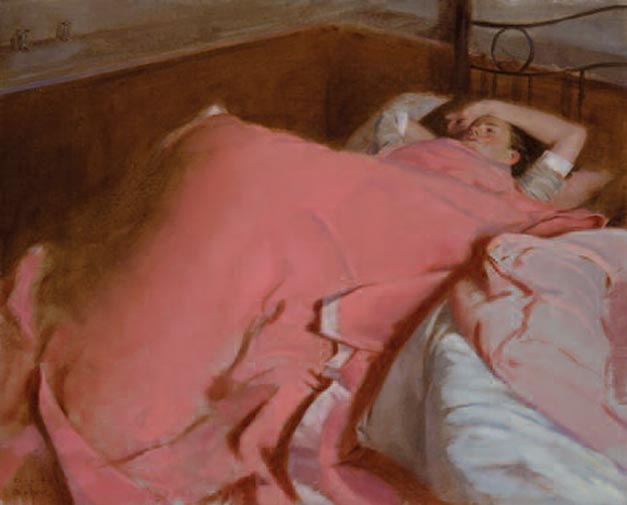 Pink Blanket 2009, oil on panel, 9 x 10 inches

Blue Morning 1999, Oil on Panel, 11″ x 14″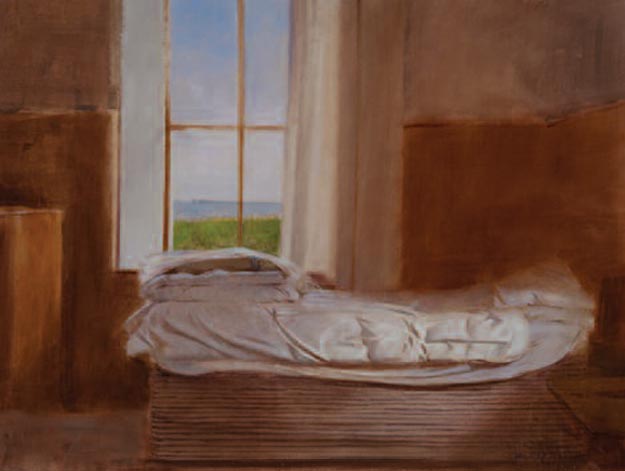 Guest Cottage 2009, oil on board, 11 x 14