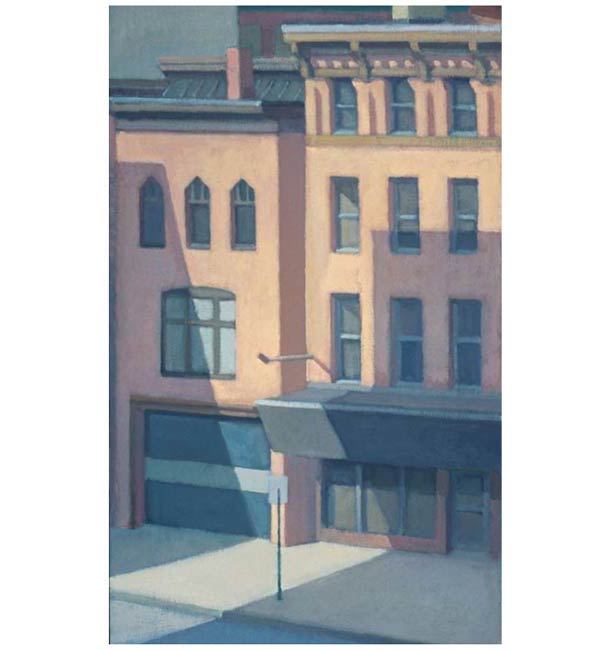 Constance LaPalombara is a New Haven, Connecticut based painter making urban landscapes, landscapes and still-life. A Sept 2009 Artist's Magazine article about Constance LaPalombara urban landscapes titled "Everytown, USA" by Tamera Lenz Muentei said:
"While she paints scenes of New Haven, Connecticut, the absence of anecdotal details and the metaphysical quality of light universalizes her work. Rather than depicting a specific town, LaPalombara's cityscapes resonate as Everytown. Her artistic journey began with a year spent in Italy, which prompted LaPalombara to take up painting. She now returns annually, continuing to find inspiration in the Italian countryside and architecture."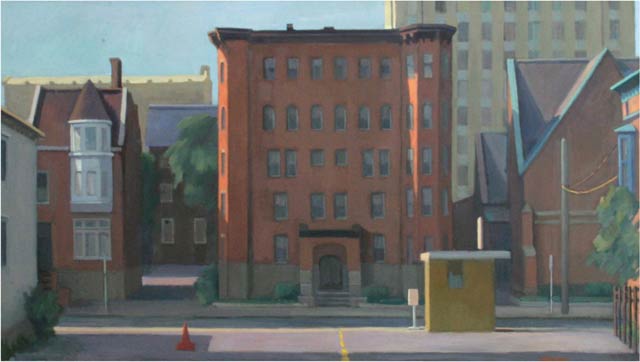 Orange Street, Oil 20 x 36 inches (Click for larger view)
Constance LaPalombara's best cityscape painting, such as her Orange Street painting, reveal a quiet attention to the architecture of the city as well as meditative observations on specific qualities of light. Her anonymous views of the middle-aged New England city are carefully drawn and and each element seems considered and important to the integrity of the whole. Her expressive use of light on the geometric divisions of the canvas have a sumptuous appeal. In particular I'm drawn to the rhymes of repeating rectangular shapes such as the movement of light over chimneys and windows. Most of all I enjoy how she uses the power of paint to transform her selection of rather commonplace and unremarkable scenes into memorable events.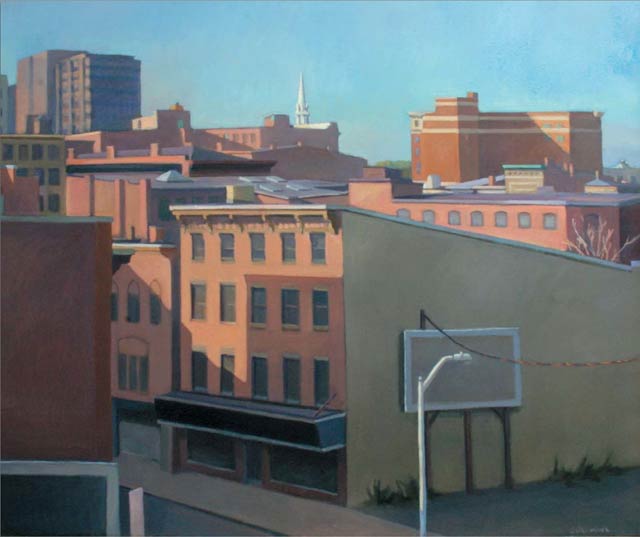 Ninth Square Oil 36 x 42 inches
"I love the geometry of light on buildings," says Constance LaPalombara. "I find the way shadows work on the architecture visually satisfying." She paints what she loves to look at and is captivated by the way buildings appear at varying times of day. "I start with something that excites my eye," she says, "but by the time the painting is finished, it's taken on a life of its own."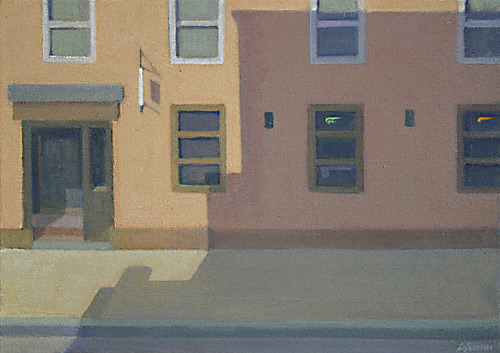 Café oil, 10 x 14 inches
"My favorite subjects are those that involve the process of discovery," says LaPalombara. This is why I think I'm so partial to landscape. You may be walking, driving, looking out a window when, for any number of reasons, something captures your attention: the way a shadow is cast, the shape of a tree, a change in light." If discovery is the fi rst step of her creative process, the second is visualizing how that discovery can make a good painting. Through the use of light, shadow, color, spatial relationships and interlocking forms, she acts upon what she describes as "the impulse to transfer the excitement I have towards the motif onto the canvas in front of me."

She often captures these first ideas while working directly from her subject and usually finishes small paintings en plein air. For larger paintings, she makes small studies from life and takes photographs to use as notes that help her complete the work in her studio.
( above quotes from the Sept 2009 Artist's Magazine "Everytown, USA" article by Tamera Lenz Muentei )
Constance started painting somewhat later in life after first studying political science and working for several years. Her husband's career often took her to Rome where she was first smitten with a desire to become a painter. Eventually she approached Yale University School of Art professor and renowned realist painter William Bailey to let her sit in on a graduate figure painting class and then went on to take drawing courses with Lester Johnson, another Yale professor. Later she applied to the Tyler School of Art, which has a master of fine arts program in Rome. The Artist Magazine article quotes her saying that after graduate school "I never looked back, It's hard to believe I'd spent so many years not painting."
You can see more of Constance LaPalombara's painting on her website. She has shown in a wide variety of exhibitions and group shows in the New England and New York area, see her website for details. Here are a few more examples of her work, including scenes of Italy and a still-life watercolor.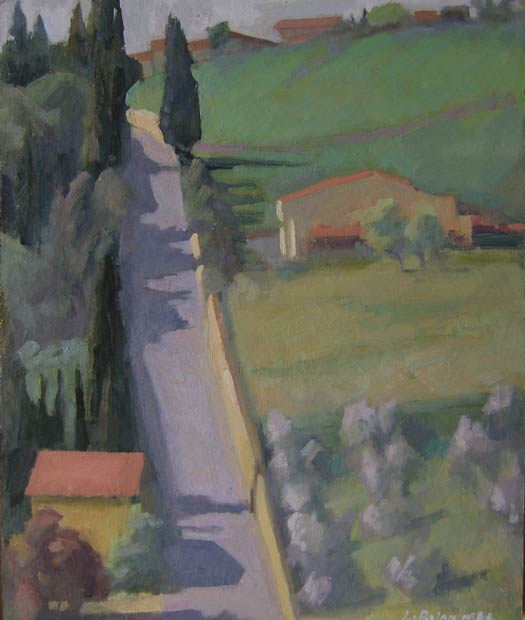 View from the Badia Oil 11.75 x 9.75 inches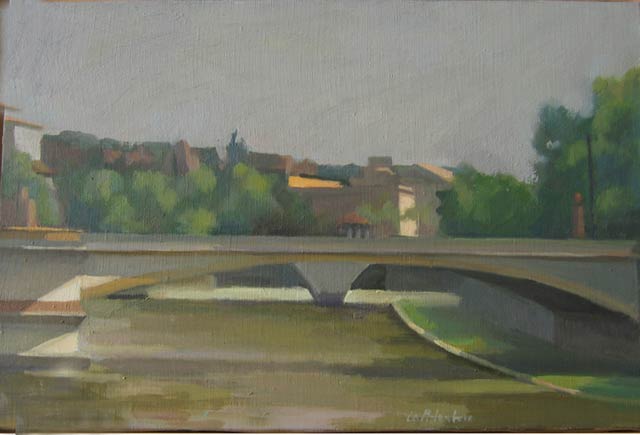 Isola Tiburtina Oil 38 x 11.75 inches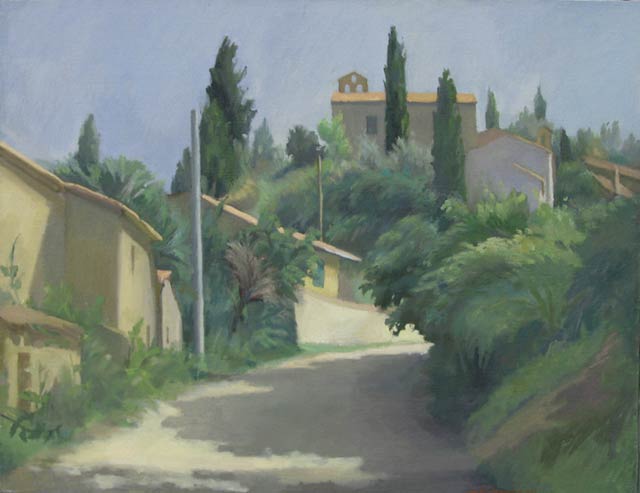 Lucignano Oil 13.5 x 17.75 inches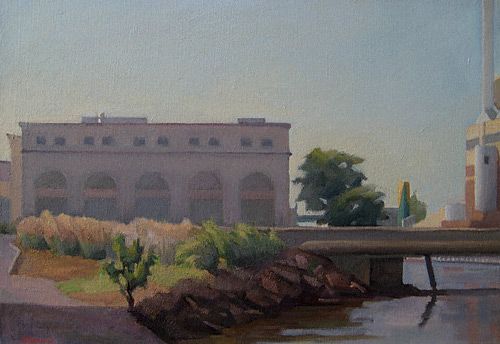 Brewery oil, 14 x 20 inches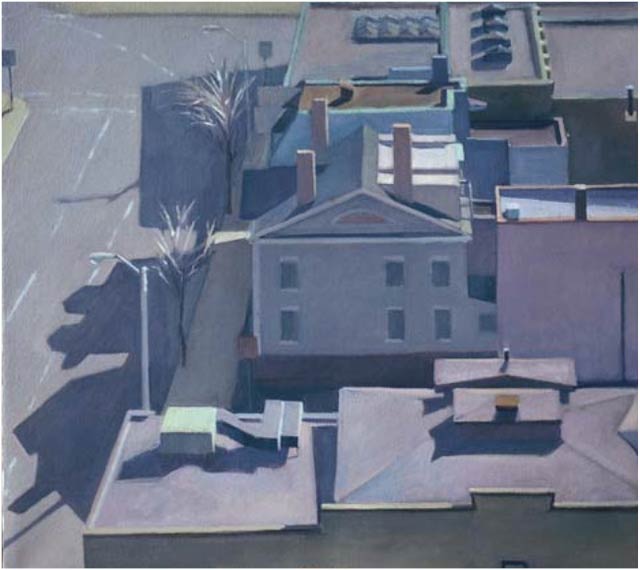 Gridlock oil, 20 x 22 inches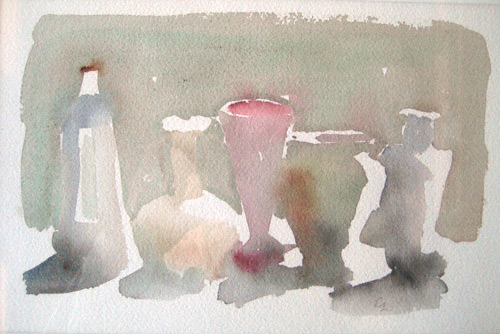 Red Glass watercolor, 6½ x 10 inches
---
Donate to Painting Perceptions
Donations to Painting Perceptions helps this site greatly, please consider your gift today.