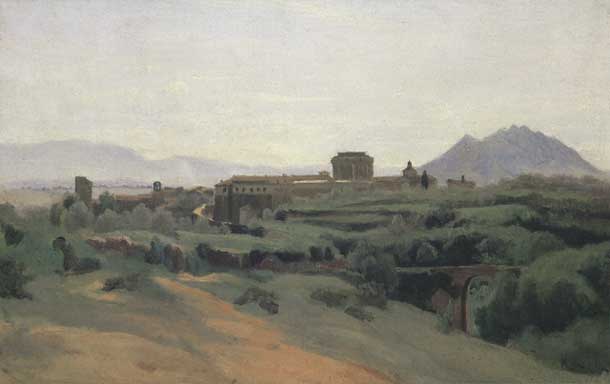 Corot's view of Civita from Terrano
I recently decided return to Civita Castellana Italy for my third time, this summer (2015) I'm planning to go for the artist residency for six weeks with the JSS in Civita. At first I was unsure I would could afford it but the rewards were so great from my previous visits that I made it a priority and it is starting to come together. Making this a priority lead to brainstorming ways I might get the funds for the airfare, residency and other expenses. I have a crowdsourcing idea that I will be announcing very soon.
The Deadline for the Avigdor Arikha Memorial Scholarship is almost here The Application deadline is February 28th, 2015 This scholarship is merit-based and is for four weeks of Master Class studies at the JSS in Civita Summer Art School & Residency in Italy the Scholarship recipient to be announced March 2nd, 2015
Full information and registration for the 2015 summer session in Civita Castellana is available on the JSS in Civita website. The JSS in Civita website has a wealth of information and images about every conceivable issue with regard to the program and traveling to Civita.
This summer should prove to be an incredible experience with the amazing painter Ann Gale who is the guest of honor this year. I recently interviewed Ann Gale which you can read at this link This incredible opportunity to take a workshop with Ann Gale should not be missed. The review of her latest show in Hyperallergic by John Yau is another insightful discussion of her painting which you can read here.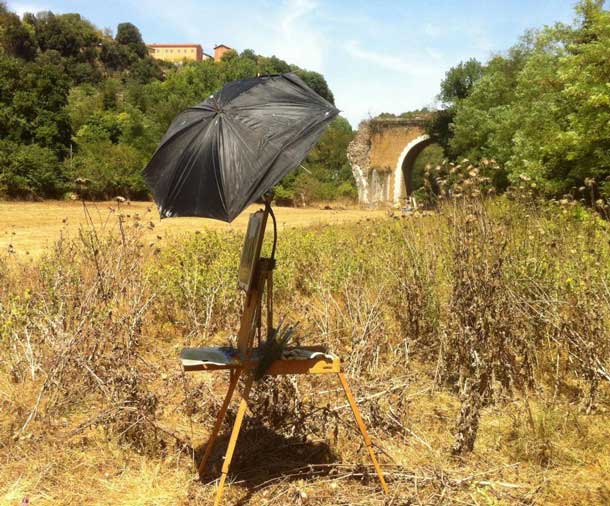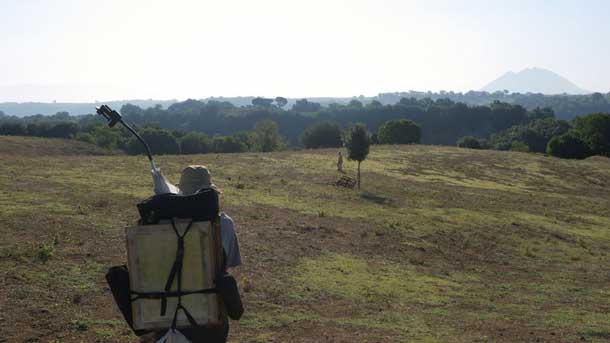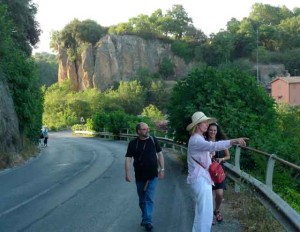 Replaying my memories of Civita's unforgettable views isn't enough to sustain me, I need the real experience again to recharge my creative batteries. For centuries painters have also felt this need to come to Civita, drawn to the visual magic of the Roman Campagna. Civita had been a central location for Grand Tour open air landscape painting for painters; Corot, Ingres, Turner, Granet, Michallon, Valenciennes, Dughet, Bertin all painted here. Many of Corot's best Italian paintings were made in the nearby vicinity and Corot made Civita his home base (you can see the ruins of the hotel where Corot stayed here in Civita).
Of course you can find wonderful places to paint right outside your door and great painting doesn't require achingly beautiful vistas for success. For me the great visuals of the town and countryside are just one part of the appeal. Of course the powerful art of the Romans, Giotto, Piero, Masaccio, Caravaggio, Morandi and the many other great artists in Italy's fabulous museums and churches also never ceases to inspire and inform. What makes the JSS in Civita so special is the combination of not just the visuals and art history but the gathering of so many terrific painters in one place to learn and socialize together.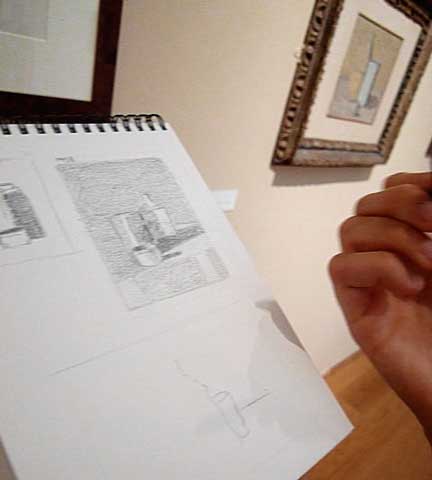 There is an uncountable number of masterpieces and great museums, enough for a lifetime of study. The JSS in Civita rents buses for weekly trips to various locations in Rome, Florence, Naples for the Archaeological Museum and the incomparable Pompeii frescoes, Bologna for the Morandi Museum and the Piero della Francesca tour which included Urbino, Arrezo and Sansepolcro.
The center of Civita Castellana, where the hotel and school are located, is a 3000 year old town, the capital of the pre-roman Faliscan people. A few steps from the hotel brings you to a the edge of a steep gorge that looks out over the incredible Monte Soratte. Civita seems to have been built for painters.
Unlike many other towns that are on the tourist circuit, Civita is inexpensive friendly and authentic. There are no ugly hordes of tourists madly photographing and pillaging souvenir shops before getting back on the cruise ship. The town is peaceful, where you can walk uninterrupted through narrow medieval cobblestone streets lined with building that have hardly changed since Corot's time here.
The old town sits on a boat-shaped plateau that overlooks steep gorges where it's distinctive orangish tufa that Corot painted so well pokes through the vegetation in fascinating configurations. You can easily reach the edges of the city on foot and nearly everywhere you look opens up to astonishing vistas. If the city itself isn't enough, the JSS in Civita arranges transportation to nearby villages for additional painting vistas. Just when you think it can't get any better; the school sets up short trips to paint views in place like: from on top of Monte Sorratte in Sant Oreste, the aqueducts at Nepi, or the incredible gorges at Castel Sant'elia. If you haven't already seen them, you can see several images and video footage of these sites in my video that I put at the end of this article.
There are two train stations and it is very easy to get to Rome in back for the day. The fare is very cheap and only an hour and a half to Rome. There are several great restaurants in addition to the meals provided by the program ranging everything from the cheap and fast to elaborate gourmet affairs. I plan to buy my food in the local market and cook most of my meals to help reduce the cost. There are many farmer's markets with fresh, local produce as well as a terrific bakery and cheese store.
The group suppers at the hotel are excellent and they also have weekly dinners for the whole program attendees at different restaurants – often with an excellent menu involving several courses which starts around 8pm and last well into the evening with lively conversation. In the center of town there are a couple of nightclub/coffeshop places in which you can relax and socialize in the evening by an ancient fountain with other students along with the townspeople over wine, coffee and gelato while making use of the free WiFi.
The art and people of Civita Castellana and Italy is more than reason enough to return but my main feeling in joining the JSS in Civita again is the hope that being around so many other terrific painters will continue to push my work further. I've been painting for over 30 years, although many times work and life interrupted my painting life. I've now gotten to a point where I can focus on my painting more or less full-time. My study at the program in Civata, especially with getting feedback from Israel Hershberg in his Master Class has been invaluable in getting greater clarity and fresh insight into my work from the point of view of one of the world's greatest living landscape painters. I've said before and I will repeat here that studying with Israel Hershberg is the closest a painter today could come to studying with Corot.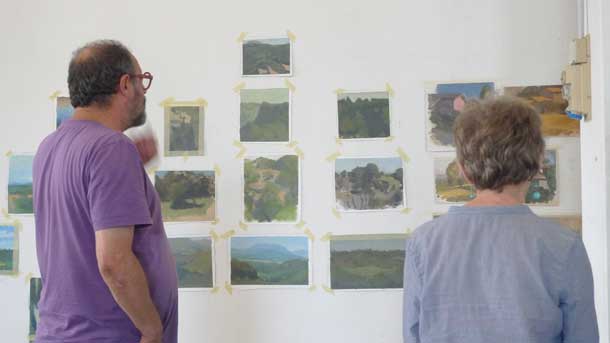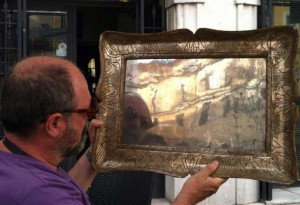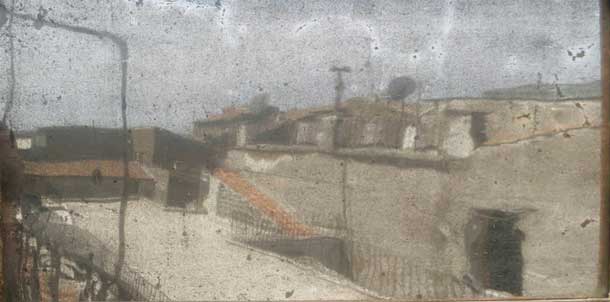 Painting is best started in early morning when there were cooler temperatures and the light was best, mid-day was often too hot to be painting and that's when we met for the daily critique. Most of the town's stores closed mid-day and everyone took it easy. Around 4pm life started back up and people resumed their paintings until dark.
JSS in Civita offers the option for a private studio space at least two studio areas fairly close to the hotel and in the center of the town. I've heard these spaces offer terrific light and is a great way to escape the hot sun and to work in privacy.
Affiliate workshops by many leading painters with a wide variety of approaches and styles for a full listing see this page on the JSS in Civita's site, below are links to the affiliate workshops with links to thier individual webpages and individual course descriptions on the JSS in Civita site.

Video overview of the Jerusalem Studio School Summer Program in Civita Castellana, Italy in 2013.
Video produced by Larry Groff, interviews with Israel Hershberg, Yael Scalia, Tina Engels.
HD video – best seen in full screen!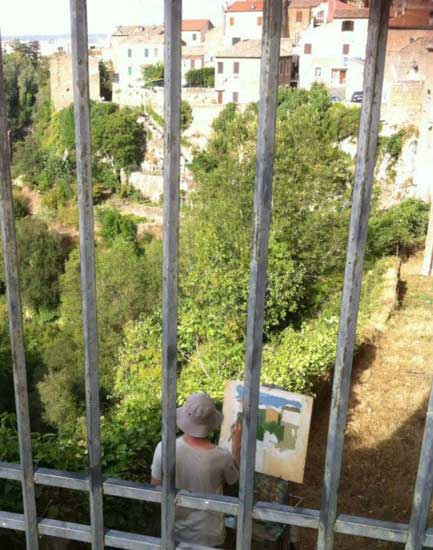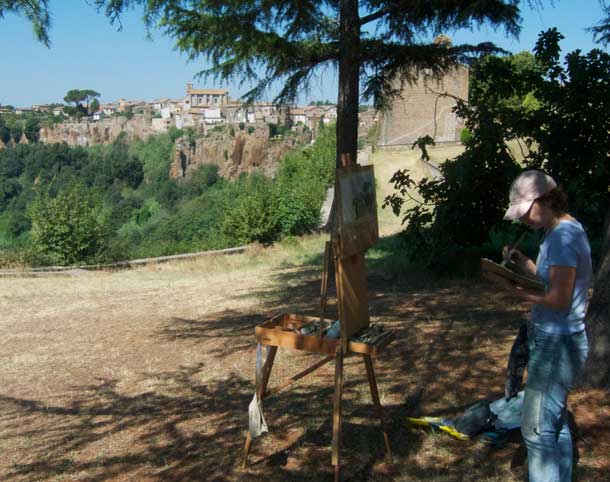 ---
Donate to Painting Perceptions
Donations to Painting Perceptions helps this site greatly, please consider your gift today.