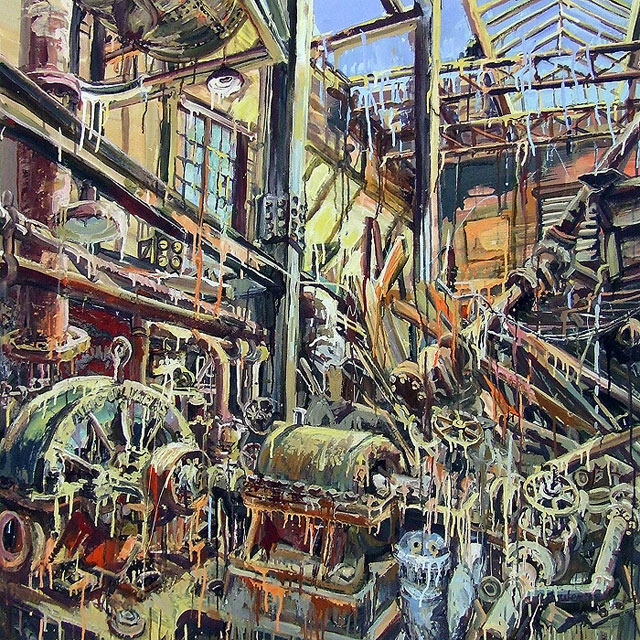 Cindy Tower Allis Chalmers 2008 Oil and enamel on canvas 48×48 inches
This week I'm posting yet another extreme in perceptual painting – this time on the opposite end of the spectrum from my previous post on David Ligare Classism which is Cindy Tower's blend of performance art, post-modernism and neo-expressionist ashcan school plein air painting! Cindy Tower has been painting her "workplace series" since 2005 in abandoned East St Louis industrial sites. She shows at the Bruno David Gallery in St Louis. Previously in the 80's and 90's she was known as a performance and installation artist in NYC. She had worked for several years as an assistant to Red Grooms. In around 2000 she decided to turn to painting – many from life. In an Feb 2008 article in the Riverfront Times.com she states, "I felt like a performing monkey entertaining all these rich people, making these experiences," says Tower. "I was also so tired of cynical, sarcastic artwork. Glibness bores the shit out of me. I'm not interested in it. It's just like coming on a canvas. To be rebellious now is to have integrity and shoot from the hip and speak from the heart. That's how you really freak out people, because that's completely not where the art world's values have gone."
First of all I am a big fan of urban explorers and her stealth gorilla style plein air painting in the visually and historically rich rust belt ruins strikes me as a tremendously exciting activity, I want her to succeed. (A side note, I once made a couple of paintings in an abandoned state mental hospital so I have a big soft spot here) This type of painting is not for the faint of heart. Even "Plain Jane" plein air painting can pump up your adrenaline by just chasing the light on a pastoral scene but also worrying about your immediate safety can make for some edgy painting. The huge scale of many of these works (up to 90 x 70 inches) also makes her a highly visible target. She addresses this concern by bringing mace, a trusty aging beagle, a elderly bodyguard armed with a golf club and for extra protection, a homemade bodyguard made from cushions.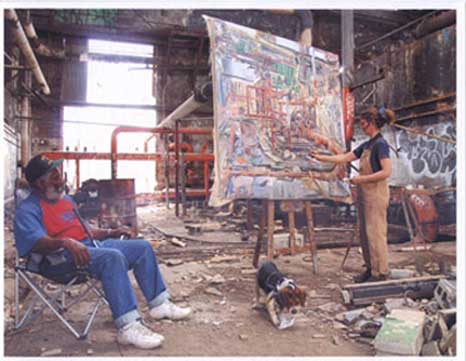 In her artist statement Cindy says; "…It is almost as if paintings have become props for real-life experiences. I trespass a lot; deal with weather, season, time, wild dogs, crack addicts and homeless residents. Sometimes I paint with a hard-hat if sites are condemned and bricks are falling. In the winter I have to heat up coco and eat hot dogs cooked on a 55-gallon drum to keep warm. I hoist a 25-foot-high extension ladder to get into some ruins and daily hide and camouflage my paintings because they are too big and wet to transport back home each night."
She paints in a direct, loose manner that strives to connect with what she finds here. Her involvement with the site influence her in other ways as when she says; "This year my painting style has changed. I've switched mediums (from working with artist-grade oil paint to left-over, industrial-grade paint salvaged from dumpsters) and am applying paint more loosely. To me, the melting of painting surfaces mirrors that of the economy's deterioration. I feel as though I am painting the actual recession."
As much as I want to like her work I tend to cringe over statements like this. These paintings don't work for me anymore as social commentary than as great painting but her riveting tales of danger and performance in factory ruins do make them attention getting. She appears to have an intense personal identification with these ruins, perhaps it's the thrill of adventure and of being a part of something real enough to kill you.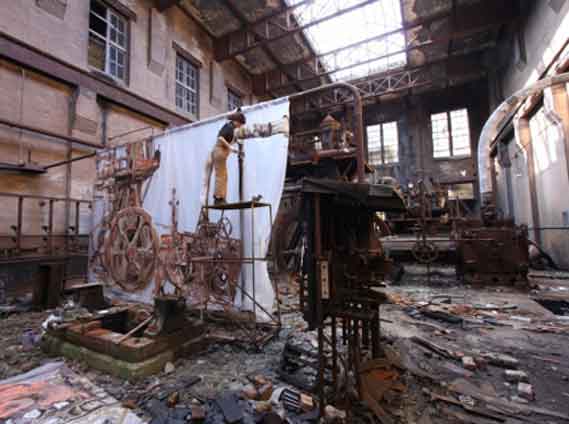 Many times today the critical success of the painting has to do with how clever the idea behind the work is rather than what we actually see before us. To my eye these paintings suffer from not being drawn and painted well enough; the space is airless and unconvincing, the color seems casual and unresolved, the busy work of obsessive details keeps one from seeing the painting as unified whole.
She doesn't seem to really be looking carefully enough at these ruins. I would love to see her truly paint what she is actually looking at, the exact color of the light hitting the rusted metal and broken glass could be shear poetry, that you could actually move through the space in the painting as you do in these magnificent ruins. But she settles for cartoon-like simplification and drawing shortcuts that expresses an idea of the place but lacks true form.
But I am looking at her work from the point of view of painters who firmly believe in the long traditions of painting and see realist painting as a vital living art that speaks to today's world as much as the past. I don't believe there are dual standards in paintings – one for those who know how to paint and another for those that don't. I can't think of a good way to sugar coat it, she needs to put in her time in learning her craft more.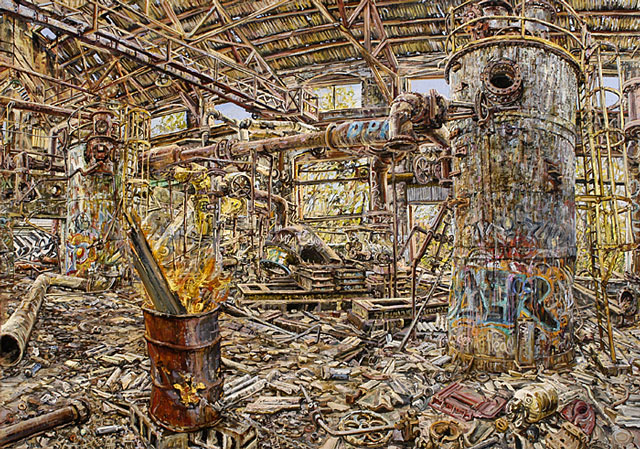 My Brothers and Myself, 2007 oil 60 x 84 inches
She undoubtedly would disagree and operates with a completely different set of rules and beliefs. She states in her artist statement: "Consumption, intimacy, obsolescence, loss, and transcendence, the paintings are an overwhelming celebration of materials and process. They hope to provide the viewer with a visceral, physical experience that not only engages but also actually engulfs the viewer in the self-contained environment of each work of art. Paintings become installations, and I am a performer."
She also stated in her video. "I have an anti-aesthetic sensibility, I believe in chance, circumstance and chaos, I believe nature itself is organized, any mark I plant is a mistake but the great mystery is that it all pulls together to form a whole painting." This strikes me as the words of someone who has "gone native" – like war journalists joining up with the rebels, clouding their judgment and causing their reporting to be suspect. Putting all your faith in nature and turning your back on art is naive. She is right to say her paintings are installations and she is a performer which is too bad because she has a great idea for some real painting.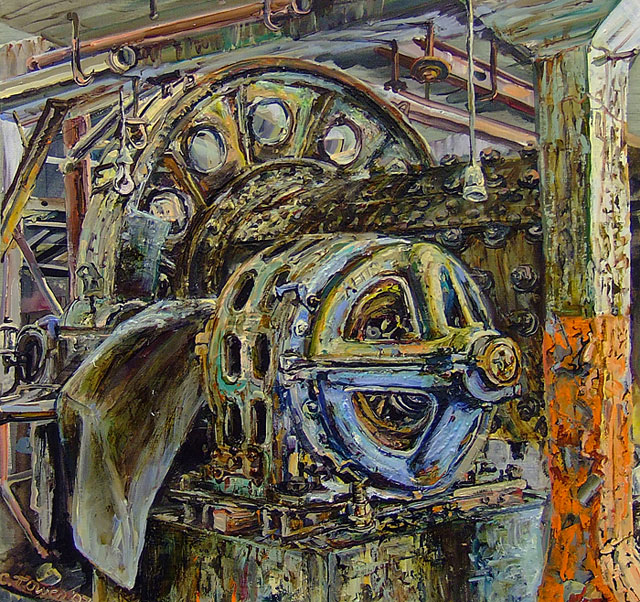 My Little Brother, 2007 28 x 29 Oil on fabric