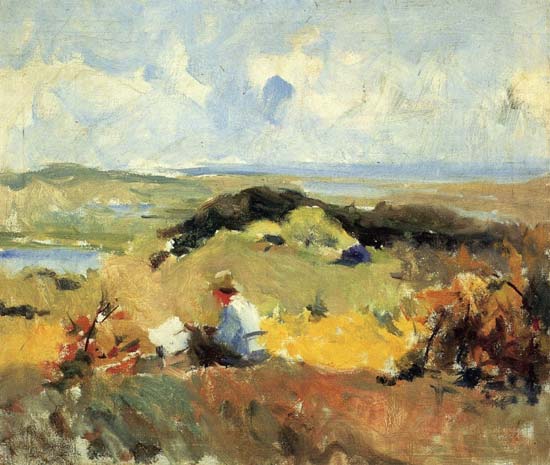 Charles Hawthorne "Artist in Plein Air" 1910
I've been thinking about Charles Hawthorne recently – how important it is to keep his words in the front of my mind. His book "On Painting" I return to again and again over the years and still find it as fresh and important as when I first started learning to paint.
"Painting," he said, "is just getting one spot of color in relation to another spot…. Let color make form, do not make form and Color it."
"Anything under the sun is beautiful if you have the vision — it is the seeing of the thing that makes it so."
"The ring, the call, the surprise, the shock that you have out-of-doors – be always looking for the unexpected in nature, do not settle to a formula."
and
"Get into the habit of doing what you see, not what you know. Human reason cannot foresee the accidents of out-of-doors."
some good quotes mainly from his book "on Painting" at the Robert Genn's Painter's Keys site.
Here is a link to an article about Hawthorne by Stephen Gilman about his teaching at the Cape Cod School of Art.
Another interesting resource on Hawthorne is this link to Google Books on a critical history of Edwin Dickinson that has a section on Hawthorne. I'm not sure how well this link will hold up so you may need to "re-google" at some point – try Edwin Dickinson: A Critical History By John Lawrence Ward, Edwin Walter Dickinson
I also recently found a large treasure trove of images of his paintings and watercolors but I seemed to have lost the link. I'll post it later once I find it.