Excerpt of the Review by John Goodrich, guest contributor, read the full review here»
Formalism. In today's art world, the word denotes a particular side-aisle in the great bazaar of artistic practices. It tends to be an especially austere and cerebral aisle, one that asserts the significance of geometric shapes by — well, making geometric shapes.
How does it work in practice? Imagine this scenario: a museum-goer enters a gallery to find, spaciously hung in the middle of a wall, a large canvas covered with a single saturated hue. Approaching the painting, the visitor feels practically enveloped by its resonant color, and within moments absorbs a certain singularity of intent; down the middle of a canvas, extending top to bottom, the artist has drawn a single line. One needn't be particularly savvy about art (or even to have read Barnet Newman's name on the label) to experience a sense of transcendent purpose.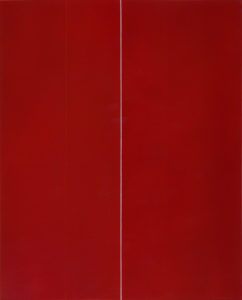 Barnet Newman, "Be I," 1949, oil on canvas, 128½ x 75 in.
But now much of this uplifting experience can be attributed to the internal workings of the painting, and how much to the museum context? A skeptic might point out that the transcendent experience is situational, even prescribed; after all, the very same museum-goer, visiting the cafeteria, probably won't respond similarly to a vertical seam on a brightly painted wall. Newman's almost evangelical faith in primal forms and color depends, in fact, upon a shrewd presentation – his, as well the museum's — and to the extent that his paintings are explorations of form, they show how much notions of formalism have evolved, over the last century or so, from a complex optical experience to a contextual and philosophical one.
No wonder today's Formalism tends to elicit a kind of obligatory appreciation. If discussed at all in an exhibition review, it's liable to be in a single sentence on the order of "…moreover, in formal terms, this work positively exudes formalist values." Formalism, in short, has acquired a role similar to vitamins: necessary but anodyne supplements to the feast of art.
This viewpoint gives short shrift to the millennia of artworks vitalized by formal values; it also vastly (and uncoincidentally) underestimates the richness and complexity of formal expression itself.
Just what were formal values in painting, traditionally? The history of painting is filled with equivalents of what the critic B.H. Haggin termed, in the context of music, "sublime utterances." When absorbed as a purely visual phenomenon – those color-shapes on a surface – great painting is replete with the surges, recoupings, anticipations, climaxes and resolutions of a Mozart symphony. In other words, painting has historically provided us with extraordinarily rich expressions, based on a visual language available in no other medium.
Above is an excerpt of the Review – continue reading the full review here»