Excerpt from the interview with Ying Li:
Read the full interview and separate audio podcast here»
LG: You primarily paint now from observation outdoors.
YL: Yes.
LG: What keeps you tied to observation? Why not just paint in the studio where there are fewer distractions? Can you explain how your work might change if you didn't paint something you were looking at?
YL: Your relationship with the motif is very different in outdoor painting. When you're out there and inside of it, you are only a tiny part of your surroundings, that kind of perspective and scale is so different. It's not like something right in front of you, as in a still life. I like being part of the scene, being there. I love that sensation when I'm out there.
I think my Chinese background kicks in somewhere here. In Chinese philosophy people and nature are one. When you see those classical Chinese landscape paintings there are often a little person somewhere in there, but they are so tiny compared with the huge mountains. A little scholar on a donkey crossing a little bridge with huge chunks of mountains right behind him, things like that.
Also there's no previously set focus, that is the another important thing.  For example if a model posing, he or she usually is your focus. You deal with the relationships of all the other elements with this person. When you're outside painting it's like wow! What am I going to do? Where to start? What to choose? Right away you're just thrown into this chaos and light changes so quickly, you have to make your decision constantly and quick. I love that kind of challenge. I react better and it keeps me on my toes.
I never felt I didn't know what to do when I'm out there because right away I jump into the painting. In the studio sometimes took me forever to get started. I could just sit there, stuff myself with snacks, listen to music and flip through some art books, but when I'm outside, it's boom! Right into the game.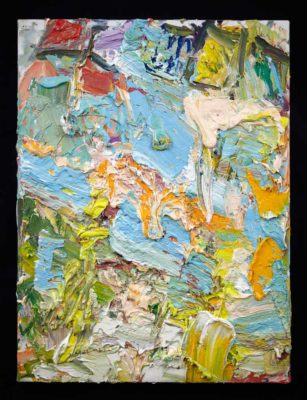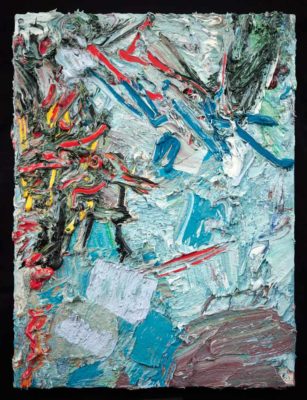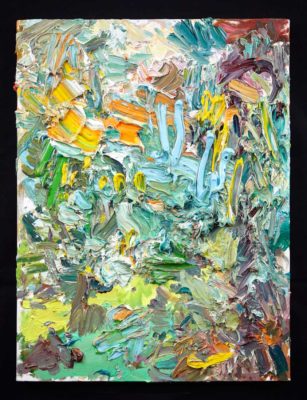 YL: I love that feeling. I like the changes and the unexpected distractions, because they keep me alert and sharp. I think of painting landscape similar as the jazz musicians playing together. They make decisions in a split second and improvise instinctively to what the other guys are playing. they listen and react to each other and get things going.
To me, painting landscape outside is a lot like that; it opens doors. I love the change and instability, they help me to make decisions about what's next. I once painted with Lois Dodd in Vermont. She pulled out this little palette, squeezed little tiny dabs of paint on the palette and then pulled out this little stool and in a few second she started to paint. The sky started to get dark, There was a storm coming. I started to hurry and packing things up…she just sat there and kept painting and then she said to me don't worry it will pass. It passed. Things like that happen all the time when you're out there.
These things keep me surprised and make the work more personal and fresh, and not systematized.
LG: That's a good point. When you're painting outside is there a balance between what you're looking at out in nature and then in your painting? Is there a point when you say okay I've gotten enough from looking now I need to focus more on the painting? How does that work for you?
YL: I think these two are really one thing; they're so tied together, looking out and then looking in on the canvas. I try to make that switch as short as possible so I can put down my reaction at that second because that moment quickly goes away and change into my old habits or something else.
Every painting comes out differently. Sometimes I stay in more representational manner because I feel I really got the character or something right there. Or the painting just works. However most times I don't trust that feeling, I try to get past that point and dig harder into the painting, to find what it is really about.  At a certain point the painting gets muddy and flat and I hit a wall. It bounces back instead of going deeper. Sometimes I find I am just repeating my own paintings. I have to paint through those moments, and look harder, I find the solution is always out there, the looking part leads to the clue.
Read the full interview and separate audio podcast here»