Please Note: Below is an excerpt from the interview with Tamie Beldue by Elana Hagler
Read the full article here»
At a time when that which is loudest and brashest gets the most attention, Tamie Beldue's drawings are a balm to the heart and mind. They embody something of the shattered, dream-like reality of Edwin Dickinson with the delicate observation and grace of a silverpoint drawing. Although all paintings and drawings are best appreciated in person, this is even more the case with Beldue's encaustic pieces. Much depth and detail is inevitably lost in even the best photo reproduction, so I cannot stress enough how important it is to see these works in person. Beldue's drawings breathe and shift. Her forms do not describe a world of certainty, but of changing aspect where the everyday gathers for a moment and slips away.
Elana Hagler: I see that over time your drawings seem to be moving away from solidity and towards a more fragmented appearance. Can you speak to that?
Tamie Beldue: More recently, I began questioning the ideas of traditional portraiture (that is, focusing exclusively on the details of the face and placing the sitter in a typical seated pose) by exploring the figure and its context interpretively, in ambiguous or illogical space that goes beyond the conventions of standard observation. I'm focusing more on figure-ground relationships and the patterns of light and shadow than on incidental details. This is evident in Knees, Socks & Hammock, in which the composition uses repetition of flat graphic shapes contrasted with the tension of disappearing rendered legs. My focus was more concerned with the chaos of formal relationships, so I found it easier to let go of logic and began to examine the abstract within the representational. However, while camouflaging or integrating the figure to sit within a larger spatial context, I still was not able to entirely let go of the figure, or what remained of it, as a conventionally rendered form, and allow a quality of graphic abstraction to supersede rational reality.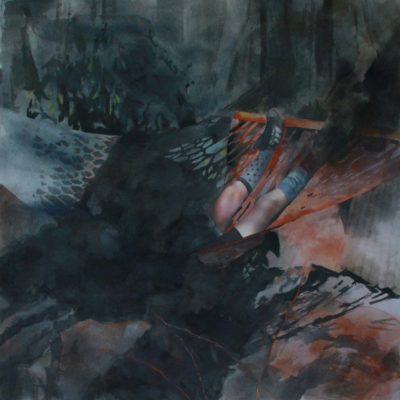 Knees, Socks and Hammock, 2016 graphite, watercolor & pastel 30" x 30"
Interpreting interior spaces as patterned abstraction, is replacing a habitual figurative regimen rooted in rendering, and I'm allowing myself to investigate new approaches. And subject matter is not my only shift. Pastel, and now more recently vine and powdered charcoal are used to let go of the details early on. Edwin Dickinson said "the particular comes from the general but the general never comes from the particular" (I may be paraphrasing here). The details can be so damn familiar or alluring, and I was catching myself over-working drawings time and time again and sabotaging the pursuit of a more sophisticated response with an economy of mark. With that in mind, I've been looking at Antonio Lopez Garcia's powerfully persuasive drawings, which utilize simplified abstract shapes to form relationships suggestive of literal subject matter. This approach masterfully executes his unique observation of life, rather than merely copying it. I seek, as Lennart Andersen says "to paint the place not the thing."
The above is an excerpt from the Interview with Tamie Beldue by Elana Hagler
read the full article here»