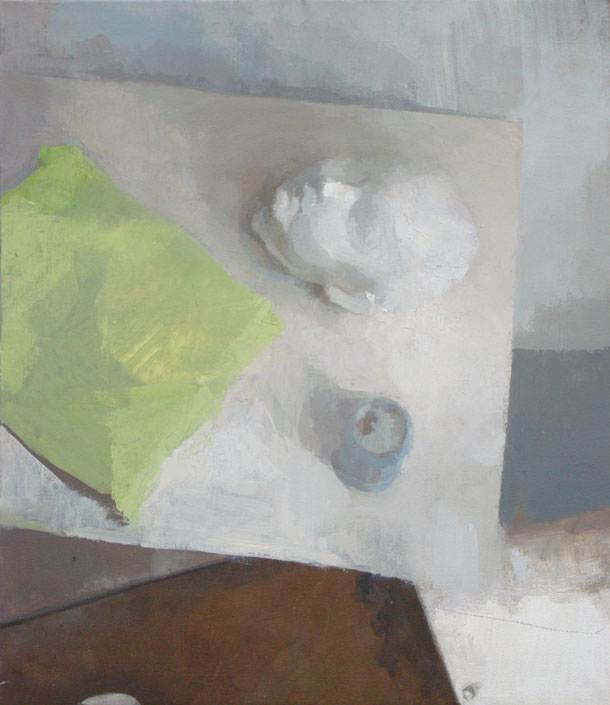 Carolyn Pyfrom Da Settignano with Seltzer Can and Paper Under Flourescents 22 x 19 inches 2010 Oil on linen
Carolyn Pyfrom, an emerging Philadelphia based artist, is showing her work this May at the Artists' House Gallery in Philadelphia: from May 5 to May 30, 2010. I was struck by her tonal sensitivity and how she orchestrates balance and tension with the light and dark shapes. The painterly handling and underlying abstract designs often emphasizes the flat picture plane which lends the work a modern feel that complements, rather than compete, with her more classical training.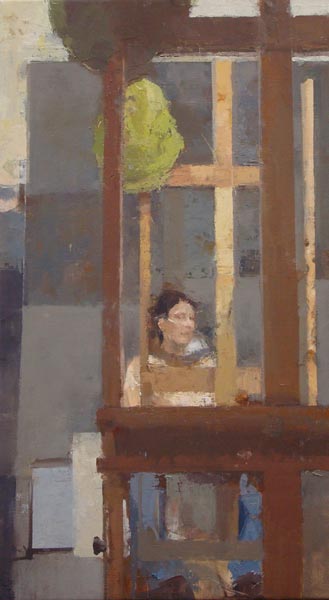 Self with green hat and ease 27 x 15 inches Oil on Linen 2010
Please click for larger view (note: all the rest of the images in this article have a larger view if clicked)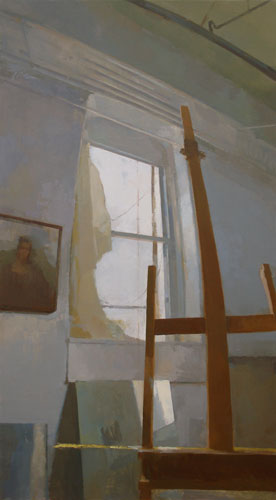 Plumb line 50 x 28 inches Oil on Linen 2010
There is satisfying resonance and fullness of tone, felt best where large planes of flat, unmodulated color join up against one another, that simultaneously suggest space, form, light as well as emphasis the painting as object itself. There is also a fullness of emotional tone with the subject that moves beyond mere inventory and more about a poetic engagement with the language of paint. Carolyn talks about this more in an earlier artist statement:
"A realist painting is about its subject, but every painting is an intensely personal conversation between painter and subject at a particular time and place. When this dialogue is extended to a viewer, it allows that person to participate in the experience of the artist. The painting becomes more than a superficial depiction, but a great connector, not only of viewers, artists, and subjects over ordinarily restricting cultural-spatial-temporal boundaries, but also of abstracts and realities, between things which are concrete and visible and things which are not readily apparent. I am always striving to make these connections and to reconcile these opposing worlds: the visible and the invisible, the natural and the spiritual."
Carolyn Pyfrom is an Adjunct Faculty at the Pennsylvania Academy of the Fine Arts, Philadelphia, PA, and shows at the Artists' House Gallery in Philadelphia. She studied painting four years at the The Florence Academy of Art in Florence, Italy, graduating in 2002.
Below are a few more paintings I selected, visit her wonderfully designed website for more info.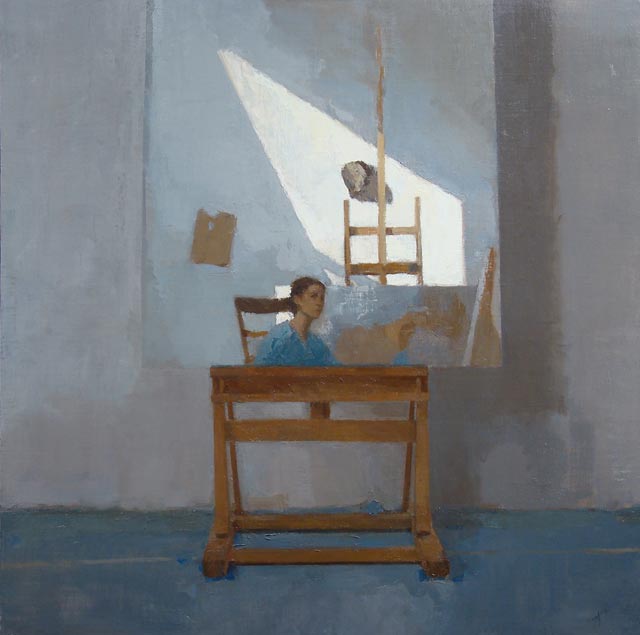 self with easels 28 x 28 inches Oil on Linen 2008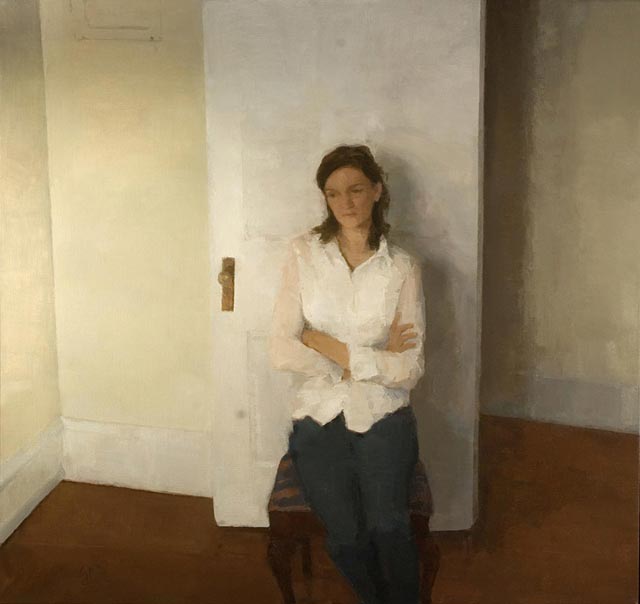 Jenny by the door 34 x 36 inches Oil on Linen 2006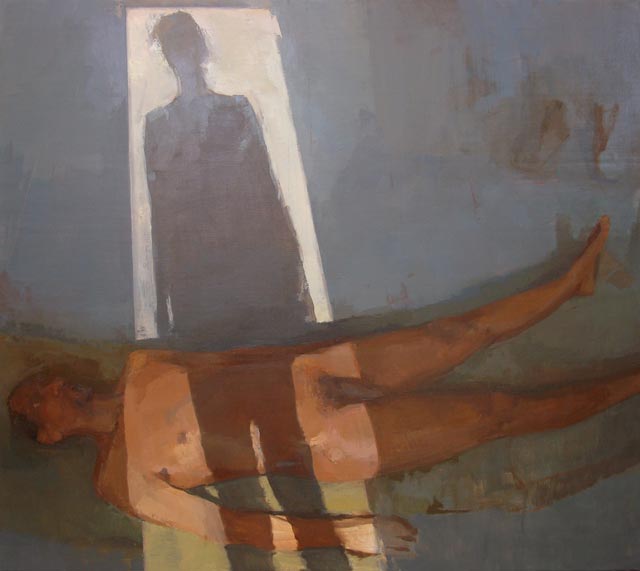 Dead Christ 48 x 54 inches Oil on Linen 2010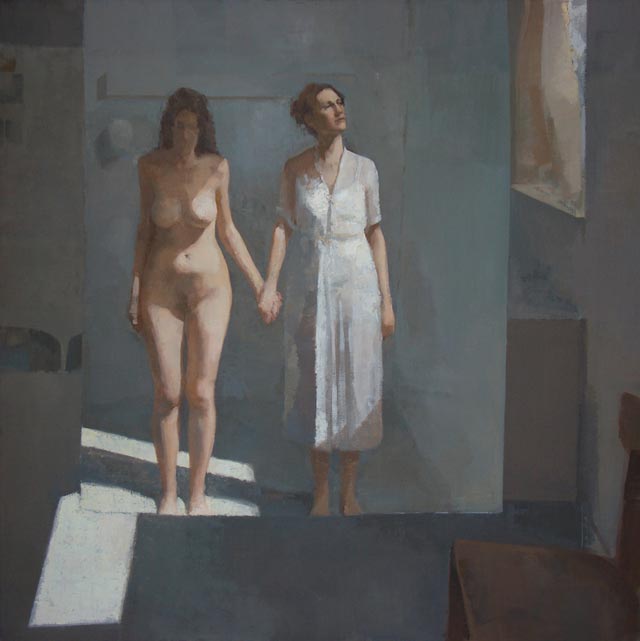 You also are psyche 40 x 40 inches Oil on Linen 2008

Garage 34 x 29 inches Oil on Linen 2004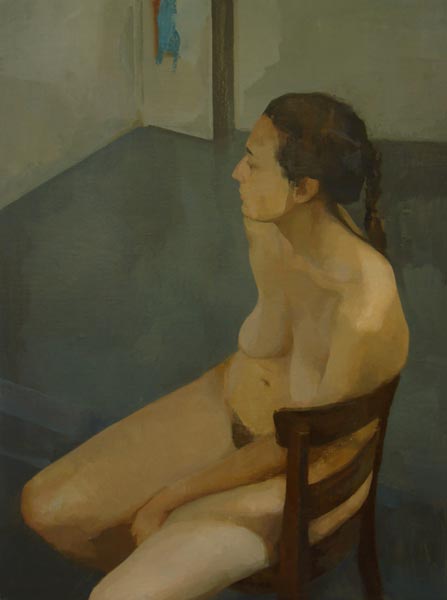 Kali seated 43 x 32 inches Oil on Linen 2009
---
Donate to Painting Perceptions
Donations to Painting Perceptions helps this site greatly, please consider your gift today.