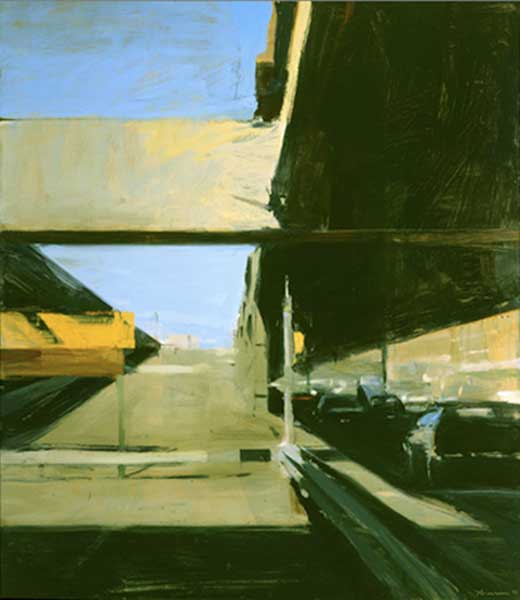 Ben Aronson Closed Ramp, West Side Highway, 1997, oil on panel, 52 x 46 inches
Ben Aronson distills and composes the urban clutter into pure abstracted forms that retain a sense of place. He lends monumentality to the drama of stark contrast of shadow and light in commonly observed street scenes like in this magnificent "Closed Ramp, West Side Highway"
This gutsy work clearly has it's source from smaller studies and/or photos but the work retains the look of a perceived situation and not tamed by trying to replicate the photographic detail.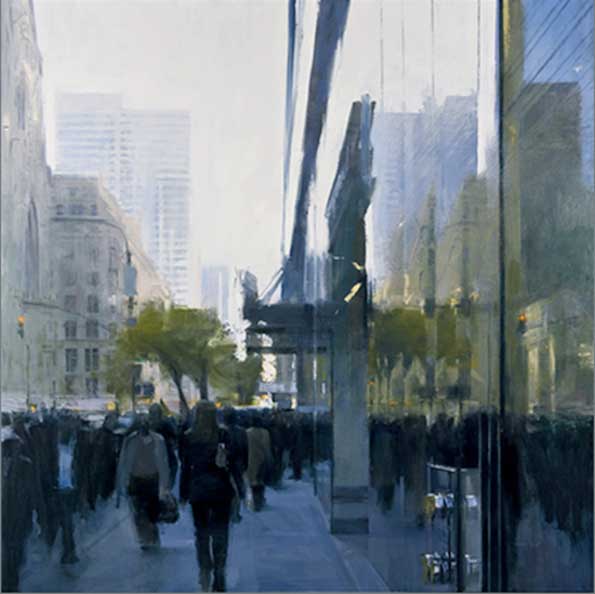 Ben Aronson, urban reflections, 2008, oil on panel, 60 x 60
His work evokes the best of Bay Area figurative painters such as Richard Diebenkorn, he studied with James Weeks (a leading Bay Area Painter) in Graduate school at BU. His enviable background of being nurtured by great painters includes his father, David Aronson a major Boston painter and mother a notable portrait artist. He was also Philip Guston's driver for awhile – he gives a interesting account of all of this on his website in his artist statement and background.
Ben Aronson, one of the strongest urban scene painters working today, shows at the Tibor de Nagy Gallery in NYC, Alpha Gallery in Boston and the Jenkins Johnson Gallery in San Francisco.
---
Donate to Painting Perceptions
Donations to Painting Perceptions helps this site greatly, please consider your gift today.