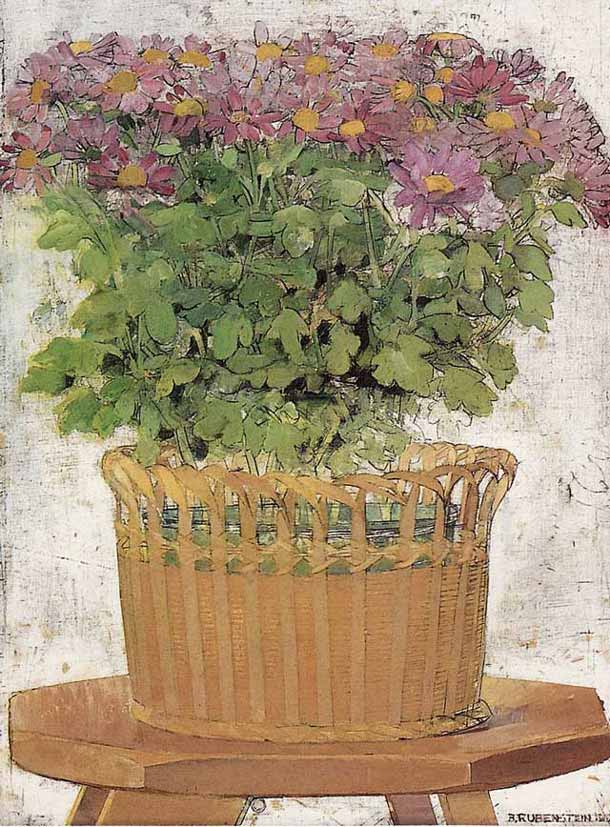 I recently received a wonderful essay from a former student of Barney Rubenstein who is generous and kind enough to share some of his experience studying with Barnet Rubenstein. Barney (as he was known) was an important figurative painter in Boston, painting primarily still-life, often painting take-out food containers, cardboard boxes, jars of cookies, and arrangements of fruits and flowers. Barney taught at the Boston Museum School for 30 years. He showed at Boston's Alpha Gallery and had a show at the Boston's Museum of Fine Arts in 1979 as well as a major retrospective at the Rose Art Museum in 1997 showing four decades of work.
Regretfully, I could only find limited amount of his work online, as I find more images I will put them up here at some later date. I would love to include any information or images that anyone might wish to share. There is an excellent obituary and tribute written by Carl Belz at his Left Bank Art Blog. Carl Belz is Director Emeritus of the Rose Art Museum, Brandeis University. Carl Belz stated in this blog post that:
Throughout his life—in his art, in his teaching, and in the stories he memorably told—Barney communicated a deep respect for art's recent and distant past. In this he followed the model he learned as a student at the Museum School more than a half century ago, and he in turn gifted it to the generations of aspiring artists who studied with him, just as he gifted it to countless colleagues and friends, which was always with boundless generosity. He extended the same respect to the humble objects he painted—the fruits and flowers, the cookies and jars and boxes—patiently articulating each of them with nature's life-giving light and attendant color. We know the pictures came about through painstaking effort and were hard to part with, but we don't feel that effort when looking at them. We feel instead their joy and wonder, how they justify themselves by merely existing, and we in turn feel as though their maker was grateful simply for the opportunity to bring them into being. Such is the gift of art when it is practiced at its highest level, which is the way Barney practiced and gifted it, and a supreme gift it remains.
REMEMBERING BARNEY RUBENSTEIN by Richard Dean
Before saying anything about Barney I should first say that I'm very aware that (a) memory is fallible, (b) it was a long time ago, and (c) plenty of other people knew Barney better and for longer than I did. Maybe some of them, reading this, will come forward with their own memories and reflections. I hope so.
The Boston Museum School in the mid- 70s was a pretty rough and ready, free and easy kind of place. Once they got the exorbitant $3000 or so that it cost to go there in those days you were pretty much on your own. Students came and went, no one kept a register of attendance, staff brought booze into tutorials and basically you did what you felt like doing, which in my case was goofing off, mostly.
I wasn't very happy at the Museum School but I stayed for two years and the main reason I stayed was so I could hang around Barney Rubenstein.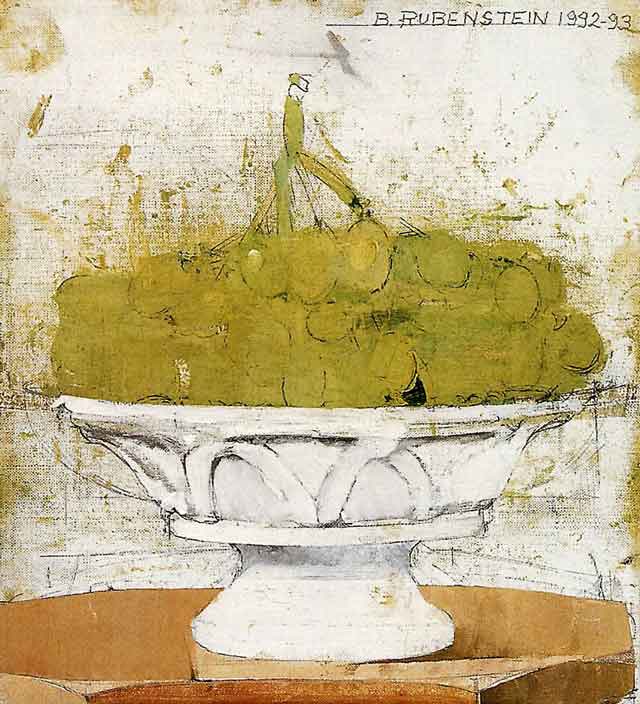 Barney (nobody ever called him "Barnet") was the benign presence around which the noise and life of the Museum School swirled. You might not know who the Principal or the Dean or whatever he was called was, but everyone knew Barney. With his moustache drooping over his mouth, to which a cigarette was permanently attached, his glasses hanging from a chain around his neck, with his Staff ID worn upside down and his, um, deeply relaxed dress sense, you couldn't miss him. He spoke in a low, slow, drawling voice and you listened because he had been everywhere, had met everyone and had seen everything, apparently. He'd been to France! He lived at the Chelsea Hotel! He knew famous artists! Wow, this guy is the real deal, we thought, and we were right.
As a teacher Barney had no particular agenda; he showed up, he talked, you listened and you learned. He dropped hints, made suggestions, he negotiated with you. "Why do you put that black line around everything?" he asked me once. Because it makes the picture look modern, like a Léger, I said. "Well, it doesn't. It's kind of… boring. Maybe, um, you shouldn't do that"; which from Barney meant that you should absolutely, definitely, positively cease and desist at once from what you were doing and never, ever, return to that particular piece of folly. I dropped that black line like the bad habit it was.
Barney wasn't one to grab the brush out of your hands and show you "how" to do it. We understood that Barney knew all about how to do it and the various ways one might do it and he wanted us to learn for ourselves how it might be done, not to just obey orders from some authority figure. As a serious artist, he treated his students as colleagues to be consulted, not as inferiors awaiting his instruction.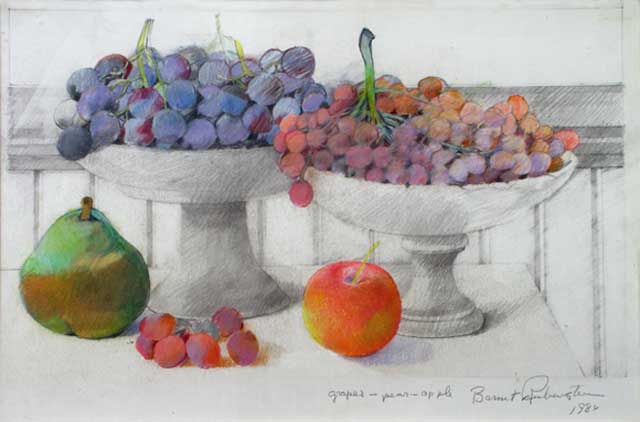 Grapes, Pear, Apple, 1984, pencil and colored pencil on paper, 10 x 15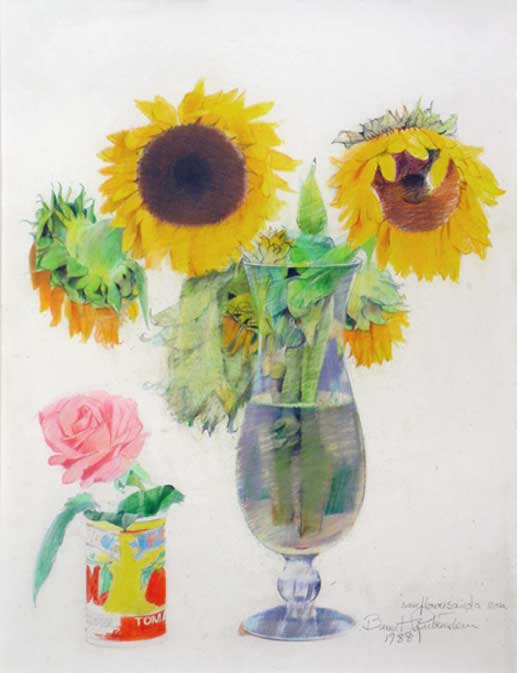 Sunflowers and a Rose, late 1990's, pencil and colored pencil on paper, private collection
He was the least egoistic of teachers; he wanted to hear about your ideas and intentions a lot more than he wanted you to hear about his. We were mostly young kids, fresh out of high school. Barney was the first grown up who ever took us seriously and was interested in what we were saying and that means a lot to a young person.
In art, Barney had very broad taste. Personally he liked Peto and Harnett and Balthus but he also liked Rauschenberg and Guston and Alice Neel and Richard Estes and Robert Smithson. He told me about how good Sylvia Mangold, who was just starting out then, was but he told me about Robert Mangold too.
He made us laugh. "What were you doing, living for so long in Aix-en-Provence like Cézanne?" someone asked. "Looking for his paint rags" Barney said. One night Gabriel Laderman arrived at some Boston Museum event in this flaming red shirt. "So, are you a follower of Garibaldi now?" asked Barney. I didn't quite get the reference but I knew it was funny.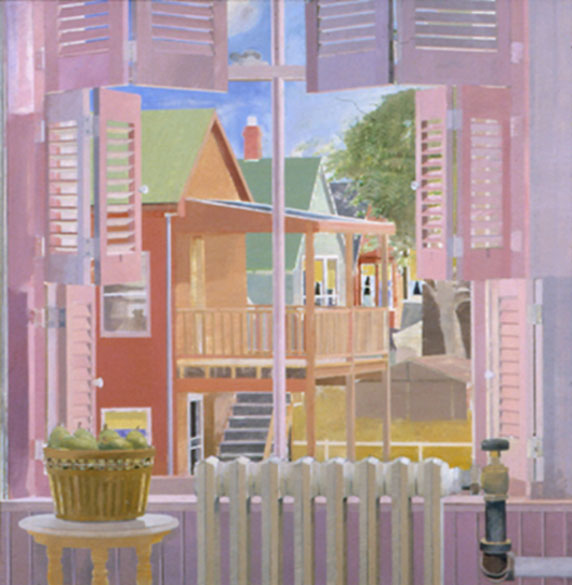 Interior / Exterior, oil on canvas, 1981-87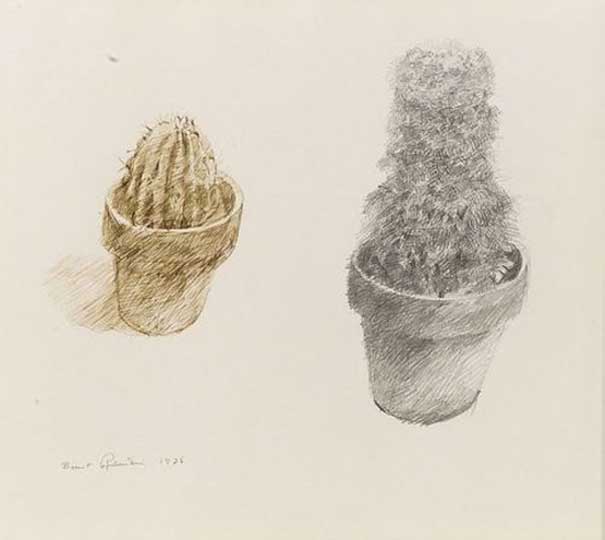 For his students Barney became a model for what a real artist should be. Real artists should work hard, should be open to ideas and experience, should ask questions and look for answers. Real artists didn't take anything too seriously except for their work, which was absolutely serious and real artists didn't pay any attention to fashion or fame. Real artists looked at everything and knew the whole history of art and kept on learning, always. Art was slow and real artists took their time.
In those days the Museum School and the Boston MFA were boiling hot beds of Greenbergian formalism. According to the Contemporary Art Department of the MFA the only people who mattered were Tony Caro and Ken Noland and Jules Olitski and any painting that wasn't Color Field didn't matter, especially if it was representational. Barney paid no attention to any of that stuff, he built an 8 foot square wooden frame and divided it with a grid of string and set it up on the studio floor between his still life set up and his painting table and got to work like it was 1500 and he was Albrecht Durer.
Once Barney painted ocean liners and race horses but latterly he did still lives and interiors. Simple subjects; jars full of biscuits, pieces of fruit, the view from his window, a pile of cardboard oyster pails and he painted them really, really slowly. Fruit would rot and plants would wither before Barney had even got close to finishing his paintings of them.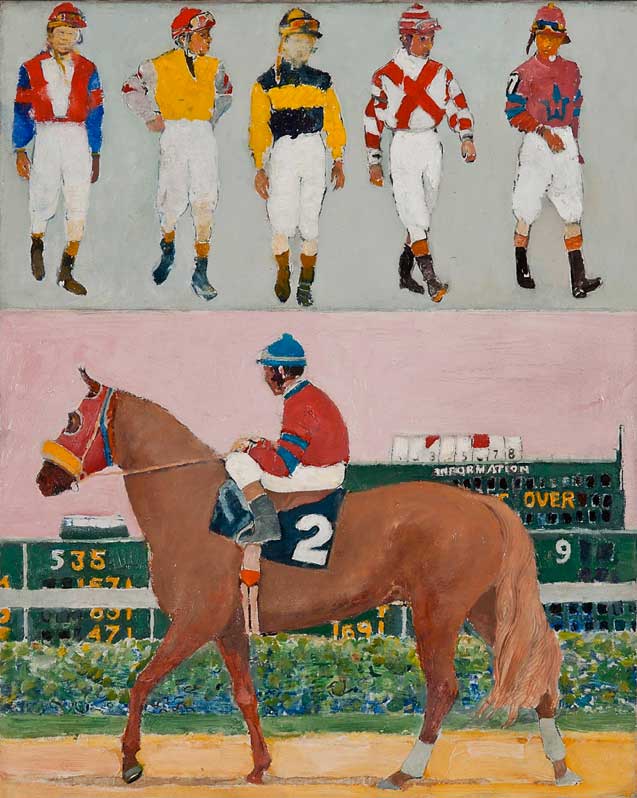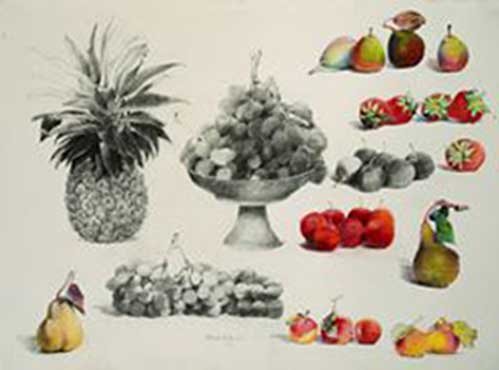 There's no painterly rhetoric in Barney's work, no slapped on paint or busy brushwork or compositionally convenient drips. Everything is restrained and steady, everything has been thought about. He might have studied with Kokoschka but there's no angst or hot emotion in what Barney does, it's all much more subtle, considered and cumulative. Everything is there for a reason. His pictures took a long time to make and they can take a lot of looking. That the longer you look, the more you see is a cliché but in Barney's case it's absolutely the truth.
Barney drove dealers and collectors nuts because he didn't work to make them happy and that, along with his more or less total indifference to furthering his "career", is probably why he wasn't better known in his lifetime. He could have been but he didn't care about that stuff, not really. He cared about painting and smoking and talking, especially about painting. Always painting.

Richard Dean attended the Museum School from 73-75, then moved to New York and went to the Art Students League before moving to the UK where he's lived for the past 20 years, teaching at the art school in Canterbury as well as working at the Canterbury College.
---
Donate to Painting Perceptions
Donations to Painting Perceptions helps this site greatly, please consider your gift today.