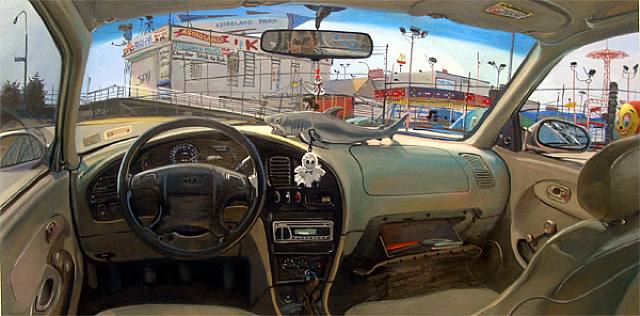 Andrew Lenaghan Coney Self Portrait 12 1/16 x 24 inches Oil on Panel 2006
This car mirror self-portrait knocks me out! What an amazing idea, painting a expanded perspective view of the inside of car where the curvilinear elements of the car interior echo the fisheye-like distortion of the expanded viewpoint which also compliments the Coney Island fun-house feeling of the view out the window. I suspect the car must belong to the painter as who else would risk paint accidents and have such a cool shark on the dash. Andrew must be a very fun person to be around, check out his self portrait in a Planet of the Apes mask on his Chelsea George Adams gallery website You can also see a number of his fantastic cityscapes, back yard views, studio interiors and more at this artnet link. His work is among the most impressive cityscape painters working from observation painting today.
---
Donate to Painting Perceptions
Donations to Painting Perceptions helps this site greatly, please consider your gift today.