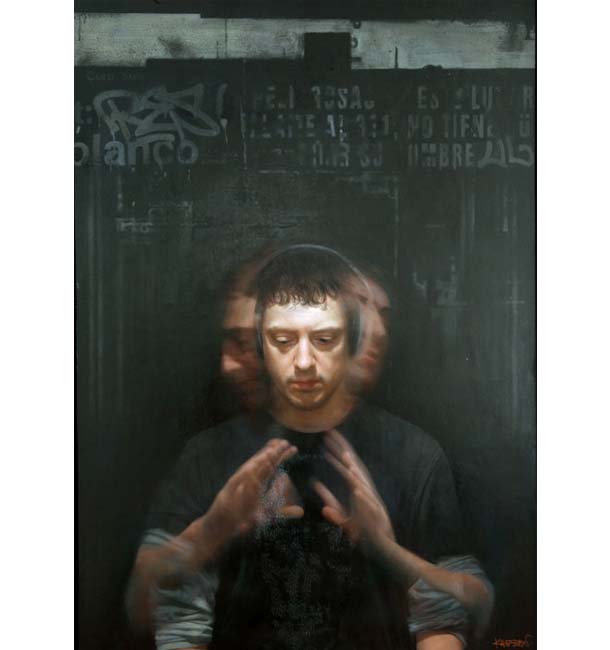 David Kassan, Self Portrait in Motion Oil/Panel, 40 x 28 inches
David Jon Kassan (Born 1977) is a contemporary realist painter best known for his life-size realist portraits. The paintings combine figurative subjects with abstract background textures he says are inspired by such painters as Franz Kline and Robert Rauschenberg. Kassan says, "my effort to constantly learn to document reality with a naturalistic, representational painting technique allows for pieces to be inherent contradictions; paintings that are both real and abstract." (from his wiki page)
I met David in person a couple of times a few years ago and we have keep in touch online. He agreed to do an interview with me to talk about his work, his approach to painting, his new drawing DVD and his recently getting to meet with Antonio Lopez Garcia in Madrid. At the end of the article I've also embeded a you tube video interview done with him a year ago and another video showing him giving a demo in Portugal. The audio recording that we made of our skype call was of poor quality for technical reasons and I decided to omit posting the audio version of the interview.
David Kassan currently lives and works in Brooklyn, New York, and teaches painting classes and workshops at various institutions around the world. He received his B.F.A. in 1999 from Syracuse University, Syracuse, NY where he studied with Jerome Witkin. He continued his studies at The National Academy, and the Art Students League of New York, both in Manhattan. He is currently represented by Gallery Henoch in New York His work has received widespread attention and acclaim and a number of articles and reviews has been written about him, many can be read from this link.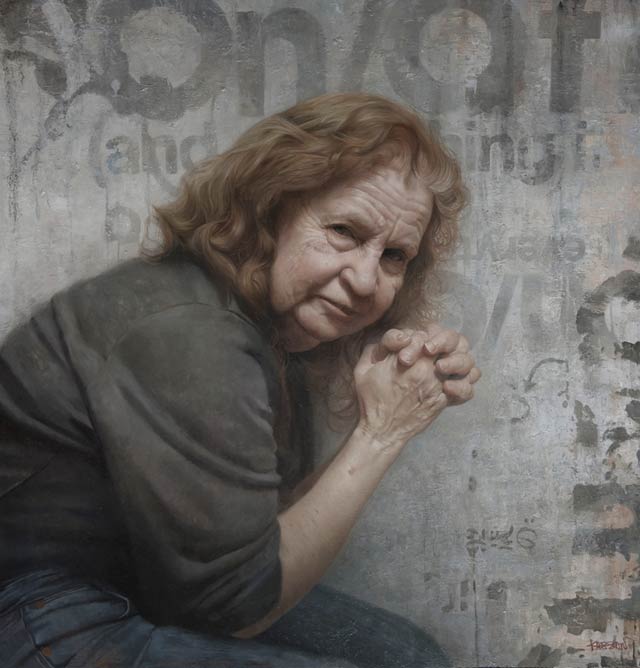 The Artist's Mother
(Click for larger view)
Larry Groff:
David Kassan. Thank you very much for agreeing to do this interview and to share some of your thoughts about your painting and your drawing and your new DVD.
David Kassan:
Thanks.
Larry Groff:
What does working from observation offer you that other sources don't? I understand that you primarily work from observation, I understand, right?
David Kassan:
Not completely. It all depends on the availability of the models. Actually I've been learning how both photography and observation can help a painting, in a lot of aspects. Within photography you can actually see the subtlety that you will tend to exaggerate or miss with observation alone.
What is important about observation is that you get that connection with the model, where you actually can understand who this person in front of you is, With a lot of my sessions I end up talking to the model way too much so that I can learn about them. I really want that interaction, so I try to figure out as much as I can about their life, it's important to me that the paintings are about that person and not about being a painting.
I strive to make the technique disappear, so you are thinking more about the model's expression and emotion rather than the movement of a brushstroke… You have the viewer and you have the subject of the piece, and I want nothing in between that connection. I don't want paint to get in the way of that. I want the paint to prop up this person to be seen, so you can feel their emotion more tangibly and they are in your space.
So, that's kind of the main goal of my work. And I don't think I would get that if I just took a photograph of a person and painted it.
Now, I'll have a lot of sessions, sometimes, if I can't get a person to pose throughout the entire piece. I would have three hours, six hours to just draw them, understand who they are, and I'll carry that forward with photography. So it fills in the gaps.
Larry Groff:
The next question leads into that. You sort of beat me to the punch. Many painters working from life tend to show the hand of the artist in their brushstrokes or painterly texture of the surface. Like many photo-realists, you seem to de-emphasize the presence of the artist in your painting. Maybe you can continue on the vein you were just talking about, and we'll sort of join those two questions together, about the virtues of observation, and why do you de-emphasize it. What's so bad about expressive brushwork?
David Kassan:
I don't think there's anything bad about it. There are actually, really, good contemporary artists that paint in the tradition of Velasquez, Zorn and Sargent. A number of my friends paint very painterly. And they're about being painters. And they add to that rich tradition. I'm in awe of their work on a daily basis, but its just not where my head is right now
And I don't really think of myself as a photo-realist, either. I'm not trying to make my work look like photographs, we're all artist, we all kinda of take offense to that, in a way, when people tell you that your piece looks like a photograph, and you know that they mean it as a compliment, they are comparing what they know as their example of 2 dimensional reality.
And I don't really think of myself as a photo-realist, either. I'm not trying to make photographs, we're all painters, we kind of take offense to that, in a way, when people tell you that your piece looks like a photograph, and you're like…
And I'll show people an image of my work, and they'll be like, "Well, that's a photograph. It looks like a photograph."
I'm like, "Well, it is a photograph, a photograph of my painting." You know? So it's hard to really feel the tactile surface of a real painting. And that's what I really want in my pieces, I want to make them more real than a photograph, more real than almost even a painting, because I try to build up the surfaces and textures and the background to kind of mimic what is in real life. The unfortunate thing that we deal with today is that everything is viewed on either the internet or in reproduction and few people will really see a painting of mine in real life. And I want these works to be art objects. I see Rauschenberg as a realist artist.
Rauschenberg would actually take things off the street, almost in an Arte Povera kind of sense and just bring it into an art gallery, that was, he was a realist. You know what I mean?
Then think of abstraction. But everyone … How can you get more real than bringing something off the street and putting it into the gallery? And then painting into that? You really can't.
So I kind of like to take that kind of concept, but actually paint it and create it by hand, so that it feels like that tactile surface that is actually its inspiration; where you could run the finger down the side of a painting and you would have those, little pock marks in the painting and texture and be able to scratch at it. And you see this kind of history of the marks and layers that are involved in the surface. I really want my paintings to have weight to them.
And it just looks like it's been worked and weathered and kind of destroyed and then brought back to life. I want that same kind of feeling with the figures as well. And it's just a lot of careful handling, as opposed to something quick. And I want the experience of these people infused into the piece, rather than having a brushstroke that distracts.
I don't want to be negative towards painterly paintings in any way, shape or form. It's just like a conceptual thing for what I want in my work.
Larry Groff:
Right.