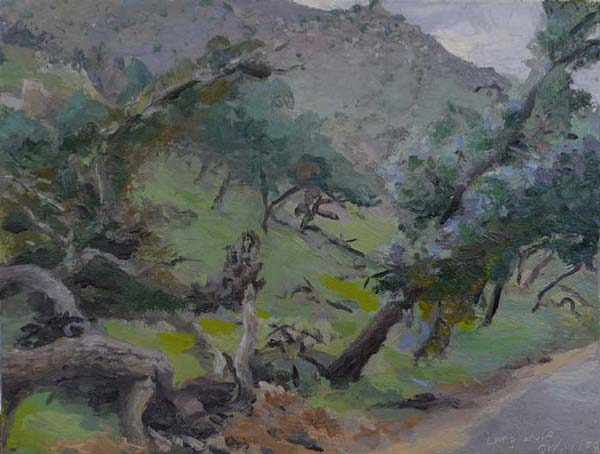 Oaks on a Hill 1/22/09 Larry Groff
Paul Cezanne said "Painting from nature is not copying the object; it is realizing one's sensations. "
Yesterday I was working on a painting of a grouping of oak trees growing or dying on a steep hillside, behind me was a majestic mountain side (El Capitan) that is the lure of many plein air painters here in San Deigo and the reason I drove all that way to paint in this quiet park at the end of rural road. But yesterday was cloudy and the mountain lacked the lighting drama I'd hoped for so this tree grouping was the day's venture.
After an hour's painting in the dark cloudy day, the sun lit up one of the trees for a few seconds, if I had just came here a snapped some photos for painting later on in the studio, I would have missed that moment. And only gotten one static view of the appearance of the place – not the sensation of actually being there taking in the whole scene as well as the selection. The changing light, the sounds of wildlife and the excitement of wondering what that loud rustling was in the nearby brush. I really need to learn more about mountain lions!
As it turns out I didn't really paint that lighting moment but the sensation it gave me fueled the rest of the painting. I got a jolt of urgency that this painting was important to me, that I cared to get the right tones down and the right feel of the place. The percussive magic of nearby acorn woodpeckers tapping deep holes into the oaks so they can horde a single acorn inside that hole that they in all probability will completely forget about a few days from now. Sadly, I will probably forget about this painting in short time as I fell short of my goal to truly capture the magic I felt. But I was being true to my nature – for a brief moment, painting as if that was all that really mattered.