There was a review in the New York Times on 8/15/09 by Souren Melikian, the International Herald Tribune art critic and editor, of the London's National Gallery show "Corot to Monet".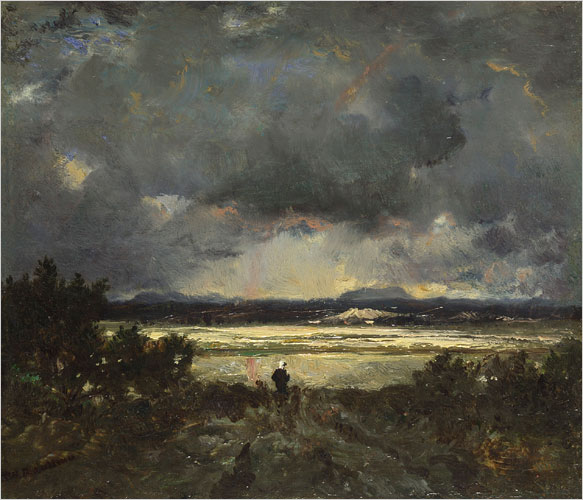 "Sunset in the Auvergne" by Théodore Rousseau
The article starts reasonably enough and traces the evolution of landscape painting from the late 18th and early 19th century when landscape painters started to break out of academic landscape formulas and experiment with painting from direct observation, specifically naturalistic light. The show draws from the National Gallery's stellar collection of early landscape painters such as Pierre-Henri de Valenciennes, Bonnington, Théodore Rousseau, Daubigny and of course – Corot. Seems like a worthy trip if you can spare the travel time and expense. Sadly, I'll probably have to take a pass, the show is up until Sept 20, 2009.
But the real reason I'm making a brief post about this review was the ending paragraphs where Melikian says;
"…Monet, Renoir and others discovered springtime and brought it into European art for the first time.

Very little in earlier development heralded this metamorphosis. It only lasted until the late 1880s. Then a genius called van Gogh began to apply with uncontrolled fury intense primary colors chosen for their expressive value. The Nabis, the Abstractionists, the Fauves, the Cubists, followed in rapid succession, like so many artistic upheavals. Singing nature and rendering atmospheric light would never again be the painters' concern. The modern world had come into existence."
I'm probably preaching to the choir here but I find this statement disturbing. Why do so many art critics and historians see art history in rigidly linear time-lines. That once a certain style evolves, like post-impressionism, you need to move on, never stand still, on to the newest avante-guarde's dictum.
This "art-world" mandate often seems like it is saying that today's painters can only paint subjects with compelling narrative and critical theory standing in front of it, perhaps paint and canvas itself is suspect. Only dead painters can make naturalistic landscapes with integrity. That the observed world lacks the passionate intensity required for post modern art-making. Singing love songs to nature and light will likely banish you to obscurity in today's art world according to Melikian's point of view here.
Turning our backs to nature is half the reason we are in so much trouble to begin with. In these times of global warming and the wide range of other man-made environmental disasters is precisely the time for intense and honest looking at nature in every conceivable manner.